If you're in the market for an iPad, which is the best one for you?  All of Apple's iPads share a number of common features, including touchscreen operation and built-in speakers and Wi-Fi. Where they differ is in screen size, storage capacity, processing speed, and extra features. Which iPad is the best for seniors?   
Apple announced new watches and iPhones at their Apple Event in September, but had no announcement on the iPad.  Industry watchers expect upgrades to some of the iPads later in the year.  Meanwhile, here is an overview of the current iPad models, and a recommendation on which is the best for you.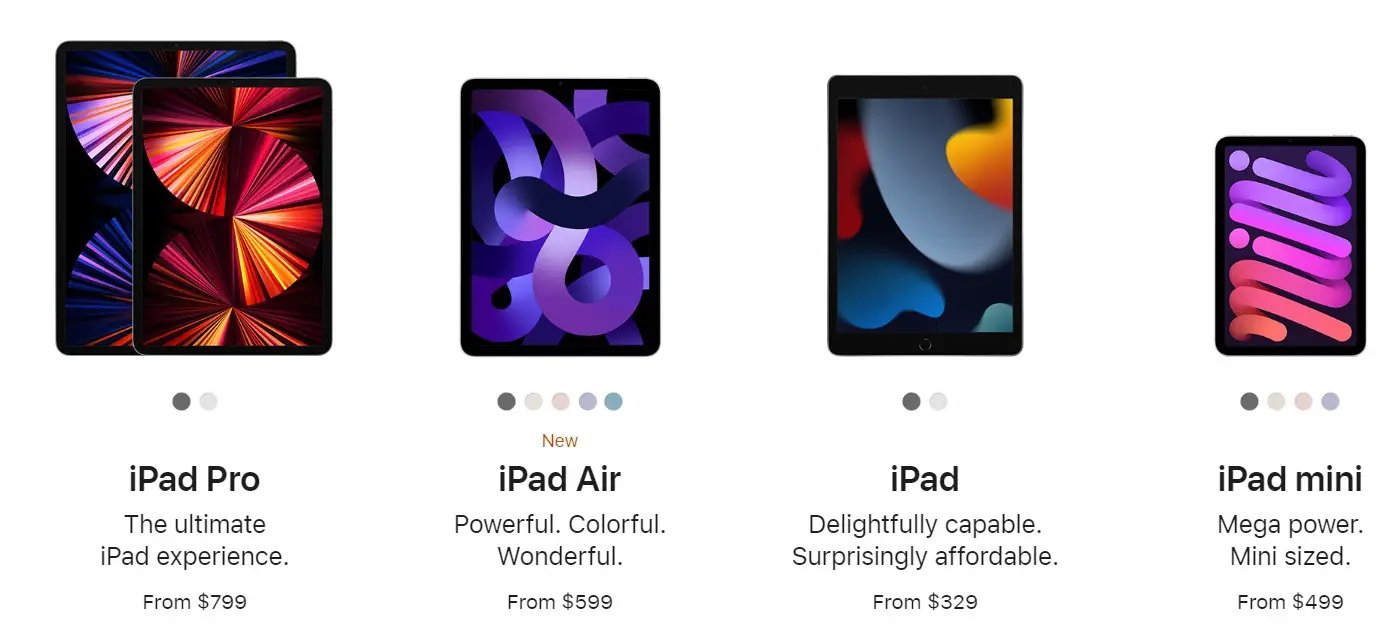 iPad mini
The iPad mini is the smallest iPad in Apple's lineup but not the least expensive. That's because the latest sixth-generation iPad mini has most of the features of the larger iPad Air, which makes it more powerful than the standard regular-sized iPad. This latest iPad mini has a 8.3-inch screen, which is considerably smaller than the regular iPad's 10.2-inch screen. Even though some might prefer the smaller form factor, the higher price might make you think twice about that. The current iPad mini starts at $499, which is a tad pricey. 
iPad
Apple's flagship tablet, now in its ninth generation, is simply called the iPad. This model, Apple's most popular, comes with a large 10.2-inch display; if you have vision problems, it's a better option than the smaller iPad mini. It's also Apple's most affordable model, selling for just $329 (and often on sale at Amazon and other stores for as low as $279). 
iPad Air
The iPad Air is a little faster, a little larger, and a little more versatile than the regular iPad. The newest fifth-generation iPad Air has many of the same business-oriented features of the more expensive iPad Pro line, including compatibility with the Apple Pencil, Smart Keyboard, and Magic Keyboard accessories. The iPad Air has a 10.9-inch screen and is almost twice as expensive as the base iPad, at $599. 
iPad Pro
Apple's top-of-the-line tablet is the iPad Pro. This is a fully featured model, available in 11-inch and 12.9-inch screen sizes, optimized for business productivity. When coupled with the Apple Pencil and Smart Keyboard or Magic Keyboard, all optional, the iPad Pro can function as a viable replacement for a traditional desktop or laptop PC. This all comes at a price, however; the 11-inch model starts at $799 and the bigger 12.9-inch version sells for 1,099. 
Which iPad Should You Buy?
Which iPad is best for you depends on how you intend to use it, along with what size screen you want. How much you want to spend is also a factor, of course. 
For most seniors, the base 10.2-inch iPad, at just $329 (or less, on sale), is the best choice. It does everything most people need it to do, has a good size screen, and is certainly affordable. It's great for web surfing, browsing your Facebook news feed, and playing games. 
If you want a slightly larger screen and functionality that approaches the higher-end iPad Pro models, consider the iPad Air. While it's considerably more expensive than the regular iPad, it's much less expensive than the iPad Pro. If you want Pro-level performance and compatibility with all those fancy business accessories, then the iPad Air is a good choice at $599 – even though it's probably overkill for most casual and home use. 
Finally, if you want to do serious business work on your tablet or are using your tablet as a replacement for a notebook computer, then the iPad Pro models make sense. Know, however, that you're spending a lot more for the larger screens and enhanced functionality – especially when you factor in the additional purchase of a Smart Keyboard or Magic Keyboard. Bottom line, while the iPad Pro models are great for business, they're just too pricey for many home and casual users. 
Where to Buy iPads
It's a good idea to get hands-on experience with several iPads before you decide which to purchase.  You can view and try out all the iPads at Apple Stores.  Best Buy also usually has them on display.  As for who has the best prices, you can check them out here: