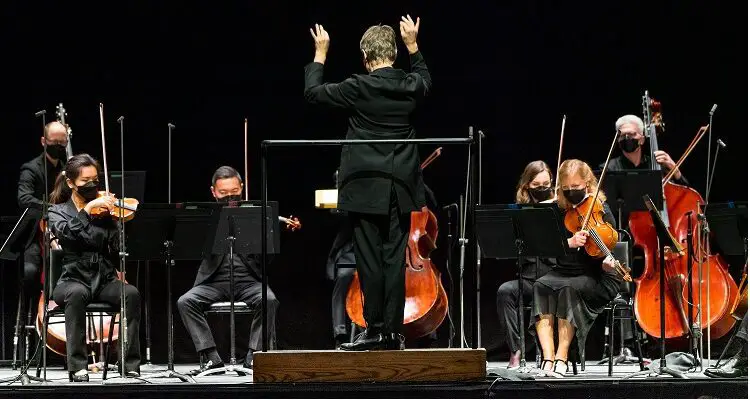 Apple Music Classical, a music streaming app, is now available on the Apple App Store and is free to regular Apple Music customers.
Apple Music Classical is provided at no added charge to Apple Music customers, and can be downloaded for free.  Apple Music is $10.99 a month for an Individual Plan but the Music Classical app comes free when you have the regular Apple Music subscription.  If you want to try Apple Music with Music Classical, you can get a free trial of up to 4 months.
Preview What's On Apple Music Classical
Before subscribing, you can preview what is available on Apple Music Classical as follows:
Go to Apple Classical Music – Browse Selections
Then just click on one of the offerings, and then click on preview.
For example, click on the links below for a preview:
How to Subscribe to Apple Music Classical
To listen to Apple Music Classical, you need two apps for the iPhone: The Apple Music App, which requires a paid subscription but has free trials, and the Apple Music Classical app, which is free, but only works if you have the regular Music app.
Apple offers four music plans with these monthly prices:  Voice Plan $4.99, College Student Plan $5.99, Individual $10.99 and Family $16.99 per month. For more details visit:
You'll need to enter credit card information and after your free trial, you'll be charged unless you cancel. Subscribing through Apple at the link above gets you a one-month free trial.  You can get longer free trials as described below.
Get 4 Free Months of Apple Music
Instead of subscribing through Apple at the link above you can get a longer free trial by signing up at Best Buy.  If you have a Best Buy rewards account you can "purchase" a four-month Apple Music subscription at no charge.  Sign into your Best Buy rewards account and click Add to Cart to purchase.  The price is $0 so it's totally free. Sign up at:
Get 4 Months of Apple Music Free at Best Buy
The 4-month free trial is good for both new and former subscribers.
Another way to get a longer free trial for Apple Music is to buy Apple Airpods or another eligible Apple device.  See the details at: Apple Music free with Apple devices.
After you've subscribed to Apple Music, you can get the apps here:
Get the Apple Music App HERE
Get the Apple Music Classical App HERE
Largest Classical Music Selection
Apple Music Classical provides the largest classical music selection in the world, the best search and browse capabilities, and the most premium sound experience with Spatial Audio, says Apple.
"With over 5 million tracks, Apple Music Classical  is home to the world's largest classical music catalog, covering the whole spectrum from celebrated recordings to forgotten gems," Apple said in their announcement. "Apple Music Classical also features thousands of exclusive albums, including recordings by world-famous orchestras."
Easy to Find Recordings
Apple also says they have made it much easier for listeners to find specific recordings.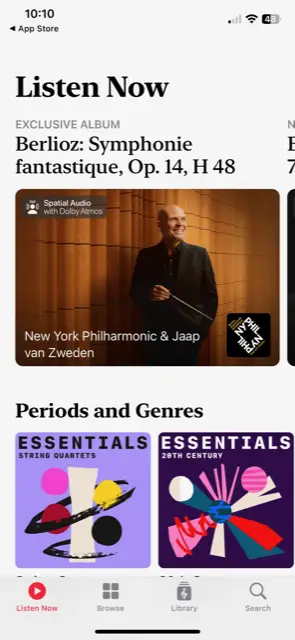 "Apple Music Classical has redesigned search to instantly deliver exactly what users are looking for using all combinations of keywords, from composer and work, to opus number, conductor, artist, or instrument, and even a work's nickname. Looking up a work reveals all its recordings, plus an Editor's Choice performance. And searching for a composer displays all available works.
"The Apple Music Classical interface ensures listeners always know who and what they're hearing, with everything laid out at a glance: work name, orchestra, conductor, contributing artists, and even year of recording. And when it comes to curating a personal library, Apple Music Classical lets listeners add more than just albums, tracks, playlists, and artists — it also supports uniquely classical categories such as works, composers, and recordings.
"Apple Music Classical's interface lays out each work's name, orchestra, conductor, contributing artists, and year of recording."
Apple Music Classical's editors have created over 700 playlists to guide listeners through 800 years of music.  Beginners can start with The Story of Classical audio guides, which blend expert commentary and selected works to introduce key composers, periods, instruments, and classical terminology. For devotees, there's the chance to go behind the scenes of selected recordings as leading classical artists offer track-by-track audio commentary. Plus, every week, Apple Music Classical's hand-picked Hidden Gems highlight a selection of lesser-known works, while Composer Undiscovered playlists bring a new perspective to famous names.
Music Quality
"Thanks to revolutionary Spatial Audio with Dolby Atmos, listeners can enjoy thousands of recordings from the best seat in the concert hall, immersed in a 360-degree soundscape where music comes from every direction, including above," said Apple.
Apple Music Classical listeners will also enjoy exclusive brand-new artwork, including hundreds of playlist covers, as well as unique, high-resolution digital portraits for many of the world's greatest composers. Commissioned from a diverse group of artists, each image blends historical research with color palettes and artistic references from the relevant classical period.
Apple Music Classical is available for download on the App Store everywhere Apple Music is offered, excluding China, Japan, Russia, South Korea, Taiwan, and Türkiye. Existing Apple Music subscribers can immediately enjoy Apple Music Classical at no additional cost.
Apple Music Classical is available for all iPhone models running iOS 15.4 or later. Apple Music Classical for Android is coming soon.
For more information, visit apple.com/music and follow @appleclassical on Twitter.