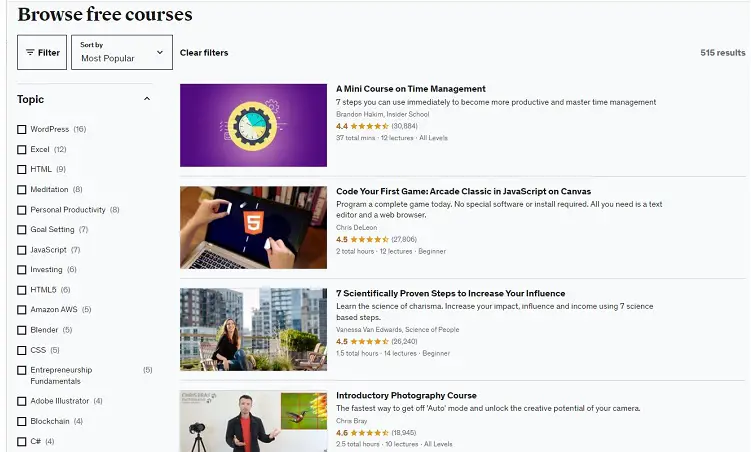 Online education company Udemy is offering more than 500 free online courses.
Udemy courses normally sell for $20 to $200 but hundreds of top courses are free.  You can find all the free courses at:
Udemy Courses on Sale
Also at Udemy, at least twice a month you can find many courses on sale for as low as $9.99.  If you're a new student you can always find special deals on courses.  To learn more visit:
Note: Senior Daily is a Udemy and earns a commission from qualifying purchases.
Udemy is a private online education company with more than 100,000 courses available for online viewing and interaction.  Course topics range from art and music to SAT preparation or computer science and mathematics.  When you enroll in a course you take as long as you want to complete it.  There are no grades and no credits.  Most courses go on sale at some point during the year.
How to Pick a Course
To find a course that interests you, enter a topic and search on it, or browse the course categories at the top left of the home page.  When searching for and evaluating a course you should look at:
The rating (1 to 5)
How many students have taken the course (many have thousands)
How many hours of instruction and how many articles are included
Reviews from students
Course previews.  Most courses have at least one video you can view for free.
About Udemy
Udemy is an online learning platform targeted at professionals and students that was created in May 2010.  Udemy has more than 50 million students and 57,000 teachers offering courses in 65+ languages as of January 2020. About 295 million people have enrolled in Udemy courses. Students and teachers hail from more than 190 countries, with two-thirds of students residing outside of the United States.
Below is an introduction to the Udemy App from the Udemy Youtube Channel.