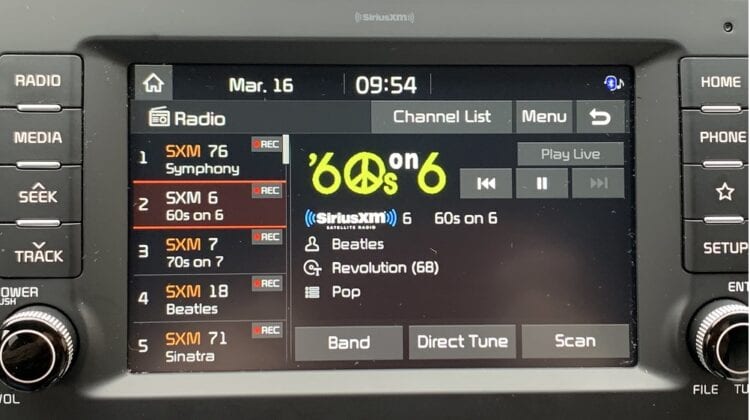 SiriusXM's best ever special is back – 12 months of SiriusXM satellite radio for $60.
This 12-month subscription gives you the SiriusXM Music and Entertainment Plan featuring more than 150 channels in your car satellite radio.  Plus you'll get to use the SiriusXM App on your smartphone.
The special price is $5 per month, $60 for a full year.  This promotion is good only for your first year; at the end of your 12-month subscription you'll be billed at the regular rate unless you act.
You can usually find the deal on the SiriusXM home page at:
If you don't see the deal there, visit this SiriusXM page:
SiriusXM Special – $60 per year
This SiriusXM satellite radio deal is officially good only for new and returning subscribers but some current users say they were able to cancel their current subscription and sign up for the $60 special.  You can find a discussion of this at the Redditt SiriusXM Community.
OFFER DETAILS: Activate a Music & Entertainment subscription and pay $4.99/month for your first 12 months, plus get free activation (a $15 savings). Fees and taxes apply. A credit card is required on this offer. Service will automatically renew thereafter every month and you will be charged at then-current rates (currently, $17.99/month). See the Customer Agreement for complete terms and how to cancel. This offer cannot be combined with any other and may be modified or terminated at any time. Offer good only on currently inactive radios. 
SiriusXM Car Radio Free Trial
In another deal, you can get a 3-month free trial of SiriusXM for your Sirius-equipped vehicle. ou'll need your car radio ID (available on Channel 0) but no credit card is required.
For more details or to start listening, visit:
OFFER DETAILS:  Your SiriusXM service will automatically stop at the end of the stated trial subscription term unless you decide to subscribe. See the SiriusXM Customer Agreement & Privacy Policy for full terms of service and how to cancel, which includes calling 1-866-635-2349. This offer cannot be combined with any other and may be modified or terminated at any time. This offer is available only on eligible, inactive factory-equipped satellite radios. Satellite and streaming lineups vary.
Disclosure:  Senior Daily is a SiriusXM affiliate and may earn a commission from subscriptions.
SiriusXM Deals for Current Subscribers
If you're a current SiriusXM subscriber, when your current annual contract ends, you will be automatically renewed at the full, regular rate unless you call ahead of time. The regular rate for the Music & Entertainment plan, the most popular SiriusXM service, is $17.99 a month.
To get a discounted rate, find out when your subscription is expiring and set a note to yourself to call SiriusXM a few days before your service ends. Tell SiriusXM you cannot afford the full rate and so must cancel.
Usually you'll get an offer to continue at a discount, half price or less.   If you don't get a good discount offer, tell SiriusXM to go ahead and cancel. Usually you will get a callback later from SiriusXM with a 50% off or better offer. To cancel SiriusXM call 1-866-635-5020 or visit:
Change or Cancel  Sirius Subscription.
Note: Senior Daily is not affiliated with SiriusXM; the information presented here is produced solely by Senior Daily without the participation of SiriusXM.
SiriusXM Student Special
SiriusXM offers a $4 per month streaming platinum special for college students.  This is the SiriusXM streaming app and does not include car radio service.
Start with $1 for 3 months then pay $4 a month.  The regular non-student rate is $10.99 a month. To enroll, visit:
OFFER DETAILS:    Eligible Students may activate a Student Streaming Platinum subscription and receive the first three (3) months for $1.00 plus tax.  A credit card is required on this offer.    Your subscription will automatically renew every month thereafter at the then-current Student Streaming Platinum rate (currently $4/month, plus fees and taxes).  To qualify for the Student Streaming Platinum subscription plan, you must be at least 18 years of age and currently enrolled in a United States based, degree granting, accredited school of higher education (an "Eligible Student").  Student Streaming Platinum requires eligibility verification and annual re-verification in order to maintain the Student Streaming Platinum rate.  Your eligibility will be verified upon initial enrollment and then every twelve (12) months thereafter to continue receiving the student rate. 
SiriusXM Military Discount
SiriusXM offers a 25% discount to all active and veteran military members and their families.  To enroll, visit:
SiriusXM Discount for Military
SiriusXM does not offer a senior discount.
OFFER DETAILS:  Activate an eligible package and plan and you will save 25% off the current full price rate for the life of the subscription. Fees and taxes apply. The subscription plan you choose will automatically renew thereafter, and you will be charged according to your chosen payment method at 25% off then-current rates.
Sharing a SiriusXM Account
Technically, you cannot share a single SiriusXM account.  However, it is possible to use one account in two vehicles.
If you have one active SiriusXM radio account, you get free access to the SiriusXM app that lets you stream SiriusXM onto your phone or other smart device.  This means you can use the satellite radio in one vehicle and the app in another.  For example, with an iPhone you can use the SiriusXM app plus Apple carplay to stream SiriusXM through your car's audio system.
Here's where to get the SiriusXM app; you will need to sign in with the credentials used for your SiriusXM radio account.
SiriusXM New Vehicle Deal
If you buy a new vehicle, you will get a free 3-month subscription.  If you have an unused service credit in your old car, you can transfer the SiriusXM credits to your new car.
For more details visit:
SiriusXM Offers – Terms and Conditions
OFFER DETAILS:  The subscription plan you choose will automatically renew and you will be charged according to your chosen payment method at then-current rates. Fees and taxes apply. Please see the Customer Agreement for complete terms and how to cancel, which includes calling SiriusXM at 1 866-635-2349. All fees, content and features are subject to change.
SiriusXM on Amazon Alexa Devices
You can now play your pick of SiriusXM channels on Amazon Echo devices and Fire smart TVs.  For instructions, visit:
SiriusXM on Your Amazon Devices
More on SiriusXM Shows, Schedules
For more about what's on SiriusXM see these related articles:
More about SiriusXM
SiriusXM Complete Channel Lineup
SiriusXM What's New (Hear and Now)
SiriusXM Additional Assistance (Listener Care)
Below are the latest posts from the SiriusXM Facebook page.
About SiriusXM (from Wikipedia)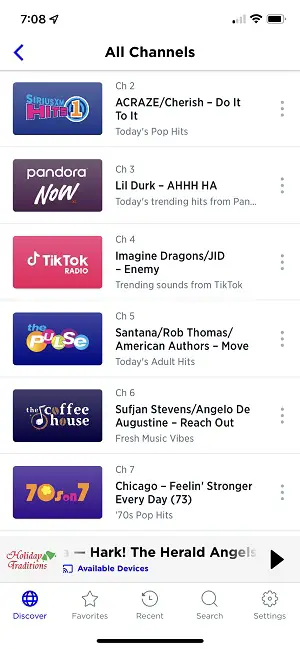 Sirius XM Holdings Inc. is an American broadcasting company headquartered in Midtown Manhattan, New York City that provides satellite radio and online radio services operating in the United States. It was formed by the 2008 merger of Sirius Satellite Radio and XM Satellite Radio, merging them into SiriusXM Radio.
As of 11 April 2021, Sirius XM had approximately 34.9 million subscribers.
SiriusXM is the exclusive home to Howard Stern, with two dedicated Howard Stern channels. SiriusXM's talk, news, and comedy programming features channels from many news outlets, including: BBC, CNBC, FOX News, CNN, MSNBC, Bloomberg, NPR, C-SPAN. The programming also includes exclusive talk and entertainment channels such as TODAY Show Radio, Business Radio Powered By The Wharton School, Entertainment Weekly Radio, Faction Talk, Radio Andy, Joel Osteen Radio, and comedy from channels including Comedy Central Radio, Comedy Greats, The Foxxhole, Laugh USA, Raw Dog Comedy and George Carlin's Carlin's Corner.
SiriusXM music programming includes channels dedicated to multiple decades and genres that span rock, pop, country, R&B, hip-hop, electronic dance, jazz and more, and concept-based channels, such as The Coffee House, SiriusXM Chill, Road Trip Radio, and Yacht Rock Radio.
The service also features several artist-branded channels, including those for Pitbull, The Beatles, Bob Marley, Bruce Springsteen, Steven Van Zandt, Pearl Jam, Grateful Dead, Jimmy Buffett, Phish, Dave Matthews Band, Tom Petty, U2, Ozzy Osbourne, LL Cool J, Eminem, Diplo, Garth Brooks, Kenny Chesney, Willie Nelson, Kirk Franklin, Frank Sinatra, B.B. King, Dwight Yoakam, Marky Ramone, Steve Aoki, The Tragically Hip, Chucho Valdés, and Tom Morello.[89] On occasion, SiriusXM has offered limited edition artists channels for a specific period of time, including those for Drake, Metallica, David Bowie, Fleetwood Mac, Prince, Guns N' Roses, Led Zeppelin, George Strait, The Rolling Stones, Eagles, Queen, Beastie Boys, Coldplay, Michael Jackson, Foo Fighters, Aretha Franklin, Miles Davis, Jimi Hendrix, Billy Joel, ABBA, Alicia Keys, Neil Young, and Blue Rodeo.
SiriusXM offers live play-by-play coverage of every NFL, Major League Baseball, and NBA game; every NASCAR race; PGA Tour events; and live college sports, as well as news, analysis and opinions from more than a dozen dedicated sports talk channels.