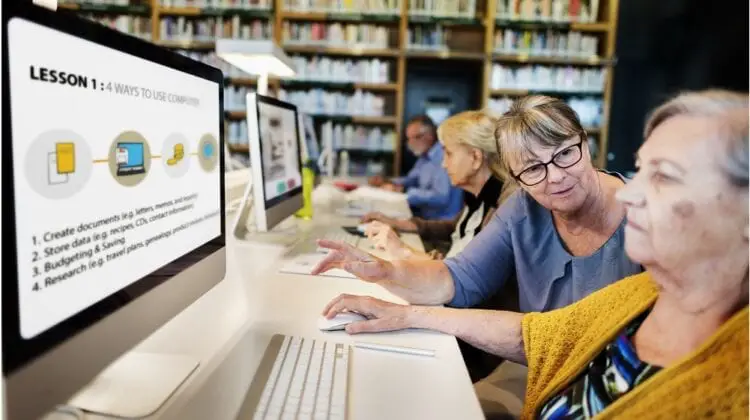 Did you ever dream about attending a highly esteemed, well-known university? When today's seniors were younger and looking at university options, most found that schools like MIT, Harvard and Yale were out of reach due to cost and distance.  However, today, thanks to the Massive Open Online Course (MOOC) movement and the widespread availability of high-speed internet, almost anyone can attend many of the nation's top schools at minimal or no cost.
The MOOC movement offers free courses that can be used by anyone from any place. As long as you have internet access, you can take courses from some of the greatest American universities like Georgetown and Brown or even the world's finest institutions, including Oxford and the Sorbonne.  Here's how to get started.
edX: Register and Start Learning
Probably the best way to find and participate in MOOC courses is by using edX, an online education platform created in 2012 by The Massachusetts Institute of Technology and Harvard University. As of 29 December 2018, edX has around 18 million students taking more than 2,200 courses online.
From the edX website, you can search for and browse courses anonymously but to take a class you'll need to register for edX and enroll in the class you want. To register at edX, you can either use an existing social media account or create a new account specifically for taking free online courses. From here, you are taken to a personal dashboard where you can peruse hundreds of free online classes.
Here's an introduction from the edX Youtube Channel.
Exploring Courses: Finding the Right Fit
On the edX website you will find the ability to sort through the available courses in different ways. You can search by type, level, subject or school.
For instance, if you are interested in taking an art class, there are multiple options that are easy to find. Look at the menu bar at the top of the page. Allow your mouse pointer to hover over "courses." Click on "Art & Culture" in the menu that appears. (You can also click HERE for a direct link to Art & Culture courses.)
You will then find 150 Art & Culture classes like Beethoven's 9th Symphony and the 19th Century Orchestra from Harvard, Modern Japanese Architecture from Tokyo Tech or The Rise of Superheroes and Their Impact on Pop Culture through the Smithsonian.  In most cases, you can view a video preview of the class without registering and enrolling.  Here is a preview video for the Beethoven class.

Perhaps you're less interested in the type of course you take as you are curious about enrolling in courses from top schools. You can use the drop down box under Schools & Partners to pick a specific learning institution. Scroll through the list and pick the school of your dreams to see what is offered.  Schools include MIT, Harvard, Sorbonne Universite, Caltech, Cornell, Dartmouth, Stanford and many more.
Dartmouth offers a large number of computer programming courses, but you can also take classes like Introduction to German Opera, John Milton: Paradise Lost or The Science of Upright Walking. Stanford's online offerings introduce you to the best of math and science, like Unconventional Reservoir Geomechanics and Statistical Learning. Notre Dame offers excellent religious courses like Jesus in Scripture and Tradition and Introduction to the Quran.
Enrolling: Choosing Your Class(es)
Now that you have chosen your class, you are ready to learn. Let's assume that you have chosen U.S. Government – Foundations, Democracy and Politics through Purdue University. You can look through the details of the course and see that it is a free six-week course that was created by Purdue's highly esteemed faculty. There is no cost to take this course, but you can pay a small fee of $49 to receive a certificate.
When you are ready, click the link to enroll. The link is a large, green box that is prominently displayed.  If you have not yet registered, you'll be taken to a page where you can do so.  Then, as soon as you click to enroll, you will be taken to your dashboard. This is the area where any class(es) in which you enroll will be displayed. When you see the course listed under "my classes," you know that you have successfully enrolled. You can now begin learning or look for more courses to add to your list.
Your Dashboard: A Guided Walk-Through
Your dashboard is the are where all of the classes you have chosen will appear. In order to start the course, find it in your list under "my classes." Click the name of the course and you will be taken directly to the first page.
With the course "U.S. Government – Foundations, Democracy and Politics" chosen, you will see a box on the right side of the page that reads "start course." Because this course is archived (meaning all information is saved but there are no ongoing discussions), you can start the course at any time. You can also watch the video introduction, read the syllabus and study the course outline.
When you are finished with the lesson, or if you simply would like to return to your dashboard, all you have to do is look for your user name in the upper right side of the page. A black arrow point down appears next to your user name, which you can click to bring up a drop down box. Choose "dashboard" from the drop down menu and you will return to your dashboard. From here, you can peruse other classes or return to the one you had begun. Your progress is saved, therefore instead of clicking "start course," you will choose "resume course" and you will be returned to the spot you last visited.
Some Courses of Interest
There are hundreds of courses that would be of great interest to students of all ages. Seniors particularly are well-suited to these free online courses because they are self-paced and can be studied from any location. You can take a month or a year to go through a self-paced course. You can study at home, while on vacation, at the local library or in a coffee shop. You can even gather a group of like-minded friends to study together at a time and place convenient to all of you.
Consider some of the following courses:
History of Chinese Architecture – or watch a video explaining this course
First Nights – Stravinsky's Rite of Spring: Modernism, Ballet, and Riots
First Nights – Handel's Messiah and Baroque Oratorio
European Paintings: From Leonardo to Rembrandt to Goya

Pyramids of Giza: Ancient Egyptian Art and Archaeology
Eighteenth Century Opera: Handel & Mozart
The Rise of Superheroes and Their Impact on Pop Culture
Hollywood: History, Industry, and Art
Star Trek – Inspiring Culture and Technology
Plato, Socrates and the Birth of Western Philosophy
Fake News, Facts and Alternative Facts
World of Wine: From Grape to Glass
American Prophet: The Inner Life and Global Vision of Martin Luther King Jr.
Making Sense of Climate Science Denial
The Civil War and Reconstruction
More MOOC Providers
edX is not the only MOOC Provider.  Others include Coursera and Udacity.  Another type of MOOC is the OpenCourseWare program at MIT.  Read more about HERE.
A massive open online course (MOOC /muːk/) is an online course aimed at unlimited participation and open access via the web. In addition to traditional course materials, such as filmed lectures, readings, and problem sets, many MOOCs provide interactive courses with user forums or social media discussions to support community interactions among students, professors, and teaching assistants (TAs), as well as immediate feedback to quick quizzes and assignments. MOOCs are a recent and widely researched development in distance education, first introduced in 2008 and emerged as a popular mode of learning in 2012.
According to The New York Times, 2012 became "the year of the MOOC" as several well-financed providers, associated with top universities, emerged, including Coursera, Udacity, and edX.
University pioneers include Stanford, Harvard, MIT, the University of Pennsylvania, Caltech, the University of Texas at Austin, the University of California at Berkeley, and San Jose State University.