A 75th Anniversary showing "It's a Wonderful Life" is in select theatres through Thursday, December 22, 2022.
"It's a Wonderful Life" is the final film in the TCM Big Screen Classics series from Fathom Events and Turner Classic Movies.  More than 20 classic movies have been shown in the series so far this year.  Each film is presented in hundreds of theatres with pristine digital projection, movie-theater-quality sound, and in its original aspect ratio, as intended by the filmmakers.
The TCM Big Screen Classics series is further enhanced with pre- and post-feature insights presented by popular TCM hosts, including TCM Primetime host Ben Mankiewicz.
Next up is:
More details and previews are below.
Classic Films Coming to Theatres
Here is the complete 2022 schedule for the Fathom Events classic film series.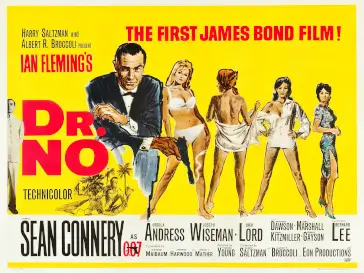 As he unravels the truth, Bond must fight deadly assassins and sexy femme fatales as he searches for the headquarters of the sinister Dr. No, who is implementing an evil plan of world domination. Jack Lord and Ursula Andress also star.
This special showing includes "Being James Bond," where Daniel Craig candidly reflects on his fifteen-year tenure as James Bond. Includes never-before-seen archival footage spanning from 'Casino Royale' (2006) to 'No Time to Die' (2021).
 On routine training maneuvers, Admiral James T. Kirk seems resigned that this may be the last space mission of his career. But an adversary from the past has returned with a vengeance. Aided by his exiled band of genetic supermen, Khan (Ricardo Montalban)—brilliant renegade of 20th century Earth—has raided Space Station Regula One, stolen the top-secret device called Project Genesis, wrested control of another Federation starship, and now schemes to set a most deadly trap for his old enemy Kirk… with the threat of a universal Armageddon.
This special 40th anniversary event includes exclusive insight from Turner Classic Movies.
The Mummy features horror icon Boris Karloff in a legendary performance as the Egyptian, Imhotep, who is accidentally revived by a team of archaeologists after 3,700 years. In one of the most popular horror films of all time, The Bride of Frankenstein, Boris Karloff reprises his role as the silver screen's most misunderstood monster who now longs for a mate.
Perfectly blending Universal's classic monster heritage with the science-fiction explosion of the 1950s, Creature from the Black Lagoon tells the mythical story of a dangerous half-human, half-fish creature lurking in the depths of the Amazon. After discovering a unique prehistoric claw fossil on an expedition deep in the jungle, scientists investigate its origins which lead them directly to a mysterious creature. Led by ichthyologist David Reed (Richard Carlson), the men try to capture the monster who has become obsessed with David's assistant, Kay (Julia Adams). Originally released in 3D, this thrilling adventure inspired sequels, TV series and more that continue to strengthen the monster's legacy to this day.
One of the most popular stories of all time, Gaston Leroux's Phantom of the Opera is the legendary horror tale starring Claude Rains as the masked phantom of the Paris Opera House. Following a tragic accident that leaves him disfigured, crazed composer Erique Claudin transforms into a masked phantom who schemes to make beautiful young soprano Christine Dubois (Susanna Foster) the star of the opera and wreak revenge on those who stole his music. A heroic baritone (Nelson Eddy) tries to win the affections of Christine as he tracks down the disfigured "monster" who has begun murdering those who resist his mad demands. Inspired by the original 1925 silent version, this lavish Technicolor production remains one of the most unforgettable adaptations ever to be filmed.

See more at:  Fathom Events Film Classics
For tickets and more details on all the upcoming TCM Big Screen Classics visit: TCM Big Screen Classics
Related stories:
Fathom Events on Facebook