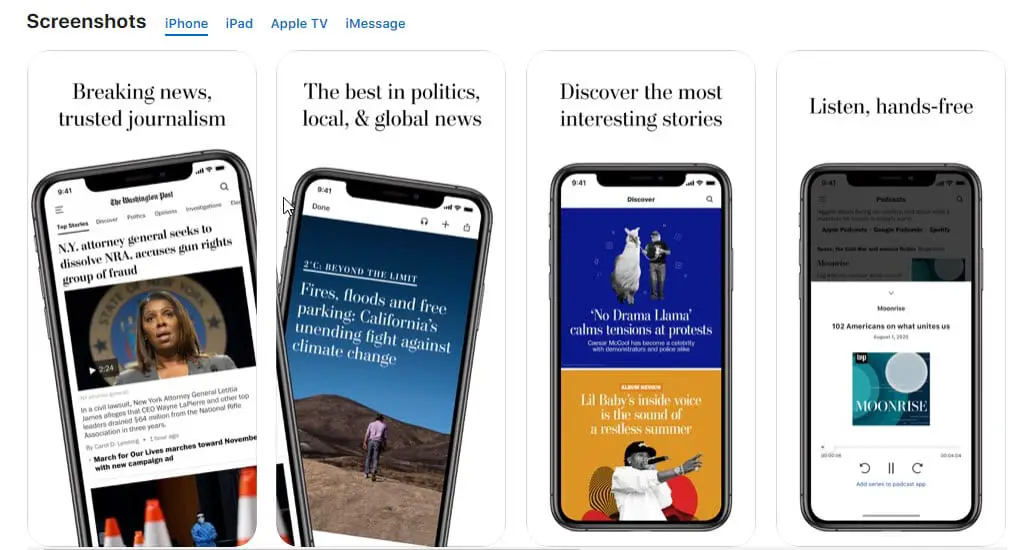 The Washington Post is offering a one-year digital subscription for $22.  Get your first 4 weeks free then pay just $22 for a full year.  This is promoted  2022 Graduation special but is available to all new subscribers. To view the Washington Post subscription deal, visit:
Washington Post subscription special
After your one-year special rate you'll be charged the regular rate – $100 per year – unless you act (see How to Get the Best Subscription Deal below).
To access the Post after you have subscribed, you can just visit the Washington Post home page, or you can use the Washington Post app for iOs or Android.  On your first visit you'll need to sign in with your subscriber ID.
How to Get the Best Subscription Deal
The rate above is officially good only for your first year.  You should contact The Post just before your special rate expires and say you cannot afford the full rate and need to cancel.  You will often be offered another special rate.  You can cancel by selecting Cancel Subscription in your account settings.  For more details visit:
Cancel A Washington Post Digital Subscription
Washington Post Academic Rate
The Washington Post offers this academic rate all year:  $1 every four weeks.  This is good for verified active K-12 teachers and full-time and part-time U.S. college students, graduate students, faculty, and staff.  After you subscribe the Post will attempt to verify your academic status via SheerID.
For more details visit:
Washington Post Military and Gov. Rate
Get a free subscription to The Washington Post if you register with a .mil or .gov email address. For more details visit:
Washington Post Free Subscription for Military, Gov. Employees
You will receive an email asking you to verify your email address. Click through that email to verify your email address and then go to your Profile, click on My subscriptions, and then click on Activate free digital access.
Terms of Washington Post Subscription Special
By subscribing, you agree to the above terms, the Terms of Service, Digital Products Terms of Sale & Privacy Policy. You agree to be charged $0.99 every four weeks for one year, then $15 every four weeks thereafter. Sales tax may apply. Your subscription will renew automatically until you cancel. You can cancel by selecting "Cancel Subscription" in your account settings. To avoid future charges, you must cancel before your next renewal date. No refunds for partial periods unless required by law.