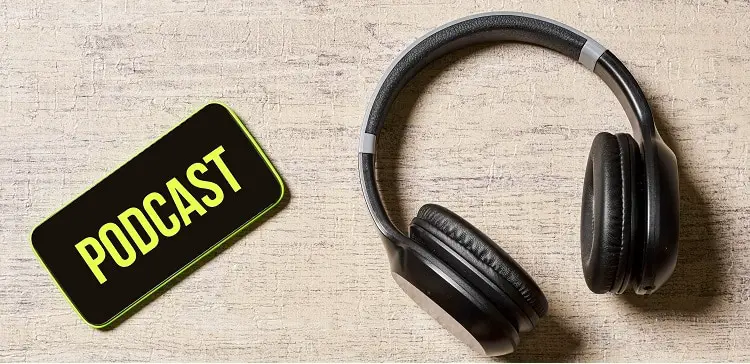 You've probably heard about podcasts. You may have even listened to a few. Still, you have a few questions about the whole podcast thing. What are podcasts – and how can you listen to them? Read on to find out.
What is a Podcast?
A podcast is like a radio show but available on-demand over the Internet. There's no picture, just audio – people talking or music playing or whatever. You can listen to podcasts on your smartphone, tablet, or computer.
Most podcasts run thirty minutes or less, which makes them ideal for listening to when you're in the car or working out or just in-between things. Unlike live radio, you can listen to a given podcast wherever and whenever you want, on your own schedule. All you need is an Internet connection.
What sort of topics can you find in podcasts? Do a little searching and you'll find podcasts covering virtually anything and everything imaginable. There are political podcasts and cooking podcasts, podcasts that make you think and podcasts that help you relax. There are podcasts that focus on the nostalgia of the past and those that look forward to future trends. There are serialized podcasts that play out like serialized murder mysteries and those that play the music of our youth. There are even podcasts that focus on topics of specific interest to seniors.
Podcasts may seem like a new phenomenon, but people have been producing podcasts for well over a decade. In fact, more than 100 million people listen to podcasts each week. It's not a niche thing anymore.
How Do You Listen to Podcasts?
As noted, you can listen to podcasts on virtually any device with an Internet connected. In fact, your phone or tablet might have come with a podcast app already installed.
If you have an iPhone you can use the Apple Podcast app to find and listen to podcasts. If you have an Android phone, like a Samsung Galaxy or Google Pixel, you can download the Google Podcasts app from the Google Play app store.
There are also a variety of other podcast apps available for both iOS and Android phones and tablets. Some of the most popular include Player FM, RadioPublic, and Stitcher, all free. You can also listen to podcasts in Spotify, TuneIn Radio, and other general music player apps.
From a computer, you can listen to podcasts from the websites of the most of the apps just discussed. You can also listen to most podcasts from their own websites, in your web browser.
How Do You Find Podcasts to Listen To?
Finding a podcast to listen to is as easy as searching for it. From your web browser, go to Google or any other search engine and enter podcast topic or podcast name of podcast. You should see a link or list of links that take you directly to the podcast(s) you want to hear.
Another good way to find new podcasts is to use the Google Podcasts website. This site presents a lot of today's hottest podcasts and also lets you browse or search for podcasts by name or topic. It's a great resource.
Finally, If you're using a podcast app on your phone or tablet, you should be able to search within the app for podcasts.
18 Great Podcasts for Seniors
To get you started, here are eighteen of the most popular podcasts for senior listeners. They're all free, so check them out!
99% Invisible
This podcast, hosted by Roman Mars, looks at design in the world around us. It goes beyond architecture to look at the design of everyday things, from fortune cookies to armchairs. Listen to it at 99percentinvisible.org.
Aging in Full Bloom
Hosted by Lisa Stockdale, this podcast focuses on all forms of wellness as they relate to aging, in easily digestible five-minute episodes. Listen to it at podcasts.apple.com/us/podcast/aging-in-full-bloom/id1356595279.
The Allusionist: Small Adventures in Language
You never knew language could be this interesting. The Allusionist is a podcast devoted to words and language, through the eyes and ears of British comedian Helen Zaltzman. Listen to it at www.theallusionist.org.
Better Health While Aging
Dr. Leslie Kernisan and her guests discuss common health problems that affect those of us over aged 60. Topics include long-term care, hearing loss, Medicare, and more. Listen to it at betterhealthwhileaging.net/series/bhwa/.
Criminal
Criminal is a podcast that examines real-world criminal cases from the 19th century to today. It's fascinating, especially if you like true-crime stories. Listen to it at thisiscriminal.com.
The Daily
When you want a daily dose of world news, turn to The Daily, a daily 20-minute news podcast produced by the New York Times and hosted by Times reporter Michael Barbaro. Listen to it at www.nytimes.com/column/the-daily.
Freakonomics Radio
This podcast, hosted by Stephen J. Dubner, is the top-rated podcast among senior listeners. It's all about economics in your daily life, explained in a user-friendly and entertaining fashion. Listen to it at freakonomics.com/archive/.
Good Job, Brain!
Are you a trivia buff? Then this podcast, in the form of an interactive quiz show, is for you. You'll quickly get pulled into all manner of strange and interesting trivia. Listen to it at www.goodjobbrain.com.
Guided Meditations
This podcast provides short and calming meditations of mind and body to help you deal with life's daily stresses. Listen to it at www.tarabrach.com/guided-meditations.
The Handyguys
If you're a do-it-yourselfer, you need to listen to Brian and Paul, otherwise known as the Handyguys. Together they tackle a variety of DIY home projects. Listen to it at www.handyguyspodcast.com.
Living to 100 Club
If you want to live longer, this is the podcast to listen to. It's all about aging successfully. Listen to it at livingto100.club.
Lux Radio Theatre
The Lux Radio Theatre podcast presents hundreds of hour-long classic radio dramas originally aired between 1934 to 1955. You'll hear all the big stars perform adaptations of their big-screen and Broadway roles. Listen to it at podcasts.apple.com/us/podcast/lux-radio-theater/id216589078.
Not Old – Better
This podcast is billed as a "show for those 50+ by those 50+."  It's hosted by award-winning journalist Paul Vogelzang and a presents a variety topics that older listeners should find interesting. Listen to it at notold-better.com.
Planet Money
Planet Money is an extremely popular NPR podcast about money and economics, produced by the team from This American Life. Fans say that it makes money matters fun and entertaining. Listen to it at www.npr.org/podcasts/510289/planet-money.
Stuff You Missed in History Class
If you're a history buff you'll love this podcast, which makes history fun. It's put together by the How Stuff Works website and hosted by Tracy V. Wilson and Holly Frey. Listen to it at www.iheart.com/podcast/stuff-you-missed-in-history-cl-21124503/.
TED Radio Hour
TED stands for Technology, Entertainment, and Design, and this podcast is self-described as "a journey through fascinating ideas: astonishing inventions, fresh approaches to old problems, new ways to think and create." It's produced by NPR and it's fascinating. Listen to it at www.npr.org/podcasts/510298/ted-radio-hour.
This American Life
Every week more than 2.5 million people tune into NPR to hear host Ira Glass relate a variety of entertaining true stories. This American Life has been on the air for more than twenty years and it's always a great listen. Listen to it at www.thisamericanlife.org.
You Must Remember This
If you're interested in the behind-the-scenes stories of classic Hollywood, this podcast is for you. It covers "the forgotten histories of Hollywood's first century" and it's fascinating. Listen to it at www.youmustrememberthispodcast.com.