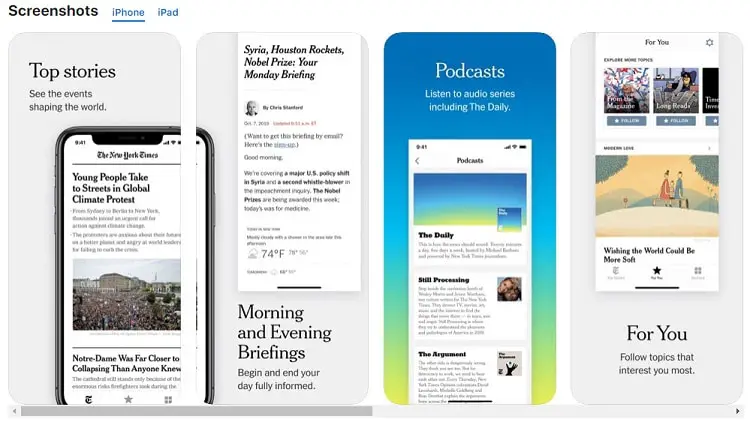 The New York Times has a great digital subscription deal from time to time:  $1 a week for up to 52 weeks, so, $52 for a full year. However, this deal comes and goes.  Often the deal is for $2 per week, still a bargain but if you want the best deal, keep a lookout for the $1 per week deal.  You can check it here:
New York Times Digital Subscription special
The regular rate is $4.25 per week.
This subscription gives you unlimited access to the New York Times website, eEdition, and app for Apple or Android.  Your credit card will be billed every four weeks. Good for up to 52 weeks for all new subscribers.
This does not include the Crossword or Cooking sections (see more details below).
NY Times Crossword
If you're a NY Times subscriber you can add an annual subscription to the NY Times Crossword for $20 to $40 a year.  Regular price is $40 per year, but several times a year the New York Times Crossword Subscription is half price, $20 a year.  To subscribe or to check the current price, visit:
NY Times Crossword Subscription. 
The $20 deal comes and goes; if the regular rate is shown, you might check back later.
New York Times Cooking Subscription
If you have an All Access NY Times digital subscription, the NY Times Cooking Section is available to you at no extra charge.  Otherwise, you can purchase it separately for $5 a month or $40 a year.  This goes on sale a few times a year for half price, $20 per year.
To find out if you do have access, visit the Cooking Section at:
If you do not have access and want to subscribe, visit:
New York Times Student / Academic Rates
The New York Times also has Academic rates, which are good every day. University students and educators can get $1 per week Basic Digital Access all year round.  Students and educators can also get an All Access Subscription $1.50 per week.  This adds the NYT Crossword and NYT Cooking sections, which are not included in Basic Digital Access.  The Times will require you to verify your student status via SheerID. For more details visit:
NYT Student / Educator $1 special rate 
*No commitment required. Cancel anytime.  Limited time offer. This is an offer for a Basic Digital Access Subscription. Your payment method will automatically be charged in advance every four weeks. You will be charged the introductory offer rate every four weeks for the introductory period of one year, and thereafter will be charged the standard rate of $17 every four weeks until you cancel. Your subscription will continue until you cancel. You can cancel anytime. 
New York Times: Cancel Subscription
To cancel your New York Times subscription, visit:
Looking for more
great

newspaper subscription deals? See our roundup.