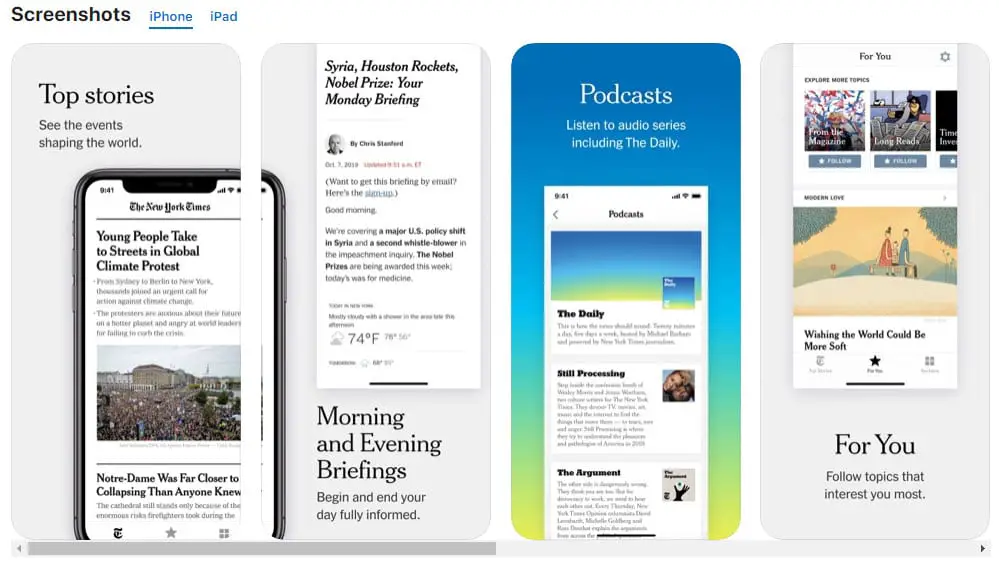 The New York Times is offering digital subscriptions for as little as $1 a week*. You can add the Times Crossword for an additional $19.97 a year.
Here are the best deals on New York Times digital subscriptions.
Basic Digital Access $1/ week:   New subscribers can get The New York Times Basic Digital Access for $1 per week for the first year.  Basic Digital Access includes the full Times digital edition – which you can read on a PC, tablet or smartphone – minus the Cooking Section and Crossword puzzle.  Your credit card will be billed $4 every four weeks. Good for one year for all new subscribers.
For more details or to subscribe. visit:
New York Times $1 per week special
*Note: The $1 per week special is good during certain times; it goes to $2 a week at other times. 
To access the Times after you have subscribed, you can just visit the NYT home page, or you can use the NYT app for iOs or Android.  On your first visit you'll need to sign in with your subscriber ID.
The $1 per week deal is officially good only for your first year but you may be offered a long-term extension when you cancel.  Contact the Times just before your first year expires and say you cannot afford the full rate and need to cancel.  You will often be offered the same rate for another year.  Regular price for Basic Digital Access is $4.25 per week.
Terms of NY Times $1 Basic Digital Access: 
Limited time offer. This is an offer for a Basic Digital Access Subscription. Your payment method will automatically be charged in advance every four weeks. You will be charged the introductory offer rate of $4 every four weeks for the introductory period of one year, and thereafter will be charged the standard rate of $17 every four weeks until you cancel. All subscriptions renew automatically. You can cancel anytime. These offers are not available for current subscribers. The Basic Digital Access Subscription does not include e-reader editions (Kindle, Nook, etc.), NYT Games (the Crossword) or NYT Cooking. Mobile apps are not supported on all devices. Other restrictions and taxes may apply. Offers and pricing are subject to change without notice.
Add the New York Times Crossword
A Basic Digital Access subscription gives you access to the Times Mini puzzle but not to the New York Times Crossword.  For that you'll need another subscription.  NY Times subscribers can get the Crossword for $19.97 per year.
To subscribe, visit:  NY Times Crossword Puzzle Subscription.
New York Times Student Subscription Special
The New York Times also has these Academic rates, which are good all year.
Academic Special:  University students and educators can get $1 per week Basic Digital Access all year round.  Students and educators can also get an All Access Subscription $1.50 per week.  This adds the NYT Crossword and NYT Cooking sections, which are not included in Basic Digital Access.  The Times will require you to verify your student status via SheerID.
For more details visit:  NYT Student / Educator special rate
To qualify for the special academic rate, you must be a current qualifying student or educator. Your payment method will be charged in advance every 4 weeks (28 days) at the special rate. All subscriptions renew automatically. You can cancel at any time. We may periodically request verification of your qualifying student or educator status, and if you are no longer able to confirm that status we may charge you the standard rate unless you cancel. This offer does not apply to e-reader editions. Mobile apps are not supported on all devices. Other restrictions and taxes may apply. Offers and pricing are subject to change without notice