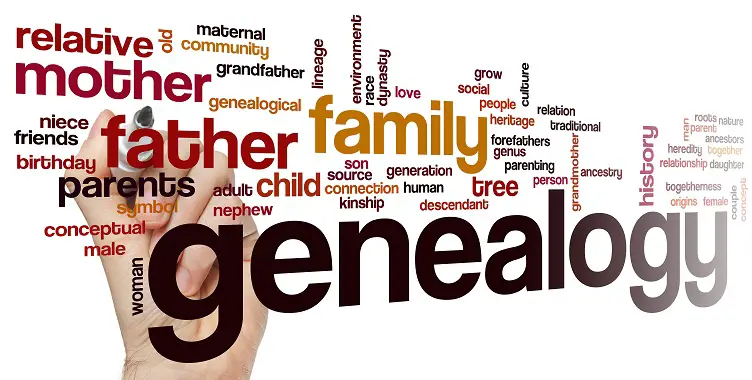 Genealogy tools can help you trace your family tree back to its roots. Diving into the world of genealogy is a wonderful way to get in touch with your family's history, origins, culture, and more.
One of the most popular and well-known genealogy tools on the Internet is Ancestry, a subscription-based service that helps you uncover your family tree through aptly named "leaves". A shaking leaf is a hint that Ancestry has potentially matched a piece of information you provided about your family to a factoid in their ever-growing database of more than 30 billion records.
Investigating leaves gives you an opportunity to build your own family tree, where you can view a LifeStory timeline for each of your ancestors and learn about places and events from their lifetimes. Other key features of Ancestry include its modern web interface, built-in sharing features for collaborating with family members, and easy integration with AncestryDNA test results.
However, since Ancestry raised its monthly subscription rates last year (to $24.99/month for a U.S. membership), you might be searching for an alternative genealogy tool where you can continue your research. We've rounded up the best alternatives to Ancestry; check them out below!
What to Look for in a Genealogy Tool
There are a wide variety of genealogy tools on the market, from free and paid downloadable software to free and subscription-based online sites and services. When deciding which genealogy tool best suits your needs, it's helpful to keep in mind the parameters and goals of your search. Here are some criteria to consider when assessing genealogy tools:
Does the genealogy tool focus on a specific geographic area? If so, does the specific area meet the needs of your search?
How do people contribute genealogy information to the database? Are they volunteers or staff members? Have other users verified the accuracy of information in the database? Do you need to provide and input all the information yourself?
What kinds of records are available to consult? Many types of records can be useful in your search as you make connections to what you know about your ancestors: everything from housing, military, and court records to census data, marriage certificates, and yearbooks.
Does the tool connect to other popular genealogy tools to import information from existing databases? Does the tool support importing common family tree file types, such as GEDCOM (Genealogical Data Communication), so you can bring your previous research with you?
What is your budget? Do you prefer to use a free service, pay a one-time fee, or commit to a monthly subscription?
Alternatives to Ancestry
FamilySearch
Many people consider FamilySearch to be the gold standard of free genealogy tools, and for good reason. FamilySearch boasts a large user base and community, an entire database of integrated sources and searchable historical records, and a digital library of more than 555,000 searchable genealogical books. FamilySearch is funded by The Church of Jesus Christ of Latter-day Saints, but the genealogy service's website states that the church "provides FamilySearch free of charge to everyone, regardless of tradition, culture, or religious affiliation".
Key Features of FamilySearch
One feature that makes FamilySearch unique is the service's goal to build one interconnected family tree for all of humanity. Instead of building a siloed, individual tree for your family, FamilySearch helps you build your family history as branches on an existing tree, striving to connect you to information about your ancestors that other users have already added to the database. According to FamilySearch's article on 2022 Genealogy Highlights, the service's unified Family Tree contains more than 1.46 billion people, with more than 2.48 billion sources referenced.
Once you've signed up for a free account and added some preliminary information about members of your family (such as their names, birthplaces, and dates of birth), FamilySearch matches your input to records in their massive database. Like Ancestry, FamilySearch tags your entries with research hints as you go. Checking out these hints can provide connections to information about your family that exists in other databases, like Find a Grave®, obituaries, and military service records.

Get Started with FamilySearch
For example, after I added an entry with my maternal grandfather's name and a few key facts, I soon received a hint that suggested additional information pulled from his World War II service record. After adding some facts about my paternal grandfather, I received a hint that supplied additional insight about his parents and siblings gleaned from the United States 1950 Census. FamilySearch linked me to a scan of the source documents, where I could see the census taker's handwritten record of my grandfather's family and their ages, birthplaces, and occupations (complete with our initially misspelled Italian surname).
You can review information provided in hints for accuracy, then import the additional info and attach the record to the corresponding person to keep the source connected to the tree (in case someone needs to consult or review it in the future). Reviewing research hints puts more potential matches at your fingertips while saving you the time it would take to consult other databases and copy over the information yourself.
Whether you're just starting on your genealogical journey or want to cross-reference an existing family tree with a large library of resources, FamilySearch's integrated database and accessible, web-based interface make it a top-notch tool in your genealogy toolkit.
Find a Grave®
Find a Grave's mission statement is to "help people from all over the world work together to find, record, and present final disposition information as a virtual cemetery experience". Jim Tipton created Find a Grave in 1995 to chronicle his visits to the gravesites of famous people. The site has since expanded to include gravesites worldwide, with an active community of more than a million users who contribute thousands of pieces of new information each day, adding and updating factoids about cemeteries around the world and individual graves. Not only has the website been around for more than 25 years, but Ancestry purchased it in 2013—so you know it's considered a reputable source of information in the genealogy community.
Key Features of Find a Grave
Find a Grave includes more than just birth and death dates: Users can also contribute pictures, biographies, family information, and "virtual flowers"—messages of remembrance or condolence. These features enhance what Find a Grave calls the "virtual cemetery experience". If you're searching for information about an ancestor's burial, or even if you have simply moved away from the area and can no longer visit a loved one's grave in person, Find a Grave can help you bridge the gap.

Get Started with Find a Grave
While I was researching Find a Grave and its features, I input my maternal grandfather's name and birth year. A shortlist of matches immediately popped up, and clicking the first entry directed me to a page with my grandfather's biography and obituary, as well as links to my grandmother's page on Find a Grave. The site also provided links for further research, such as a search for military records, newspaper articles, and my grandfather's entry on Ancestry.
If you already have some information about your ancestors and would like to learn more about their gravesites and burials, Find a Grave is an excellent place to start your research.
Legacy Family Tree
Legacy Family Tree, as its name might suggest, is one of the long-running software offerings on the genealogy scene. Ken McGinnis and Dave Berdan started developing the tool in 1995, then released Legacy 1.0 in 1997. Legacy 9.0 released in 2017 and is the most recent version of the software. The free Standard Version and paid Deluxe Edition are available to download from the Legacy website. Pricing for Legacy Deluxe Edition starts at $34.95; owners of previous Deluxe Editions can upgrade to 9.0 for just $26.95 (prices current as of January 2023).
Key Features of Legacy
One of the major draws of Legacy is its integrated printing service, which you can use to create graphical charts and books for display and reference. Printed material is available in a wide range of customizable formats, from ancestor and descendant books to fan and DNA charts. Once you customize and order your chart or book, Legacy will ship it directly to you so you can enjoy the fruits of your labor.
When you add information about an ancestor to a family file in Legacy, the software automatically connects it with potential matches in well-known genealogy databases, like MyHeritage, FamilySearch, GenealogyBank, and more. Legacy also features convenient search tools that allow you to consult records on FamilySearch or Find a Grave with just a click.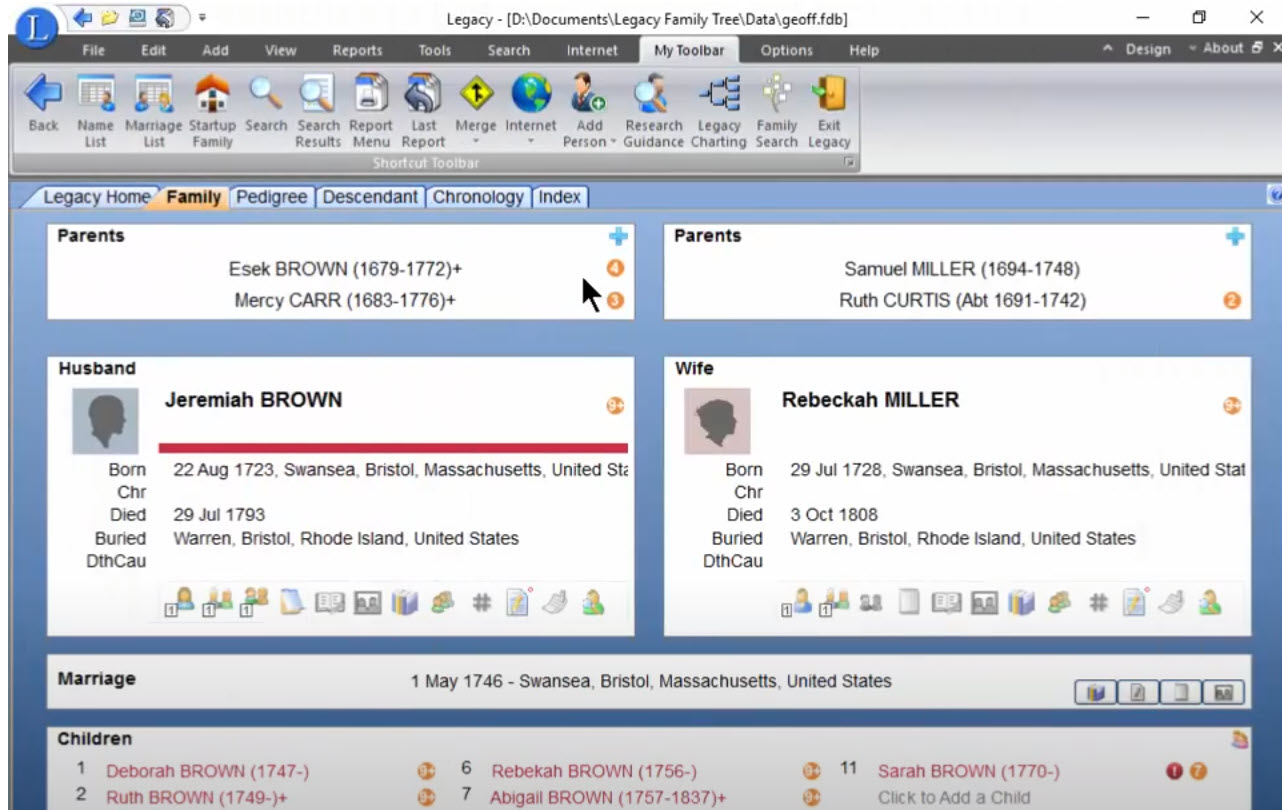 Get Started with Legacy
Legacy offers a video tour and a host of training videos and live webinars to walk you through the software's interface and features so you can dive right in. Some key features of Legacy include the Research Guidance tab, which helps you organize and plan your research, and the multitude of different Views for parsing information. For example, the Chronology View (only available in the Deluxe Edition of the software) displays all of a person's information and related events in chronological order.
One potential downside to Legacy is its antiquated user interface. If you're accustomed to building your family tree in a slick web interface like the one on Ancestry, Legacy's dated look might be off-putting at first. Note also that Legacy is currently a Windows-only program, although the software's knowledge base offers tips on running Legacy on macOS or Linux. Ultimately, if you can overlook Legacy's "classic" styling and don't mind the Windows focus, Legacy's one-time fee (as opposed to a subscription) and extensive feature set are big points in its favor.
More Resources
USGenWeb
USGenWeb's motto is "Keeping Free Genealogy on the Internet", which gives you a good idea of what to expect from this website. Since 1996, genealogists and volunteers have worked to compile a free online network of sites that provide genealogical information for the United States at the state and county level.
Click on a state on the interactive map on the USGenWeb homepage to be directed to the state's individual page, where you can peruse county-specific records, related documents and photos, links to external records and databases, volunteer opportunities, and more. Plus, you can access all this information without needing to register for an account!
Cyndi's List
Not sure where to start your genealogy research? Cyndi's List, which has been online since 1995, prides itself on being a "comprehensive, categorized & cross-referenced list of links that point you to genealogical research sites online".
Basically, if you need to know where to find a certain piece of genealogical information on the Internet, chances are that Cyndi's List can point you in the right direction. The site links to resources in categories both familiar and unique, such as Family Bibles, Occupations, Photos & Family Memories, and Heraldry. Since the site can be overwhelming at first (watch out for the pop-up advertisements), Cyndi's List recommends starting with the Beginners category and the How To category.
Comparison of Genealogy Software
If you're interested in comparing pricing, features, and operating system compatibility of the genealogy software on the market, Wikipedia has a handy chart that can help you evaluate your options based on the goals and parameters of your genealogy research.
Genealogy on Facebook
One more place to look for family history information and guidance is Facebook. There are more than 15,000 Facebook groups devoted to genealogy. A comprehensive, searchable list of these Facebook groups was created and posted for free by Professional Genealogist Kathrine R. Willson. You can find it at: Genealogy on Facebook List.