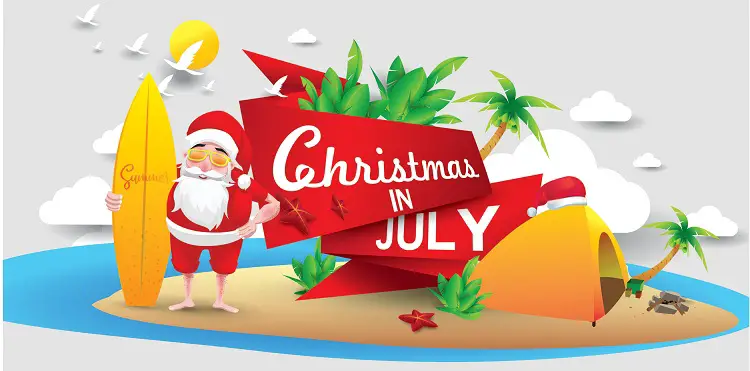 SiriusXM is celebrating Christmas in July with Christmas music and radio shows now through July 25, 2021.
Hear Christmas music on Channel 776, the Holiday Traditions Channel, and hear Christmas-themed radio plays and other shows on Channel 148, Radio Classics.
"While Frosty the Snowman may not have been feeling very merry in this heat, you can make the season bright with Christmas in July, a weeklong special featuring hit Christmas songs, radio renditions of your favorite seasonal movies, and holiday episodes from classic comedies and dramas. You better watch out, because Santa Claus is comin' to town from July 19 to July 25 on Holiday Traditions (Ch. 776) and Radio Classics (Ch. 148)," says the SiriusXM announcement.
"Spread Christmas cheer as you sing along to traditional holiday recordings from the '40s through '60s by artists such as Bing Crosby, Andy Williams, Ray Conniff, and Nat King Cole.
"Enjoy the spirit of the season with radio versions of heartwarming holiday movies, including It's A Wonderful Life with Jimmy Stewart and Donna Reed; A Miracle on 34th Street, starring Oscar Award winner Edmund Gwenn as Kris Kringle; Remember the Night with Barbara Stanwyck and Fred MacMurray; the 1940 romantic comedy Christmas in July, starring Dick Powell; and multiple versions of A Christmas Carol by Charles Dickens, including productions starring Lionel Barrymore and Orson Welles. That's nothing to say "bah humbug" about!
"In addition to cinema classics, don't miss holiday episodes from both comedies and dramas, including The Jack Benny Program, Fibber McGee and Molly, My Favorite Husband, The Bing Crosby Show, The Bob Hope Show, Kraft Music Hall, The Roy Rogers Show, Gunsmoke, Suspense, The Whistler, Tales of the Texas Rangers, and Yours Truly, Johnny Dollar. Some more modern offerings include Sherlock Holmes and The Adventures of Harry Nile, so you can deck the halls through the decades."
For more information or to stream the channels online, visit:  Christmas in July on SiriusXM
Related Stories: