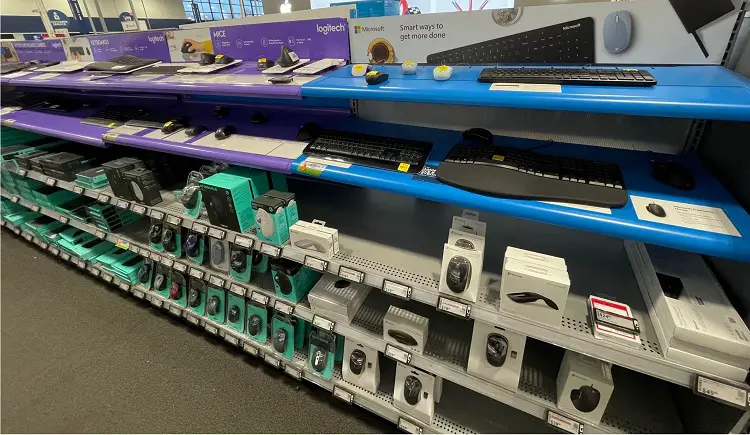 If you spend much time on your computer, it might be time to upgrade your mouse.
Many home computer users have upgraded to a large, high-resolution monitor, and maybe a high quality keyboard.  As for your mouse, though, you probably haven't thought much about it, unless you're a gamer. Most gamers use a "gaming mouse" that has higher precision (measured by DPI, Dots Per Inch), faster response, better ergonomics, customizable buttons, and other bells and whistles, like LED lighting and removable weights. Non-gaming computer users can also benefit from a better mouse. You can probably increase your productivity and get a more enjoyable computer experience by getting a mouse that's suited to you.  Here's our advice on how to find the best mouse.
How to Find the Best Mouse for You
There are LOTS of mice to choose from.  The top mouse manufacturer in the world, Logitech, has dozens of models, plus are alternatives from Microsoft and other manufacturers like Victsing.  You can see most of them here: Amazon Top Selling Mice.
Note: Senior Daily is an Amazon Associate and earns a commission from qualifying purchases.
Our best advice on upgrading your mouse is to head to your local Best Buy and get hands-on with several varieties.  Most Best Buys have more mice on display than Staples or Office Depot.  The Best Buy we visited has two displays of mice – one in the regular computer section (shown in the photo above) and another in the computer gaming section (in the photo below).  We looked at mice in both sections. Don't automatically discount a gaming mouse for office work, as a gaming mouse can provide better ergonomics, extra precision, extra buttons, and other useful features.
Once you're at a mouse display, try out small and large mice.  Hold the mouse as you normally would use it and evaluate it for size and weight.  See if it fits your grip.  See how it feels to move around.  Click the buttons to see if they are responsive and don't feel cheap. If fast scrolling is important to you try the scroll wheel.  Some mice have a free-spinning scroll well.  If you want customizable buttons, make sure than there are more than just the left and right buttons, and make sure they are within your reach.
The best mouse for you is really a matter of personal taste, but here are the main qualities in a mouse you should consider:
Connectivity (Wired or wireless): A wireless mouse connects to a PC with a receiver or dongle that plugs into a PC USB port, or with Bluetooth.  Bluetooth requires no separate dongle, since it's built into most computers.  Don't automatically discount a wired mouse.  If you're using a desktop, or a docked laptop, a wired mouse is probably as comfortable as wireless, and will cost less.   A wired connection also guarantees a fast response time with no lag between mouse clicks, and no connectivity issues.  Plus, there is no battery to replace.
Size: Some mice, especially travel mice, are made for smaller hands, and made for portability.  A Logitech M187, for example, is classified as a mini mouse.  It is just 1.9 inches wide and easily fits into a pocket. Other mice, like the Logitech MX Master (more on that later), are bulkier at 3.3 inches wide but come with lots more features.
Weight: Some mice are extremely light, some heavy, and some come with weights you can add or remove.  A Logitech M187 weighs just 1.8 oz, while the Logitech MX Master 3 weighs 5.1 oz.  The Logitech G502 Hero,  a gaming mouse that some office users like, comes with a set of weights that you can add or remove.
Left or Right Handed – If you're left handed, take care in buying a high end mouse.  Some mice have a thumb rest with buttons on the left, and so these mice are really not usable if you use your left hand for a mouse.
Extra buttons:  Many mice now come with added buttons you can customize for common key strokes, like copy and paste.
Scroll Button:  Most mice now come with a middle scroll button, and some mice like the MX Master and G502 have a scroll button that you can set in motion and it will continue spinning.  Some mice also have a horizontal scroll button, which can be useful if you work with extra-wide spreadsheets or photos.
The Best Full-Function Mouse
What's the best mouse for the normal computer user?  The undisputed king of mice for office workers and programmers is the Logitech MX Master 3.  The MX Master offers some amazing features, such as:
Ultra-fast magspeed scrolling.  Just flick the scroll wheel and it spins continuously, taking you to the bottom of the page you're looking at.  
Horizontal scrolling with a side thumb scroll wheel. Useful for extra wide documents or photos.

Multi-device and multi-OS –  You can pair one MX Master with one, two, or three devices. The MX Master can connect via Bluetooth so you don't need to use a dongle.

Flow cross-computer control – Work seamlessly on three computers. Seamlessly move your cursor from the screen on one PC to the screen on another.  If you switch between computers, this might be a must-have for you.  It's amazing to see how you can move the mouse from the screen on one PC, over to the screen on another PC. Or copy text on one PC and paste it into another.  

Works on any surface even on glass with dark field 4000 DPI sensor.  Faster and 5x more precise than the basic mouse.

USB-c rechargeable – Full charge lasts up-to 70 days, quick 1 min charge gives 3 hrs of use.

App-specific customizations – Speed up your workflow with predefined app-specific profiles and numerous customization options. 

Built-in profiles for Microsoft Word, Excel, Powerpoint; Google Chrome, Adobe Photoshop and more applications.
The MX Master 3 has been named best office mouse by PC Magazine, Rtings.com, Tom's Hardware and more tech review sites.  There is really only one big drawback: the price.  The MX Master 3 is priced at $99.99 on Amazon and at Best Buy, and it is rarely if ever on sale.  The MX Master is also useful only for those who use the mouse in their right hand; also some users might find it bulky, so before buying one you should definitely get hands on with it.  At the end of this article is a video introduction to the MX Master 3 from Logitech.
If you want to consider some alternative mice, see below.
Lower-Priced Alternatives
One alternative to the MX Master 3 is the Logitech G502 Hero, a wired gaming mouse.  Although it is marketed as a gaming mouse, it has a good set of office productivity features, including:
Ultra-fast magspeed scrolling, like the MX Master.  

11 customizable buttons and onboard memory: Assign custom commands to the buttons, like copy and paste. Save up to five profiles directly to the mouse onboard memory.

Adjustable weight system: Arrange up to five removable 3.6 grams weights inside the mouse for personalized weight and balance tuning

Programmable RGB Lighting and Lightsync technology 

Mechanical switch button tensioning: Metal spring tensioning system and pivot hinges are built into left and right gaming mouse buttons for a crisp, clean click feel with rapid click feedback.
The drawbacks are:
This is a wired mouse.  It plugs into a USB port.
Since this mouse connects to only one computer at a time, it does not offer the Flow Cross-Computer feature of the MX Master
The G502 is usually on sale for $39.99 at Amazon, and sometimes for the same price at Best Buy, so is much cheaper than the MX Master 3.  A video about the G502 is at the end of this article.
More Alternatives
Here are the bestselling mice on Amazon, from 1 to 100:  Amazon Top Selling Mice. Here are some to consider.
Budget Mouse: The No. 1 bestselling mouse on Amazon is the VicTsing MM057 2.4G Wireless Portable Mobile Mouse, priced at about $10 on Amazon.  It has programmable buttons and adjustable DPI.  It is rated 4.6 out of 5 by almost 130,000 Amazon customers.
Ultraportable: If you want a really small mouse to take with you to use with your laptop outside of home, the Logitech Minimouse M187 is a popular choice.  You can usually get it for about $12 at Best Buy and Staples.
Medium size: If you want a bit larger mouse, still small enough to take with you but also good for deskwork, the Logitech M185 is a good choice. You can usually get it for about $12 at Target and office stores.
Good luck, we hope your new mouse will improve your computing experience.
Looking for more tech for seniors? Here are more stories like this: Senior Tech Articles