Every household can now get another order of Covid tests free from the federal government.
Every household can now order a new set of four tests, the White House announced in December.  The order contains 4 free Covid tests.  The U.S. Postal Service is handing distribution of the free COVID tests.
The U.S. Postal Service is handing distribution of the free COVID tests. To place an online order visit:
People who have difficulty accessing the internet or need additional support placing an order can call 1-800-232-0233 (TTY 1-888-720-7489) to get help in English, Spanish, and more than 150 other languages. For more information, visit: https://www.covid.gov/tests/faq.
Below are videos from the CDC about the test and how to read it.  For more details visit:
CDC Guidance on Home COVID tests
Where To Purchase COVID Test Kits
The COVID test kits from the federal government are free, including shipping, but you can also get inexpensive tests from major retailers.
If you want something quickly, you should check Walmart, Walgreens, CVS or Amazon. They all usually carry kits priced at around $20.  Most test kits come with two tests.  Here are some places to look:
For quickest availability, try ordering this BinaxNOW test from Walmart for same-day pickup:
Another option is Amazon, which has similar Covid test kits; here is Amazon's bestselling Covid test kit:
Another place to look is at a stock tracker such as Now In Stock which can help you find stores that have the tests in stock.
Pay close attention to the delivery date or pickup date before you place your order.  Delivery times from Amazon can range from 1 to 15 days, depending on your location and when you order.
Walmart offers same or next-day curbside pickup at some locations, or free delivery if you order two kits (Walmart home delivery is free when your order exceeds $35).  To check on Covid test availability near you:
Look for a "Pickup available" location and add the product to your cart.
If you see "Pickup not available" then click on "Check on availability nearby" as shown below.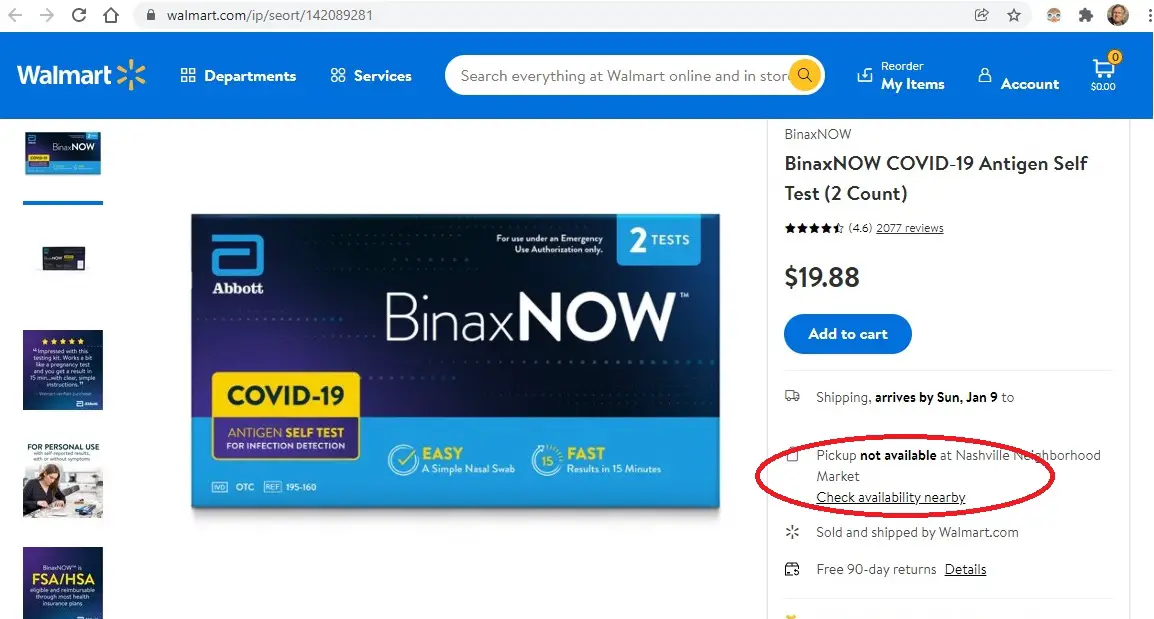 Other Options For Home Test Kit
Many big retailers and drug stores also offer Covid test kits in stores.  To check for availability near you, Google:
covid home test kit near me
Walmart and Target are good for telling you if the kit is available or out of stock.  However, most other store websites will say "Visit your store to see if it's available," which is not very helpful.
How to Perform and Read The Test
Covid at-home test kits require you to swab both nostrils and put the swab into the test kit.  In 15 minutes you view the test result.  Below is a video from Abbott Labs on how to use their BinaxNOW kit that is available from Walmart.
Covid Test Kit Reimbursement
If you do purchase a home Covid test, you may qualify for reimbursement from your insurance plan.  (Medicare, however, does not cover home Covid test kits.)  For details visit:
CMS.GOV: How To Get Covid Tests for Free
About the Free Covid Tests
The free tests available from the federal governmentr:
Are rapid antigen at-home tests, not PCR
Can be taken anywhere
Give results within 30 minutes (no lab drop-off required)
Work whether or not you have COVID-⁠19 symptoms
Work whether or not you are up to date on your COVID-⁠19 vaccines
Are also referred to as self-tests or over-the-counter (OTC) tests.
For more details, visit  https://www.covidtests.gov/