Film star Sean Connery suffered from dementia during his final days but died peacefully, his widow said in an interview Sunday.
Connery, who turned 90 in August,  died at his home on the Bahamas on Friday, October 30, 2020.
Connery's widow told the London Daily Mail Sunday that Connery was a "gorgeous model of a man" but suffered from dementia in his final days.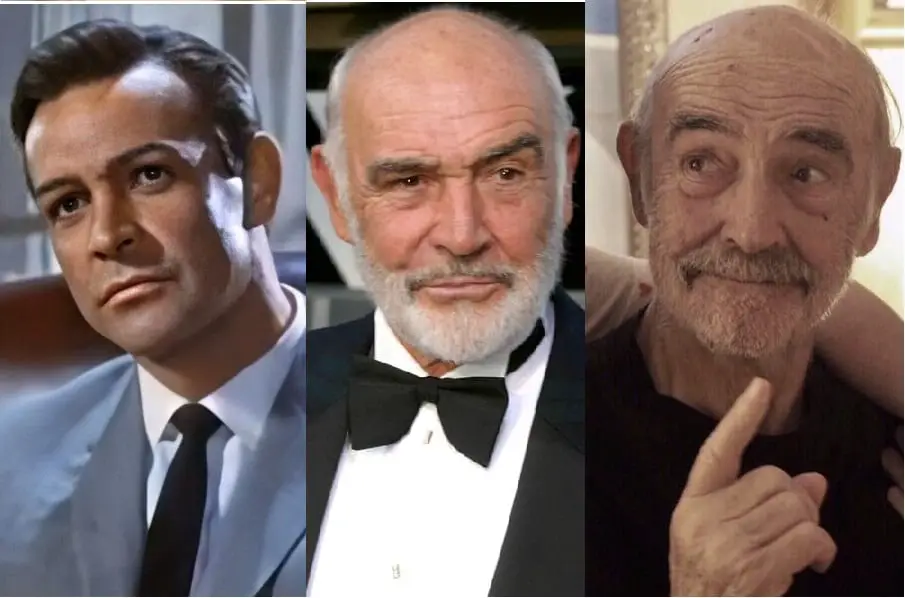 "It was no life for him. He was not able to express himself. At least he died in his sleep and it was just so peaceful. I was with him all the time and he just slipped away. It was what he wanted," said Connery's widow, Micheline Roquebrune, 91, a Moroccan-French painter who was Connery's second wife.
"He had dementia and it took its toll on him. He got his final wish to slip away without any fuss.
"He was gorgeous and we had a wonderful life together. He was a model of a man. It is going to be very hard without him, I know that. But it could not last for ever and he went peacefully."
Connery's son, Jason Connery, told the BBC it was "a sad day for all who knew and loved my dad and a sad loss for all people around the world who enjoyed the wonderful gift he had as an actor."
Sir Sean Connery has died at the age of 90. He was the first actor to play James Bond on the big screen in Dr. No in 1962, From Russia With Love, Goldfinger, Thunderball, You Only Live Twice and Diamonds Are Forever followed. pic.twitter.com/VaFPHCM5Ou

— James Bond (@007) October 31, 2020
Statement from Daniel Craig

"It is with such sadness that I heard of the passing of one of the true greats of cinema. pic.twitter.com/McUcKuykR4

— James Bond (@007) October 31, 2020
A private funeral service was planned.
"There will be a private ceremony followed by a memorial yet to be planned once the virus has ended," the family said in a statement.
Connery's 90th Birthday
Connery celebrated his 90th birthday on Tuesday August 25, 2020. Here's a retrospective on his career and links to Connery's movies available for streaming or purchase.
Happy Birthday to our original 007, Sean Connery, who turns 90 today. With love from Michael, Barbara, everyone at EON and all your fans. pic.twitter.com/r5PmEQWeFd

— James Bond (@007) August 25, 2020
James Bond Collection On Sale
If you're a James Bond fan you can see Connery's seven James Bond films on the Blu-Ray James Bond Blu-Ray Collection, currently on sale at Amazon: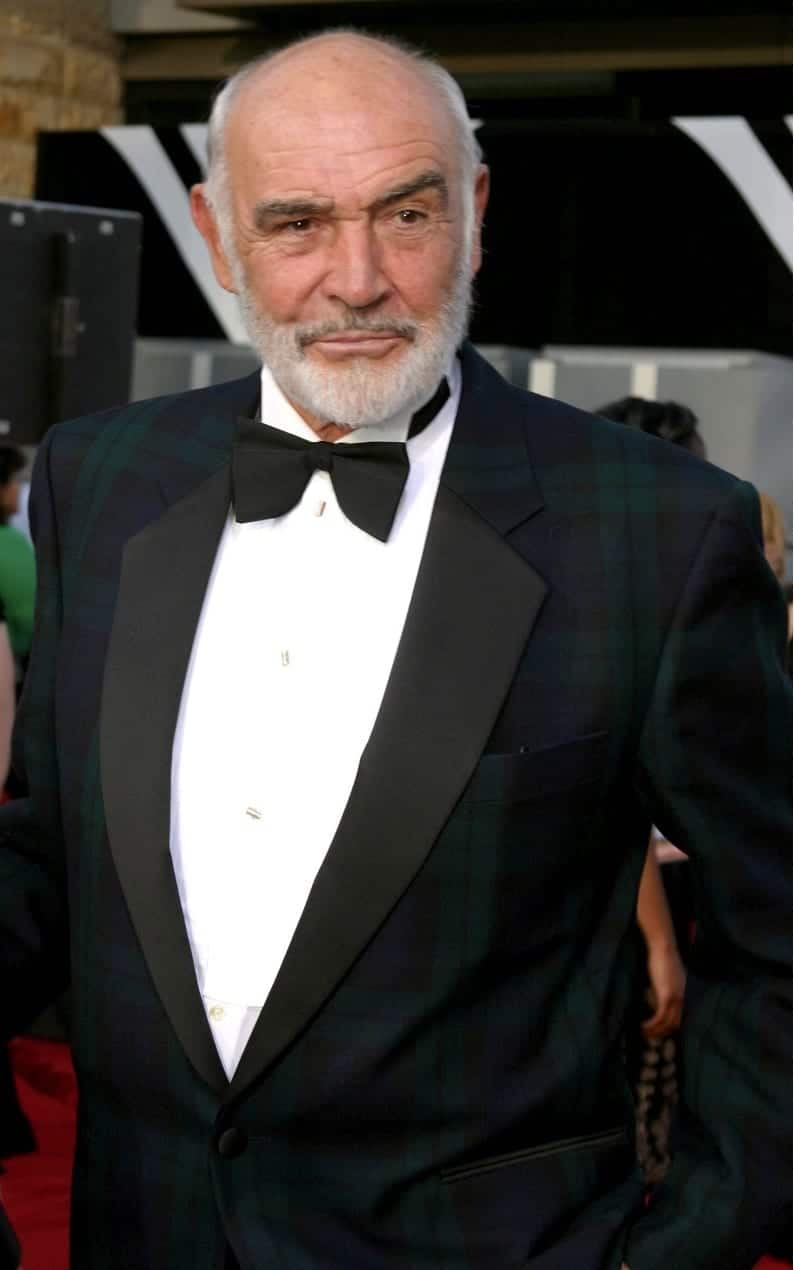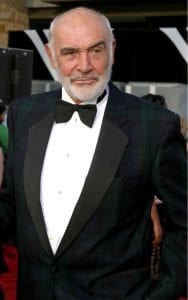 Starting November 1, you can find many James Bond movies streaming on Hulu.  Included are:  From Russia with Love (1964), Thunderball (1965), You Only Live Twice (1967), and Diamonds Are Forever (1971), all starring Connery.
Notably missing from Hulu lineup are Dr. No and Goldfinger, which you can rent for $3.99 from Amazon Prime: Dr. No,  Goldfinger.  Amazon Prime also has most other Bond films which you can stream for a fee:
James Bond Streaming on Amazon
You can find several other Connery films on Amazon Prime at: Sean Connery movies on Amazon Prime Video.  Several Connery films are also available at Netflix.
Sean Connery Profile (from Wikipedia)
Sir Thomas Sean Connery (25 August 1930 – 31 October 2020) was a Scottish actor and produce who was honored with an Academy Award, two BAFTA Awards, and three Golden Globes, including the Cecil B. DeMille Award.
Connery was the first actor to portray the character James Bond in film, starring in seven Bond films (every film from Dr. No to You Only Live Twice, plus Diamonds Are Forever and Never Say Never Again), between 1962 and 1983.  In 1988, Connery won the Academy Award for Best Supporting Actor for his role in The Untouchables. His films also include Marnie (1964), Murder on the Orient Express (1974), The Man Who Would Be King (1975), The Name of the Rose (1986), Highlander (1986), Indiana Jones and the Last Crusade (1989), The Hunt for Red October (1990), Dragonheart (1996), The Rock (1996), and Finding Forrester (2000).
In the clip below, Harrison Ford and Connery talk to Entertainment Tonight about the father-son relationship they portrayed in 'Indiana Jones and the Last Crusade.'
Connery has been polled in The Sunday Herald as "The Greatest Living Scot" and in a EuroMillions survey as "Scotland's Greatest Living National Treasure". He was voted by People magazine as both the "Sexiest Man Alive" in 1989 and the "Sexiest Man of the Century" in 1999. He received a lifetime achievement award in the US with a Kennedy Center Honor in 1999. Connery was knighted in the 2000 for services to film drama.
Thomas Sean Connery, named Thomas after his grandfather, was born in Fountainbridge, Edinburgh, Scotland on 25 August 1930. His mother, Euphemia "Effie" McBain McLean, was a cleaning woman. She was born the daughter of Neil McLean and Helen Forbes Ross, and named after her father's mother Euphemia McBain, wife of John McLean and daughter of William McBain from Ceres in Fife. Connery's father, Joseph Connery, was a factory worker and lorry driver.
Connery as James Bond
Connery's career breakthrough came in the role of British secret agent James Bond in 1962.  He was reluctant to commit to a film series, but understood that if the films succeeded, his career would greatly benefit. He played 007 in the first five Bond films: Dr. No (1962), From Russia with Love (1963),  Goldfinger (1964), Thunderball (1965), and You Only Live Twice (1967) – then appeared again as Bond in Diamonds Are Forever (1971) and Never Say Never Again (1983). All seven films were commercially successful. James Bond, as portrayed by Connery, was selected as the third-greatest hero in cinema history by the American Film Institute.
Connery's selection for the role of James Bond owes much to Dana Broccoli, wife of producer Albert "Cubby" Broccoli, who is reputed to have been instrumental in persuading her husband that Connery was the right man. James Bond's creator, Ian Fleming, originally doubted Connery's casting, saying, "He's not what I envisioned of James Bond looks", and "I'm looking for Commander Bond and not an overgrown stunt-man", adding that Connery (muscular, 6′ 2″, and a Scot) was unrefined.  Fleming's girlfriend Blanche Blackwell told him that Connery had the requisite sexual charisma, and Fleming changed his mind after the successful Dr. No première.  He was so impressed, he wrote Connery's heritage into the character. In his 1964 novel You Only Live Twice, Fleming wrote that Bond's father was Scottish and from Glencoe.
Connery's portrayal of Bond owes much to stylistic tutelage from director Terence Young, which helped polish the actor while using his physical grace and presence for the action. Lois Maxwell, who played Miss Moneypenny, related that "Terence took Sean under his wing. He took him to dinner, showed him how to walk, how to talk, even how to eat." The tutoring was successful; Connery received thousands of fan letters a week after Dr. No's opening, and the actor became a major male sex symbol in film.
Connery talked about his return to the Bond role with Johnny Carson in this 1983 inteview from the Johnny Carson Youtube Channel.
Sean Connery Beyond Bond
Although Bond had made him a star, Connery grew tired of the role and the pressure the franchise put on him, saying "[I am] fed up to here with the whole Bond bit" and "I have always hated that damned James Bond. I'd like to kill him". Connery's friend Michael Caine said of the situation, "If you were his friend in these early days you didn't raise the subject of Bond. He was, and is, a much better actor than just playing James Bond, but he became synonymous with Bond. He'd be walking down the street and people would say, "Look, there's James Bond." That was particularly upsetting to him."
Connery agreed to reprise Bond as an ageing agent 007 in Never Say Never Again, released in October 1983. The title, contributed by his wife, refers to his earlier statement that he would "never again" return to the role. Although the film performed well at the box office, it was plagued with production problems: strife between the director and producer, financial problems, the Fleming estate trustees' attempts to halt the film, and Connery's wrist being broken by fight choreographer, Steven Seagal.
As a result of his negative experiences during filming, Connery became unhappy with the major studios and did not make any films for two years. Following the successful European production The Name of the Rose (1986), for which he won a BAFTA award, Connery's interest in more commercial material was revived. That same year, a supporting role in Highlander showcased his ability to play older mentors to younger leads, which became a recurring role in many of his later films. The following year, his acclaimed performance as a hard-nosed Irish-American cop in The Untouchables (1987) earned him his only Academy Award for Best Supporting Actor. (See his acceptance speech below.)
His subsequent box-office hits included Indiana Jones and the Last Crusade (1989), in which he played Henry Jones, Sr., the title character's father, The Hunt for Red October (1990) (where he was reportedly called in at two weeks' notice), The Russia House (1990), The Rock (1996), and Entrapment (1999). In 1996, he voiced the role of Draco the dragon in the film Dragonheart.
Connery's later films included several box office and critical disappointments such as First Knight (1995), Just Cause (1995), The Avengers (1998), and The League of Extraordinary Gentlemen (2003); he received positive reviews for his performance in Finding Forrester (2000).  The failure of The League of Extraordinary Gentlemen was especially frustrating for Connery, who sensed during shooting that the production was "going off the rails" announced that the director, Stephen Norrington should be "locked up for insanity", and spent considerable effort in trying to salvage the film through the editing process, ultimately deciding to retire from acting rather than go through such stress ever again.
Connery was offered the role of Gandalf in The Lord of the Rings series but declined it, claiming he didn't understand the script. Connery was reportedly offered $30 million along with 15 percent of the worldwide box office receipts for the role, which—had he accepted—would have earned him $450 million. 
Connery also turned down the opportunity to appear as the Architect in The Matrix trilogy for similar reasons. Connery's disillusionment with the "idiots now making films in Hollywood" was cited as a reason for his eventual decision to retire from film-making. In 2005 he recorded voiceovers for a new video game version of his Bond film From Russia with Love. In an interview on the game disc, Connery stated that he was very happy that the producers of the game (EA Games) had approached him to voice Bond.
Connery Retires
When Connery received the American Film Institute's Lifetime Achievement Award on 8 June 2006, he confirmed his retirement from acting. On 7 June 2007, he denied rumours that he would appear in the fourth Indiana Jones film, stating that "retirement is just too much damned fun".
Here's Connery's acceptance speech for the AFI award in 2006.
Sean Connery's Wives and Children
Sean Connery has been married twice and has one child.  Connery was married to actress Diane Cilento from 1962 to 1973. They had a son, actor Jason Connery.  Connery was separated in the early 1970s when he dated Jill St. John, Lana Wood, Carole Mallory and Magda Konopka.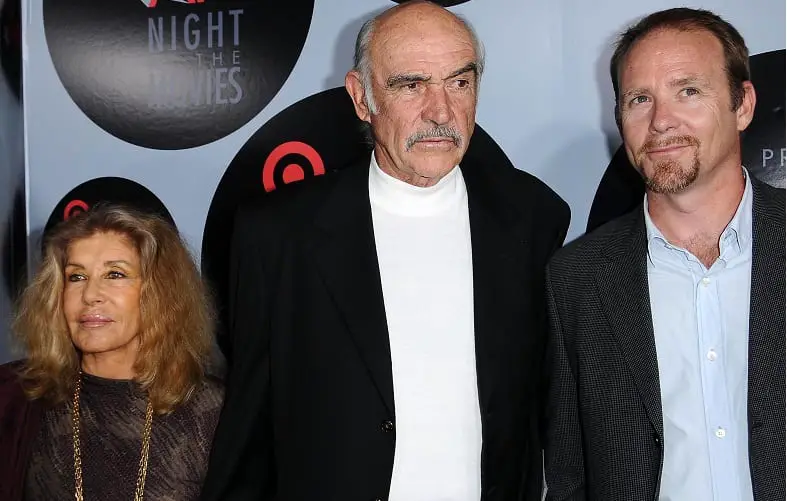 Connery was married to Moroccan-French painter Micheline Roquebrune (born 1929) since 1975. The marriage survived a well-documented affair Connery had in the late 1980s with Lynsey de Paul. A keen golfer, Connery owned the Domaine de Terre Blanche in the South of France for twenty years (from 1979) where he planned to build his dream golf course on the 266 acres. The dream was realized when he sold it to German billionaire Dietmar Hopp in 1999. 
Connery was knighted by Elizabeth II at an investiture ceremony at Holyrood Palace in Edinburgh on 5 July 2000. He had been nominated for a knighthood in 1997 and 1998, but these nominations were reported to have been vetoed by Donald Dewar due to Connery's political views. Sean Connery had a villa in Kranidi, Greece, being neighbour to King Willem-Alexander of the Netherlands, with whom he shared a helicopter platform. Michael Caine (who co-starred with Connery in The Man Who Would Be King in 1975) was among Connery's closest friends.  
Sean Connery's Final Days
Sean Connery lived a quiet life at his home in Nassau and was rarely seen in public.  The most recent public photo of Connery is below, from his 89th birthday.  This was posted on Twitter by Fiona Ufton, who is partner to Sean's only son, Jason Connery.
Happy Birthday… "brethlá shona dhuit" 🎉🎊🎁 #birthday #brethlasonaduit #asgaeilge #happybirthday #birthdayboy #seanconnery #jasonconnery #connery #happydays #congratulations #legend #actor #superstar #bond #jamesbond #iconic pic.twitter.com/Tie0osGfLB

— Fiona Ufton (@fifibaggins) August 25, 2019
Sean Connery's Net Worth
Sean Connery's net worth is about $350 million, according to Celebrity Net Worth.
More about Sean Connery
Sean Connery's birth date: 25 August 1930
Is Sean Connery on TV Today?
You can get a listing of all Sean Connery's upcoming appearances on network and cable TV at This TV Guide Link
Some of the links in this article are "affiliate links", a link with a special tracking code. This means if you click on an affiliate link and purchase the item, we will receive an affiliate commission. The price of the item is the same whether it is an affiliate link or not. Regardless, we only recommend products or services we believe will add value to our readers. By using the affiliate links, you are helping support our Website, and we genuinely appreciate your support.