Regis Philbin, known to generations of Americans as the consummate TV personality, died Friday at age 88.  Here are tributes from Kathie Lee Gifford and more friends.
Philbin, born to Irish and Italian parents in New York in 1931, died Friday night of natural causes, according to a family statement.
Philbin is best known as the host of Live! with Regis and Kathie Lee starting in 1988, then host of Who Wants to Be a Millionaire, an ABC game show that debuted in 1999.  Below is a tribute Kathie Lee Griffin posted on Facebook followed by tributes from more colleagues.
We are beyond saddened to learn about the loss of Regis Philbin. He was the ultimate class act, bringing his laughter and joy into our homes everyday on Live for more than 23 years. We were beyond lucky to have him as a mentor in our careers… (1/2) pic.twitter.com/bWpJUu9jym

— LIVEKellyRyan (@LiveKellyRyan) July 25, 2020
Philbin had a 60-year TV career and in fact holds the world record for most hours on television.
Here is a look back at Phibin's career from E! News
About Regis Philbin (from Wikipedia)
Regis Francis Xavier Philbin (August 25, 1931 – July 24, 2020) was an American media personality, actor, and singer, known for hosting talk and game shows. Having been called "the hardest working man in show business", Philbin holds the Guinness World Record for the most hours on U.S. television. His trademarks included his excited manner, his New York accent, his wit, and his irreverent ad–libs.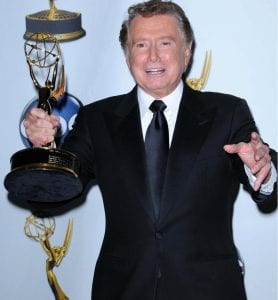 After graduating from the University of Notre Dame, he served in the U.S. Navy and got his television start serving as a page for The Tonight Show in the 1950s. Philbin gained his first network TV exposure in 1967 as Joey Bishop's sidekick on The Joey Bishop Show. Philbin is most widely known for having been the co-host of the New York City-based nationally syndicated talk show Live! with Regis and Kathie Lee starting in 1988, which became Live! with Regis and Kelly starting in 2001, and continued with former football player Michael Strahan after Philbin's departure in 2011.
Philbin debuted and hosted the US version of Who Wants to Be a Millionaire, Million Dollar Password, and the first season of America's Got Talent.
Philbin was born on August 25, 1931, in Manhattan. His father, Francis "Frank" Philbin, a U.S. Marine who served in the Pacific, was of Irish heritage. His mother, Filomena "Florence" (née Boscia), was from an Italian immigrant family of Arbëreshë (ethnic Albanians from Italy) descent from Greci, Campania. Philbin had a Catholic upbringing.  He was supposedly named "Regis" because his father wanted him to attend his alma mater, the prestigious Regis High School. It was long believed that Philbin was an only child, but on the February 1, 2007, broadcast of Live with Regis and Kelly, Philbin announced that he did have a brother, Frank M. Philbin (March 1, 1951 – January 27, 2007), who had died from non-Hodgkin lymphoma several days earlier. Philbin said his brother, 20 years younger than he, had asked not to be mentioned on television or in the press.
Philbin was raised in the Van Nest neighborhood of the Bronx. He attended Our Lady of Solace grammar school, and graduated from Cardinal Hayes High School before attending the University of Notre Dame, from which he graduated in 1953 with a sociology degree. He later served in the United States Navy as a supply officer, then went through a few behind-the-scenes jobs in television and radio before moving into the broadcasting arena.
Early career
In his earliest show business work, Philbin was a page at The Tonight Show in 1955. Later he wrote for Los Angeles-based talk show host Tom Duggan and nervously filled in one night when the hard-drinking Duggan didn't show up. He also was an announcer on The Tonight Show in 1962.
His first talk show was The Regis Philbin Show on KOGO-TV (now KGTV) in San Diego.  He had no writing staff, so he began each show with what became his hallmark, the "host chat" segment (influenced by Jack Paar), where he engaged his audience (and later his co-host) in discussions about his life and the day's events. In 1964, Westinghouse Broadcasting picked up Philbin's talk show for national syndication in the late night time slot (replacing Steve Allen). The show failed to attract many stations and Westinghouse replaced Philbin with Merv Griffin.
Philbin gained his first network TV exposure in 1967 as Joey Bishop's sidekick on The Joey Bishop Show on television (1967–1969). In a Johnny Carson–Ed McMahon vein, Bishop would playfully tease Philbin and he would take the barbs in stride. But his feelings were hurt when he learned from the network grapevine that ABC executives were dissatisfied with his work and his thick accent, so during the opening of one 1968 program, he launched an unplanned diatribe about "not being wanted and letting down" the program and abruptly quit on air. A few nights later, assured by Bishop that all was well and the barbs were not personal, Philbin returned. As revealed in his 1995 book, I'm Only One Man!, this was actually a publicity stunt planned by Bishop and Philbin beforehand.  He reiterates this assertion in his 2011 memoir, How I Got This Way, explaining that it was intended to draw in some of Johnny Carson's viewers. When The Joey Bishop Show was canceled, Bishop returned the favor and walked off the show on the air unannounced, leaving Philbin to successfully carry the night on his own.
Talk show career
In 1964, Philbin took over the show that replaced The Steve Allen Show after Steve Allen left. The audience did not accept Philbin as a replacement for Allen's zany antics and the appearance lasted only a little over four months because of dismal ratings, especially as compared to Johnny Carson in the same time slot.
From 1975 to 1981, he co-hosted A.M. Los Angeles, a local morning talk show on KABC-TV.  In 1981, Philbin and Mary Hart co-hosted a national morning variety series for NBC. The show lasted 18 weeks.
Philbin joined The Morning Show on WABC-TV in 1982. At the time, the 9 am time slot for WABC suffered from low Nielsen ratings because of competition from WNBC-TV's Donahue and WCBS-TV's game show block featuring The Joker's Wild and Tic Tac Dough. Philbin was paired with Kathie Lee Johnson (later Gifford), in June 1985, and ratings improved significantly. The show became nationally syndicated in September 1988 as Live! with Regis and Kathie Lee and the success continued. The program replaced A.M. Los Angeles upon its cancellation in 1991 and was eventually picked up by most of the ABC owned-and-operated stations.
In the 1980s, Philbin hosted Lifestyles with Regis Philbin on the Lifetime television network.
When Gifford departed in 2000, the show was temporarily named Live! with Regis. Philbin had guest co-hosts until Kelly Ripa was chosen as the permanent co-host in 2001, and the show was renamed Live! with Regis and Kelly.Their chemistry proved to be successful as the show continued to enjoy high ratings.
Philbin set a Guinness World Record for "Most Hours on Camera" on his August 20, 2004, Live show (replacing Hugh Downs), which gave him a total of 15,188 hours on television. On the September 14, 2006, episode of Live, his record was updated to 15,662 hours.
It was announced on the September 17, 2009, episode of Live with Regis and Kelly during their World Record Breaker week, that Philbin's Guinness Book World Record for most time spent in front of a TV camera had reached 16,343 hours. Philbin departed Live with Regis and Kelly after hosting his final show on November 18, 2011.
Game show career
Philbin was also a game show host. He hosted The Neighbors, a short-lived game show on ABC from late 1975 to early 1976. The show had two female contestants guessing which of her three women neighbors said gossipy things about her. In 1976, he was a "field reporter" for ABC's Almost Anything Goes, an American adaptation of the British game show, It's a Knockout.
Philbin was the original host of the U.S. version of Who Wants to Be a Millionaire, an ABC game show that had its roots in Britain. Millionaire was a big ratings success in its 1999 debut, when it was intended as an occasional special series. ABC aired Millionaire as a regular series with frequent episodes, but its viewership slowly declined. After Millionaire was canceled, it was retooled in 2002 as a syndicated series hosted by Meredith Vieira. ABC brought back Millionaire in 2004 with Philbin, retitled Who Wants to Be a Super Millionaire, a related series that was aired on a more limited basis.
Philbin hosted the first season of America's Got Talent, a Simon Cowell-produced amateur talent search show on NBC, during the summer of 2006. He flew between New York City and Los Angeles during that time period to participate in both Live with Regis and Kelly and AGT. Because of his difficulty with commuting cross country and his health problems, he was replaced in 2007 by talk show host Jerry Springer.
Personal life