SiriusXM announced it has extended its broadcasting agreement with the NFL and will be broadcasting every NFL game on the SXM App this season.
Starting later this month, SiriusXM will have 32 NFL team channels in the SXM app – one channel for every team –  so you'll have access to every game by using the app on your smartphone, tablet or computer.  You can also get select games on your satellite car radio.
"SiriusXM is the exclusive third-party audio provider of every National Football League game across North America," the company announced.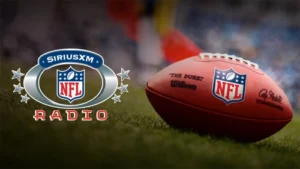 "SiriusXM subscribers will continue to get access to every NFL game live through Super Bowl LXI in 2027 on SiriusXM radio and on the SXM App, as well as SiriusXM NFL Radio (Ch. 88), SiriusXM's 24/7 radio channel dedicated entirely to the NFL.
"The SXM App offers 32 NFL team channels, each dedicated to carrying the official radio broadcast for each NFL team, making it easy for fans to find and listen to their favorite team's announcers for every game.
"Starting this season, each team channel on the SXM App will now also feature the team's pre- and post-game shows before and after every game. All 32 team channels are also available in vehicles equipped with SiriusXM 360L radios."
For broadcast schedules and more details, visit:  NFL on SiriusXM
To find the channel for your team, from your PC visit NFL on SiriusXM then click on Teams.  Then click on your team.  If you're using the SiriusXM App, then click on the Search icon and search for your team.
Interested in seeing every NFL game?  See our story, NFL+ Streaming Half Price Deal
SiriusXM NFL Channel
Now through August 18, 2022, the NFL Radio Channel (Ch. 88) is featuring a daily Training Camp Tour.
The Training Camp Tour consists of 32 shows, each 2 hours, with each show focusing on one of the 32 NFL teams.  The tour started July 27 and ends on August 18, 2022.  For schedules and more details, visit:  NFL Training Camp Tour on SiriusXM
You can replay previous shows from the SiriusXM App.
College Football on SiriusXM
Each of the Power Five college football conferences has their own dedicated channel on SiriusXM this NCAA College Football season.  Five channels – 371 though 375 – are dedicated to NCAA College Football:
More SiriusXM Channels
You can find links to schedules for more channels on the the SiriusXM Channel Lineup at:
If you don't see your channel, click on All to view all channels. For details on a channel that interests you, scroll down to the channel and click on Shows & Schedules.  For example, for NFL Radio, Channel 88, click on Shows & Schedules, then click on Schedules to see what's now playing and what is coming on later in the day.
SiriusXM Printed Schedule
If you want a SiriusXM channel that you can print and put in your car, visit:
Then click on "Download the Full Channel Guide"
Get SiriusXM at a Discount
For the latest on SiriusXM discounts, visit our story: SiriusXM Deal: $60 for 1 Year
How to Get SiriusXM App
If you have an active SiriusXM radio account, you have free access to the SiriusXM app.  The app lets you stream SiriusXM onto your phone or other smart device.
Here's where to get the SiriusXM app; you will need to sign in with the credentials used for your SiriusXM radio account.
More SiriusXM Links
SiriusXM Facebook Page – latest posts are below