Amazon's new digital notepad called the Kindle Scribe is available now priced starting at $339.99.
Kindle Scribe Ships Nov. 30
The Kindle Scribe, available starting November 30, 2022, is a combination digital notepad and book reader.  The device – priced at $339.99 – comes with a pen and allows you to create notes or to mark up documents like Kindle books and Word and PDF documents.  You can also draw in a freestyle manner.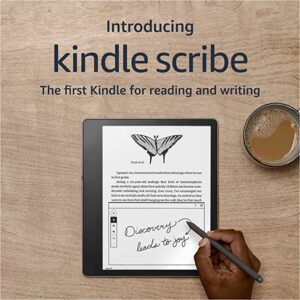 The device comes with a significantly bigger screen – 10.2″ for the Scribe vs. 6.8″ for the Kindle Paperwhite.  It also comes with a special pen for note taking.  The Scribe's main competitor in the writing tablet market is the reMarkable, which sells for about $650.
""Kindle Scribe is the best Kindle we've ever built, creating a reading and writing experience that feels like real paper," said Kevin Keith, vice president of Amazon Devices. "It's inspired by the Kindle customers who have added billions of notes and highlights to books over the years, and it's also ideal for reviewing and marking up documents, managing your to-do list, or doodling over a big idea. Plus, it offers all the Kindle benefits customers know and love—millions of books on demand, adjustable fonts, premium reading features, and weeks and weeks of battery life—with the benefit of a beautiful, large display."
User reaction is mixed; here are some examples.
"These are not new to the market (e-ink writing tablets), but for Amazon to make one with three times better specs and a lot cheaper is pretty much a game changer. I'm planning on returning the ReMarkable 2 I bought a month ago."
"Bigger screen, bigger battery with longer charge life, and cheaper than ReMarkable 2. Marrying the notebook functionality of RM2 with the ability to mark up actual books from the Kindle store is a pretty cool step forward. ReMarkable 2 is very popular, and this should be even more so."
You can read more comments and technical specs, or order for shipment starting Nov. 30 at:
New Basic Kindle Oct. 12
Amazon has announced a new version of their base Kindle E-Reader with better screen clarity, double the memory and more improvements.
The new Kindle started shipping on October 12, 2022.  The ad-supported version is priced at $99.99, with the ad-free and kids versions priced at $119.99.
The new 2022 Kindle has these improvements over the current model:
Higher screen resolution of 300 pixels per inch, versus 167 ppi for the current model.  This is the same resolution as the premier Paperwhite model.
Extended battery life lasting up to 6 weeks on a single charge.
Double the memory, 16gb versus 8gb for the current model.
You can read more or order at: