Amazon has their Kindle e-readers on sale several times a year.  You can find the current Kindle prices at:
Kindle Model Comparisons
The basic Kindle was updated in 2022 with higher resolution and more storage than the previous models. This is an 11th generation Kindle and is Amazon's basic, least expensive model.
The Kindle Paperwhite was updated in October 2021 with a larger 6.8-inch display, upgraded lighting and USB-C charging. This is an 11th generation Kindle and is Amazon's highest rated model; it costs about $50 more than the basic Kindle.
The Kindle Paperwhite Signature Edition, also a 2021 release, adds wireless charging and additional storage – 32GB instead of 8 GB – and an auto-adjusting light sensor.  It costs about $40 more than the regular Paperwhite.
The Kindle Scribe, last issued in 2019 and scheduled for a update in late 2022 or early 2023, features a larger screen than the Paperwhite (7″ vs. 6.8″) an adjustable warm light to shift screen shade from white to amber, an aluminum case with a glass screen vs a plastic case and screen for other Kindles, page turn buttons on the side, and waterproofing.
The Kindle Scribe, available starting November 30, 2022, is a combination digital notepad and book reader.  The device – priced at $339.99 – comes with a pen and allows you to create notes or to mark up documents like Kindle books and Word and PDF documents.  You can also draw in a freestyle manner.
Kindle E-Reader Reviews
The basic Kindle gets a solid 4.6 rating from thousands of Amazon customers.  The larger, brighter Paperwhite Kindle gets a 4.7 rating.  The basic Kindle was rated the Best Budget e-Reader by C/Net, but the PaperWhite was rated best overall.
"We prefer the Amazon Kindle Paperwhite, which has the high-resolution display (text and images appear a bit sharper), is waterproof and has a slightly better lighting scheme. But if you don't want to spend much for an e-reader, the standard Kindle is a good option, especially when it's discounted," C/Net says.
The video below gives a side-by-side comparison by The EBook Reader of the base Kindle and the 2018 Kindle Paperwhite.
You can view and compare all the Kindle models at:  Kindle Comparison
Kindle Kids E-reader for Adults?
Amazon has Kindle e-readers for kids that adults may find attractive as well.
Even though the device is marketed as being for kids, adults may find it an even better device than the regular Kindle e-reader, because:
It comes with a protective cover
It comes with a two-year guarantee against accidental damage
It is ad-free
It comes with a year's subscription to Amazon Kids+ which includes the complete Harry Potter series, and the first book from other popular series such as Artemis Fowl.
Otherwise, this is the same device as the regular Kindles.  You can find the Kindle Kids e-readers at:
Basic Kindle Kids e-reader at Amazon
Kindle Paperwhite Kids e-Reader 
Kindle Paperwhite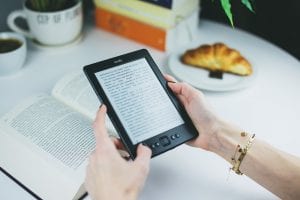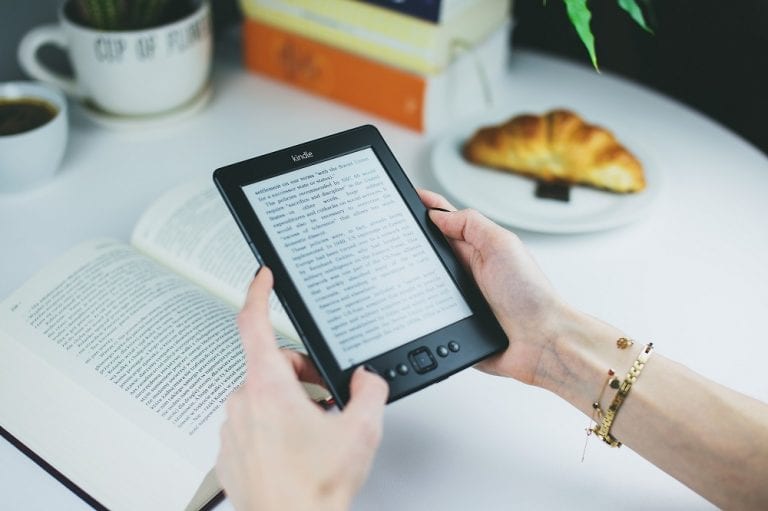 Amazon introduced their Kindle e-reader in 2007 and now has several models, ranging in price from under $100 to nearly $300.  You can view all the models at:  Amazon Kindles
The top selling Kindle and the one that gets the highest ratings for seniors is the Kindle Paperwhite. The Paperwhite has clear type (screen resolution is about double that of the low end Kindle), a backlight, and can run for up to one month on a single charge, and will hold about 2,000 books.The Paperwhite has been consistently chosen as the Best Kindle for Seniors by many tech reviewers, including:  Newsmax, Lifewire and Tom's Guide.
Below is an overview and review of the latest (11th generation) Kindle Paperwhite.
Kindle Setup
Once you're ready to use your new Kindle, you'll need to go through a one-time setup.  To start, all you need is access to a Wifi network.  If you do not have Wifi, you can connect at a free network at your local library and many fast food places such as McDonald's and Panera.
Then:Turn on the Kindle by pressing the power button on the bottom
Select your preferred language
Click Get Started
Click Connect to Wifi and connect.
Log into your Amazon account. This is all you need to do to register your Kindle with Amazon. If you do not have an Amazon account, you can create one right on the Kindle.
Next you can connect to Facebook or Twitter, but you can also skip this step.
Next you'll get offered a free trial to Kindle Unlimited. The free trial is good for 30 days, after which you'll be billed $9.99 a month.  If you're unsure, you should click on No Thanks.  (More about Kindle Unlimited later.)
Finally, your Kindle will offer you some suggestions on how to use it.  Now you're ready to download some books.
Add Your First Book
Now you're ready to start adding books.  Let's start by adding one of the thousands of free classics available from Amazon.  How about: A Tale of Two Cities
Here's how to get this free book on your Kindle:
Click on the Home button (upper left on your Kindle)
Click on Search and enter: Tale
Click on Tale of Two Cities
Several editions will appear.  Some are free, some are not. To get a free edition, click on one and see if it says "Read for free" or "Buy for free".  If so, click on it.  It will download, probably within a minute.
Then go to your Home page and you'll see your newly added book. Click on it to start reading.
Adding More Books to Kindle
Amazon's main Kindle Book Store is at: Amazon Kindle Store.
The latest bestsellers usually sell for $14.99.  However, Amazon has hundreds of free or 99-cent Kindle books.   If you like classics, you should review the Amazon Classics store, which has works from Charles Dickens, Sir Arthur Conan Doyle, Mark Twain, and hundreds of others.  You can find this at :  Amazon Classics
You don't have to be on your Kindle to get Kindle books.  In fact, it's probaby easier to browse the Kindle store from your PC or smartphone. If you buy a Kindle Book from a PC or your phone, it will be automatically delivered to your Kindle.
Disable Ads On Kindle
You can get a $15 to $20 discount when you buy a Kindle or Amazon Fire tablet by selecting an ad-supported model.  If you want to remove ads later from your Kindle or Fire, you can do it online at Amazon by visiting:
Remove Ads from Your Amazon Kindle or Fire Device
Kindle Unlimited
If you're a regular reader, you might try Kindle Unlimited, Amazon's $9.99 / month subscription service.  It gives you access to thousands of Kindle books (not bestsellers though) and many magazines.
You can usually find a subscription on sale or with a free trial.  For more details visit:
Kindle Daily Deals, Kindle Unlimited
Kindle Books on Your Phone or PC
Although the Kindle is usually recommended as the best way for ebook reading, you can use your phone or PC instead.  Here's an introduction to the Kindle app for your iPhone.