Amazon has its Kindle ereaders on sale several times a year.
You can check the current prices of the three Kindle ereaders – the Paperwhite, Base Model, and Kids Edition – at:
You can view and compare all the models at:  Kindle Comparison
Note: Senior Daily is an Amazon Associate and earns a commission from qualifying purchases.
The base model Kindle was updated in 2019 with a new front-light and clearer text. This is a 10th generation Kindle and is Amazon's basic, least expensive model.  It is not the highest-rated model; that is the Kindle Paperwhite.
Both the base model and Paperwhite get a solid 4.6 rating from thousands of Amazon customers.  The base model was rated the Best Budget e-Reader by C/Net, but the PaperWhite was rated best overall.
"We prefer the Amazon Kindle Paperwhite, which has the high-resolution display (text and images appear a bit sharper), is waterproof and has a slightly better lighting scheme. But if you don't want to spend much for an e-reader, the standard Kindle is a good option, especially when it's discounted," C/Net says.
Below is a side-by-side comparison by The EBook Reader of the base Kindle and the Kindle Paperwhite.
Kindle Paperwhite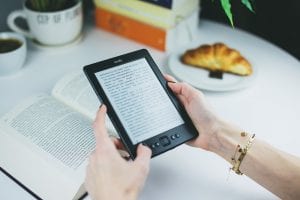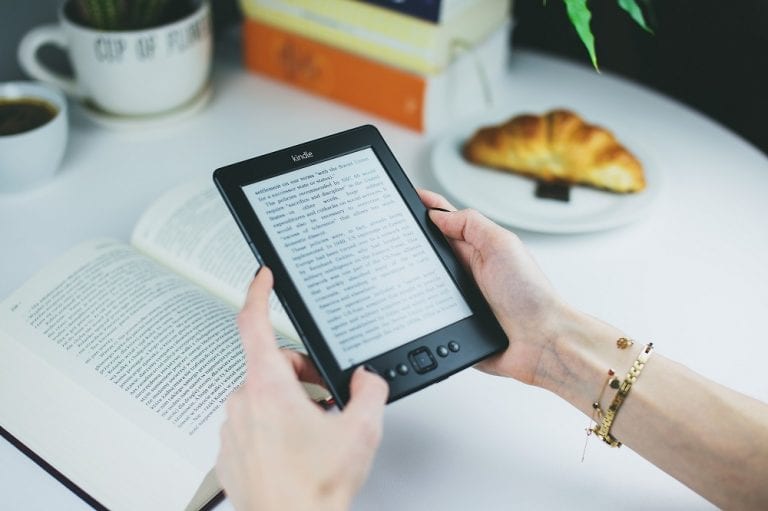 Amazon introduced their Kindle e-reader in 2007 and now has several models, ranging in price from under $100 to nearly $300.  You can view all the models at:  Amazon Kindles
The top selling Kindle and the one that gets the highest ratings for seniors is the Kindle Paperwhite. The Paperwhite has clear type (screen resolution is about double that of the low end Kindle), a backlight, and can run for up to one month on a single charge, and will hold about 2,000 books.The Paperwhite has been consistently chosen as the Best Kindle for Seniors by many tech reviewers, including:  Newsmax, Lifewire and Tom's Guide.
In other deals, you can get Kindle Unlimited for two months free when you sign up for the Kindle trial now through June 30, 2020, or get discounts on 6 to 24-month subscriptions.  More details are below.
Below is a review of the Kindle Paperwhite from The Product Lab which named it the Best E-Reader.
Kindle Unlimited Deals
Amazon gives new Kindle Unlimited customers a 1-month or 2-month free trial.  After the free trial the service is $9.99 a month.
For more details or to sign up visit:  Amazon Free Kindle Unlimited
Kindle Unlimited provides:
Unlimited access to over 1 million books.

A rotating selection of popular magazines.

Listen to thousands of books with Audible narration.

Read anytime, on any device with the Kindle app.
To read Kindle books you can use a Kindle eReader, which is optimized for reading Kindle books, or you can use other smart devices such as an Amazon Fire tablet, a smartphone, or most any tablet.  All you'll need to do is install the free Kindle App for iPhones and iPads, Android / Google phones, or PCs.
Note: After your free trial, Amazon will bill you $9.99/month unless you cancel. See videos below for more information on the Kindle App and Kindle Unlimited.
Kindle Setup
Once you're ready to use your new Kindle, you'll need to go through a one-time setup.  To start, all you need is access to a Wifi network.  If you do not have Wifi, you can connect at a free network at your local library and many fast food places such as McDonald's and Panera.
Then:
Turn on the Kindle by pressing the power button on the bottom
Select your preferred language
Click Get Started
Click Connect to Wifi and connect.
Log into your Amazon account. This is all you need to do to register your Kindle with Amazon. If you do not have an Amazon account, you can create one right on the Kindle.
Next you can connect to Facebook or Twitter, but you can also skip this step.
Next you'll get offered a free trial to Kindle Unlimited. The free trial is good for 30 days, after which you'll be billed $9.99 a month.  If you're unsure, you should click on No Thanks.  (More about Kindle Unlimited later.)
Finally, your Kindle will offer you some suggestions on how to use it.  Now you're ready to download some books.
Amazon does a good job of explaining all this in a three-minute video from Youtube below.
Add Your First Book
Now you're ready to start adding books.  Let's start by adding one of the thousands of free classics available from Amazon.  How about: A Tale of Two Cities
Here's how to get this free book on your Kindle:
Click on the Home button (upper left on your Kindle)
Click on Search and enter: Tale
Click on Tale of Two Cities
Several editions will appear.  Some are free, some are not. To get a free edition, click on one and see if it says "Read for free" or "Buy for free".  If so, click on it.  It will download, probably within a minute.
Then go to your Home page and you'll see your newly added book. Click on it to start reading.
Adding More Books to Kindle
Amazon's main Kindle Book Store is at: Amazon Kindle Store.
The latest bestsellers usually sell for $14.99.  However, Amazon has hundreds of free or 99-cent Kindle books.   If you like classics, you should review the Amazon Classics store, which has works from Charles Dickens, Sir Arthur Conan Doyle, Mark Twain, and hundreds of others.  You can find this at :  Amazon Classics
You don't have to be on your Kindle to get Kindle books.  In fact, it's probaby easier to browse the Kindle store from your PC or smartphone. If you buy a Kindle Book from a PC or your phone, it will be automatically delivered to your Kindle.
Kindle Unlimited
If you're a voracious reader, you might try Kindle Unlimited, Amazon's $9.99 / month subscription service.  It gives you access to thousands of Kindle books (not bestsellers though) and many magazines.  For more details visit: Kindle Unlimited
Kindle Books on Your Phone or PC
Although the Kindle Paperwhite is usually recommended as the best way for ebook reading, you can use your phone or PC instead.  Here's an introduction to the Kindle app for your iPhone.