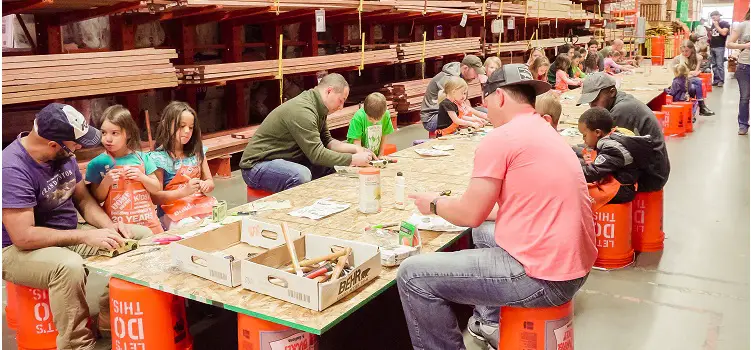 Kids workshops, on hiatus since the pandemic began, are back at Home Depot and Lowe's on select Saturdays.  You can attend the next ones on April 1, 2023.
Once a month you can take your kids or grandkids to these free workshops, where they will build and paint small projects like birdhouses and ornaments, and learn how to follow directions and use tools.
The Home Depot kids workshop is the first Saturday of every month, from 9 am to 12 noon. The next one is April 1, 2023.  Home Depot Kids Workshop Schedule
The Lowe's kids workshop schedule varies but the next one is 10 am to 1 pm on April 1.  For more details or to register:  Lowe's Kids Workshop Schedule
Hardware Workshops for Adults
Home Depot offers online workshops on topics like Spring lawn prep and replacing light fixtures, sinks and garbage disposals.  See them all at: Home Depot Online Workshops
Lowe's offers online workshops (Lowe's calls them DIYU) on topics like guides to painting, cleaning grout, how to evaluate kitchen appliances.  See them all at: Lowe's Online Workshops
Now that the pandemic is over, both stores often offer in-store workshops but you'll have to call or visit your local store to find out what is being offered.
More Information
Home Depot locations   Home Depot Weekly Ad