Famed chef Julia Child is the subject of a new dramatic / comic series now showing on HBO Max.
Julia, with Sarah Lancashire in the title role, premiered on March 31, 2022 on HBO Max. Lancashire will be recognized by many TV viewers who watch British television; she starred in Lark Rise to Candleford (2008–2011), Last Tango in Halifax (2012–2020) and Happy Valley (2014–present).
Others in the Julia cast include David Hyde Pierce ("Frasier") as Julia's husband, Paul, plus Bebe Neuwirth ("Madam Secretary"), Brittany Bradford (Broadway's "Bernhardt/Hamlet"), Fran Kranz ("Homecoming") and Fiona Glascott ("Fantastic Beasts: The Crimes of Grindelwald").
Julia has eight episodes. The series premiered on March 31, 2022, with the first three episodes available immediately and the rest debuting on a weekly basis until May 5, 2022.
"Julia is inspired by Julia Child's extraordinary life and her long-running television series, "The French Chef," which pioneered the modern cooking show," said Warner Media, owner of HBO.
"Through Julia's life and her singular joie de vivre, the series explores a pivotal time in American history – the emergence of public television as a new social institution, feminism and the women's movement, the nature of celebrity and America's cultural evolution. At its heart, the series is a portrait of a loving marriage with a shifting power dynamic."
Julia has an 8.0 rating on IMDB.
Below is an official trailer from the HBO Max Youtube Channel.
The Julia Child Challenge On Food Network
Julia Child is also the inspiration for The Julia Child Challenge, which premiered Monday, March 14th at 9pm ET/PT on Food Network.  It also streams the same day on discovery+.
In The Julia Child Challenge, eight top-notch home cooks compete in high-stakes culinary challenges to find out who has the fire, skill and passion to win the first-ever primetime competition series dedicated to all things Julia.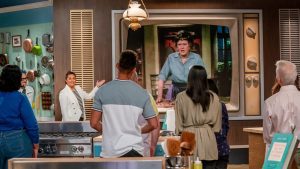 The series was developed in conjunction with The Julia Child Foundation for Gastronomy and the Culinary Arts.
The competitors, all Julia Child superfans, share personal stories about their hero and cook in a kitchen recreated in the likeness of where Julia herself cooked.  The contestants use the same ingredients Julia used and are even guided by Julia herself, through a giant TV screen right in the middle of all the action.
Head judge Antonia Lofaso and a rotating panel of guest judges including Molly Baz, Cliff Crooks and Brooke Williamson ultimately decide who wins the life-changing grand prize that literally follows in Julia's footsteps: an all-expense paid three-month cooking course at Le Cordon Bleu.
"Julia Child is a culinary hero to cooks everywhere – her love of food and sense of humor set the tone for this one-of-a-kind competition. From the kitchen set to Julia's own words, the level of detail in each episode can only be described as mind-blowing," said Courtney White, President, Food Network and Streaming Food Content, Discovery Inc. "At the same time, the series is also very intimate, with competitors sharing their personal food journeys and how Julia Child changed their lives, we cannot wait for viewers to experience this show."
The first competitors are: Bill Borman (Hudson, New York); Christine Fiorentino (Hoboken, New Jersey); Dustin Hogue (Chicago, Illinois); Jaine Mackievitz (Worcester, Massachusetts); Brit Moore (New York, New York); Dustin Rennells (Charlestown, Massachusetts); Elena Ross-Salonga (Cambria, California) and Fabrizio Villalpando (Los Angeles, California).
For more details, visit:
https://www.foodnetwork.com/fn-dish/shows/the-julia-child-challenge
Below is a preview from the Food Network Facebook Channel.
Julia Documentary
Julia, a 2021 documentary about Julia Child, is available now for streaming.  You can rent it from Amazon Prime for about $6:
Julia Documentary on Amazon Prime
Julia was directed and produced by Julie Cohen and Betsy West. The documentary chronicles the life of Julia Child. Brian Grazer and Ron Howard were executive producers.
The film was released on November 5, 2021, by Sony Pictures Classics.
A preview is above.  Read more at:
Julia Child Podcast
If you are a podcast listener, look for Inside Julia's Kitchen, a podcast created by The Julia Child Foundation for Gastronomy and the Culinary Arts.  The show is hosted by Todd Schulkin, the Foundation's Executive Director.
The show features interviews with chefs, writers and food historians.  About 150 episodes are available
For more details or to listen now, visit:
More About Julia Child