Actor, director and producer George Clooney, recent recipient of a Career Achievement Award from AARP, turns 60 on Thursday, May 6, 2021.
George Timothy Clooney was born on May 6, 1961 in Lexington, KY.  Clooney is of Irish, German, and English ancestry.  His mother, Nina Bruce (née Warren), was a beauty queen and city councilwoman. His father, Nick Clooney, is a former anchorman and television host, including five years on the AMC network. 1950s singer and actress Rosemary Clooney was an aunt. 
Clooney talked about turning 60 with Today Show host Hoda Kotb during the recent AARP Movies for Grownups Awards.  Clooney said he's no longer bothered by the idea of being 60.
Clooney said when he was younger, the idea of being 60 or even 50 was difficult to grasp.  "I would have considered 50 practically dead," he said.
"Now I'm like, 60's not so old, 60's young. The number 70 will put a hitch in my giddyup a little bit but I think the rest of it I can handle," Clooney said. The complete interview is below. 
George Clooney has acted in 94 films or TV shows. His most recent movie, Midnight Sky, is available now on Netflix.  His next major movie will be Ticket to Paradise with Julia Roberts, scheduled for release in 2022.
A preview of Midnight Sky is below.
Clooney Movies You Can Stream
Here are some of Clooney's top titles, starting at most recent.  You can find most of these on Netflix, Amazon Prime, Hulu and other streaming providers.
The Midnight Sky (2020). Clooney stars in and directs this post-apocalyptic tale set in the Arctic. You can find it on Netflix.
The Descendants (2011).  Clooney stars as the head of a family that owns 25,000 acres in Hawaii.  You can rent it on Amazon Prime Video.
Catch-22 (2010).   Clooney appears in 3 episodes of this Hulu dark comedy.  Clooney was also a producer of the show and directed two episodes.  You can find it on Hulu.
Up in the Air (2009). Clooney stars as a consultant who flies around the country laying off employees during the 2008-2009 financial crisis.  You can see it on HBO Max.
Ocean's Eleven (2001). Clooney plays leader of a gang that plans to rob three Las Vegas casinos.  You can see it on HBO Max.
O Brother, Where Art Thou? (2000).  Clooney stars as an escaped convict in the South in the 1930s.  Clooney has a singing role in the film but was dubbed by country blues singer Dan Tyminski.  You can find it for rent on Amazon Prime.
The Perfect Storm (2000). Clooney plays a commercial fishing captain caught in an epic storm. You can rent it on Amazon Prime Video.
Three Kings (1999). Clooney plays a soldier in the Persian Gulf War who is looking for a cache of stolen gold. You can see it on HBO Max.
Out of Sight (1998). Clooney plays an escaped bank robber. You can find it on Starz.
ER (1994-1999). Clooney played Dr. Doug Ross, a physician in Chicago County General Hospital, in NBC's medical drama, ER.  You can find every episode of ER on Hulu. You can also rent individual episodes for about $3 on Amazon Prime.
George Clooney Profile 
George Timothy Clooney (born May 6, 1961) is an American actor, film director, producer, screenwriter and philanthropist. He is the recipient of three Golden Globe Awards and two Academy Awards, one for acting in Syriana (2006) and the other for co-producing Argo (2012). In 2018, he was the recipient of the AFI Lifetime Achievement Award.  In 2021, he was the recipient of the AARP Career Achievement Award.
Clooney made his acting debut on television in 1978, and later gained wide recognition in his role as Dr. Doug Ross on the medical drama ER from 1994 to 1999, for which he received two Primetime Emmy Award nominations. While working on ER, he began attracting a variety of leading roles in films, with his breakthrough role in From Dusk till Dawn (1996), and the crime comedy Out of Sight (1998), in which he first worked with director Steven Soderbergh, who would become a long-time collaborator. In 1999, he took the lead role in Three Kings, a well-received war satire set during the Gulf War.
In 2001, Clooney's fame widened with the release of his biggest commercial success, Soderbergh's heist comedy remake Ocean's Eleven, the first of what became a trilogy, starring Clooney. He made his directorial debut a year later with the biographical spy comedy Confessions of a Dangerous Mind, and has since directed the historical drama Good Night, and Good Luck (2005), the sports comedy Leatherheads (2008), the political drama The Ides of March (2011), and the war film The Monuments Men (2014). Clooney won an Academy Award for Best Supporting Actor for the Middle East thriller Syriana (2005), and subsequently earned Best Actor nominations for the legal thriller Michael Clayton (2007) and the comedy-dramas Up in the Air (2009) and The Descendants (2011). In 2013, he received the Academy Award for Best Picture for producing the political thriller Argo.
He has been nominated for Academy Awards in six different categories. (Source: Wikipedia)
Below is a November 2020 interview with Clooney posted on Youtube by CBS Sunday Morning.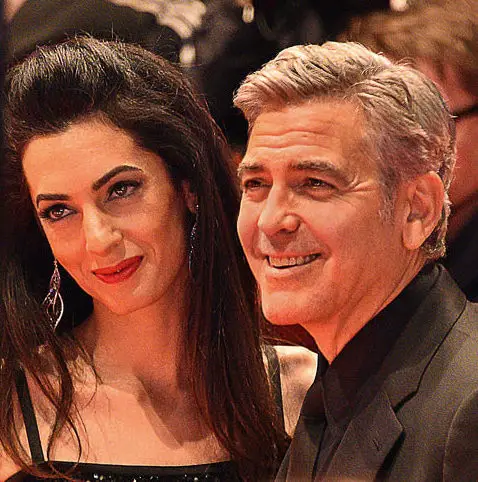 Is George Clooney Married?
Clooney was married to actress Talia Balsam from 1989 to 1993.  Clooney married to British-Lebanese human rights lawyer Amal Alamuddin on September 27, 2014, at Ca' Farsetti.  The couple have a set of twins born in 2017: a daughter, Ella, and a son, Alexander.
How Much Is George Clooney Worth?
George Clooney has a personal fortune of about $500 million, according to Celebrity Net Worth. He earns several million dollars for appearing in films.  He was paid $10 million for his starring role as "Batman," $10 million for "Out of Sight", $8 million for "The Perfect Storm", $15 million for "Intolerable Cruelty", $20 million for "Ocean's Eleven" (a career high) and $15 million for "Ocean's Thirteen".