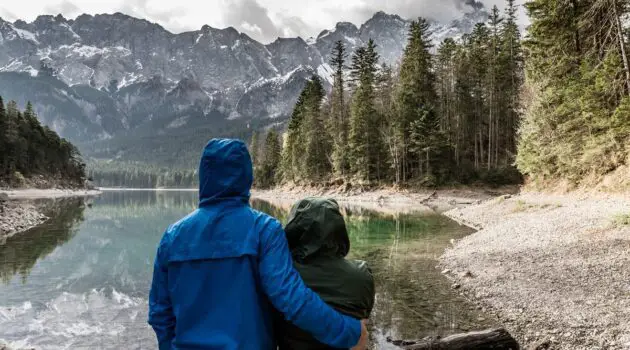 Benefits of Hiking
It's hard to argue that there's an outdoor activity that gives you more bang for your buck than hiking. Not only is hiking a great way to stay in shape, get your daily steps in, and challenge your body, but it can also be a fun (and usually free!) social activity, a chance to explore new sights and sounds with the family dog, and a way to discover new parts of your city or town off the beaten path.
Hiking also provides an opportunity to engage in other outdoor hobbies, like photography, birdwatching, and fly fishing.
What's more, research studies suggest that spending time in nature and taking part in outdoor activities like hiking can reduce stress levels, which in turn might help reduce high blood pressure and the risk of heart disease, as well as improve mental health.
Remember to consult with your medical provider before starting a new exercise regimen. Keep in mind safety best practices like planning ahead, picking the right gear, knowing your comfort level with trail difficulty, hiking with a buddy, and being aware of local weather conditions.
Online Resources for Planning Hikes
If you're not already familiar with your local hiking trails, or if you're planning a vacation somewhere new and want to spend some time in the great outdoors, there are a lot of helpful websites and mobile apps you can use to find the best hikes for you. You can search for and preview nearby hiking trails in Google Maps, peruse user-uploaded hikes on websites like Hiking Project, or use an app on your phone — like AllTrails or the National Park Service App — to scout out hikes ahead of time and download maps for offline use while you're out on the trail.
Whether you're a beginner or an experienced hiker, read on to learn about some of the convenient online resources at your disposal for planning your next hike.
AllTrails
One of the most popular online resources for finding hiking trails is the AllTrails website. If you click the Explore tab in the upper-left corner of the website's homepage, you'll be able to zoom around an interactive map of hiking trails in your area. Hovering over one of the pin icons on the map that denotes a hike will pop up a preview of the hike's name, location, estimated difficulty and time to complete, length, and community rating, as well as a photo taken from along the trail.
You don't need an AllTrails account to explore details of community-created routes in the Community Content tab in the left-hand sidebar. However, if you want more information about the hikes in the Curated Trails tab, you'll need to create a free AllTrails account with your Google, Facebook, or Apple credentials, or with an email address. Once you've created an account, you can click on the name of a trail in either the map or sidebar to view a detailed map of the hiking trail. Try experimenting with the map options by clicking the icon in the upper-right corner of the map. See a summary of the trail's features, get directions, bookmark the trail for later, read community reviews of the route, and more.
You can also access the AllTrails database of hikes and maps via the site's corresponding mobile app, which is available for both iOS and Android. Upgrading to the paid Pro version of the app even allows you to download and print maps, which is a great option to have as a backup if you're planning to venture into an area with limited cell reception.
National Park Service App
If you live near a national park in the United States, or if you're planning to visit one of the more than 400 park sites nationwide on your next vacation, then the NPS (National Park Service) App will be an indispensable companion on your journey. The free mobile app is available for both iOS and Android devices.
The app contains a treasure trove of information about national parks and national park sites, including historic sites, monuments, recreation areas, and more, with insights contributed by park rangers. In addition to interactive maps — available both online and to download for offline use — this all-in-one guide to national parks also provides access to self-guided park tours, information on amenities, accessibility features like audio descriptions of exhibits, and the ability to make and share virtual postcards with your friends and family.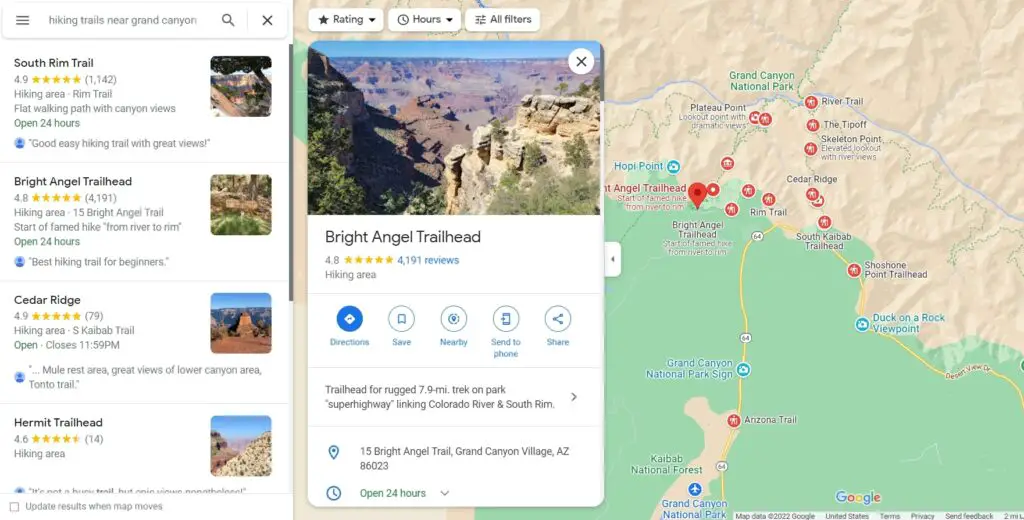 Google Maps
Perhaps the most straightforward option on this list, it's simple to use Google Maps to find hiking trails near you. Just as you would search for "gas stations near me" or "brunch restaurants near me", you can navigate to Google Maps in a browser window, then type "hiking trails near me" in the search box in the upper-left corner. Red-and-white hiker icons will populate on the map to mark the location of hiking trails, and a list of hiking trails will appear in the left-hand sidebar. If you're planning a day trip or a longer excursion, you can also search for hiking trails near a specific location or landmark (for example, "hiking trails near Grand Canyon").
Click on any of the hiker icons or the trails listed in the sidebar to see user photos of the trail, community reviews, park hours, and a helpful chart showing peak busy times for the area. You can also get directions and bookmark the trail for future reference. If you close the side panel that lists information on a specific trail (click the "x" on the trail photo or the left-hand arrow labeled "Collapse side panel"), you'll see a square labeled "Layers" in the lower-left corner of the map that you can click to change the level of topographic detail on the map. The Satellite and Terrain views will come in handy when planning your route. To see an area from street level, click and drag the yellow person icon from the bottom-right corner onto the map to view and zoom around panoramic photos.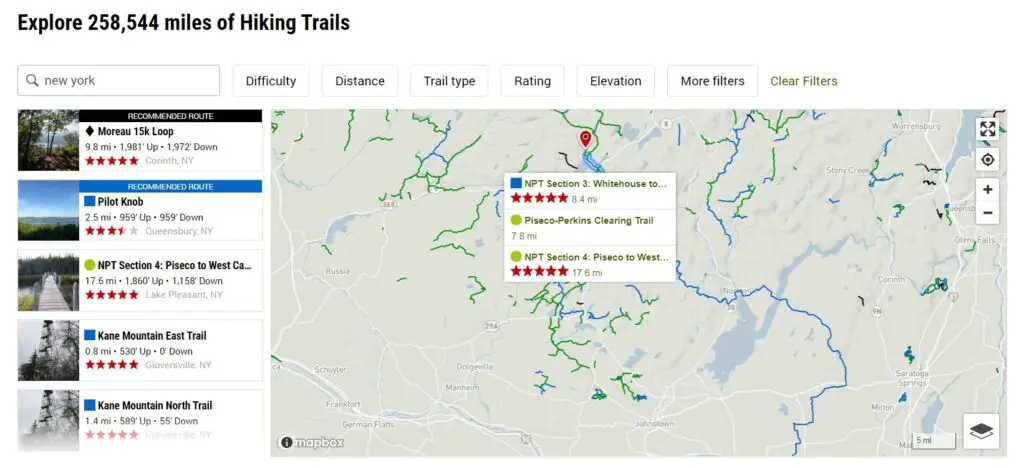 Hiking Project
Hiking Project is a free resource for hikers that is part of the Adventure Project family of apps, which also includes resources dedicated to national park trails, winter sports, trail running, and more. The Hiking Project database is available via a web browser and an app for iOS and Android.
Hiking Project relies on crowdsourced information about hiking trails, which means all of the trails, routes, and photos in the database are contributed by community members — hikers like you! Not to worry, though, because the staff at Hiking Project reviews all user-submitted information for accuracy. Once information is added to the database, other community members can add more information, rate trails, post comments, and add "check-ins" to share when they hiked the trail and what the experience and conditions were like.
If you're looking to discover new trails in your local area or see which routes might be worth checking out on your next trip, all you need to do is visit the Hiking Project website, then type a destination in the search box in the center of the page and select a result from the dropdown list.
You'll be directed to a page that lists recommended routes for your search in the left-hand sidebar and gives you the ability to filter the search results by trail difficulty, distance, community rating, elevation change, and more. Hover over trails highlighted on the interactive map to see their names, distance, and rating. Scroll down to see other recommended routes in the vicinity of your search.
If you're not sure where to start or have multiple destinations in mind, try perusing the Trail Guide, Best Photos, and Top Hikes tabs at the top of the page, which can provide guidebook-like inspiration for your next outing at home or abroad.
---
Now that you have all the resources you need to research and plan your next hike, it's time to get started! Where will your next adventure take you?