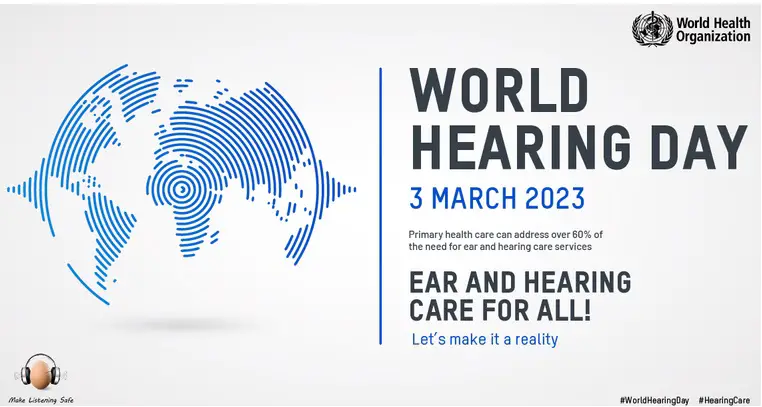 With World Hearing Day on March 3 is reminder that it might be time to take a hearing test.  You can take a free online hearing assessment to determine your hearing loss severity, then you may want to follow up with an in-person test with an audiologist.
World Hearing Day is celebrated on 3 March each year to raise awareness on how to prevent deafness and hearing loss and promote ear and hearing care across the world.
"World Hearing Day is a great time to remind people that hearing is an important part of overall health and wellness, and needs your attention," said Barbara Kelley, executive director of the Hearing Loss Association of America.
"Just like blood pressure, weight, and other health markers, hearing should be checked regularly, treated if necessary, and protected from damage."
Free Hearing Assessments from Retailers
Costco, Best Buy and other retailers that sell hearing aids offer free online hearing assessments. These tests can gauge the severity of your hearing loss, but can't tell you what kind of hearing aid to get.  But they are a good first step to take care of your hearing.  Here are some of the free hearing assessment sites.  All of them require you to have earphones or headphones attached to your device before you take the test.
Best Buy Hearing Assessment – Best Buy, which recently began carrying over the counter hearing aids, offers a free online hearing assessment, powered by hearX.
Costco Hearing Assessment  Costco, which has been carrying hearing aids for decades, also offers a free online hearing assessment. You don't need to be a member to take the online assessment.  Costco does offer free, professional hearing tests to Costco members.  Costco sells premium hearing aids from Rexton, Phjilips and Jabra for about $1,600.  Read more about what Costco offers at Costco Hearing Center.
National Hearing Test from AARP
AARP offers a hearing test over the phone that is free to AARP members, or $8 for non-members.
The National Hearing Test was developed in concert with the National Institutes of Health.  You listen to a series of three-digit numbers spoken in a background of white noise.  You enter the digits as best you can, using the telephone keypad.  The series gradually gets more difficult to understand. Once the test is done, you'll get the hearing results for each ear.
The test does not give you what you need for a hearing aid, but does tell you if you need a hearing aid, or need to be tested by an audiologist.
To start, visit:  National Hearing Test
The test was developed with funding from the National Institutes of Health and is provided on a nonprofit basis. The goal is to give you information that can help you decide whether you should seek a full-scale evaluation of your hearing.
Below is an introduction video from The National Hearing Test.
AARP Membership
AARP currently offers a 25% discount on memberships plus get a free 2nd membership, a free gift like a trunk organizer, a free subscription to the AARP magazine, and access to hundreds of benefits like the restaurant discounts above.  To join or just to read more, visit:
Senior Daily is an AARP associate and may earn a commission on membership purchases.