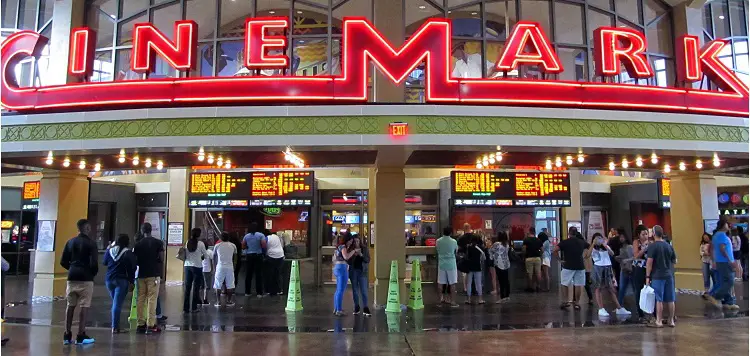 Cinemark theatres have a Senior Discount, Tuesday special and more deals.  Here are the current Cinemark discounts.
Discount Tuesdays:  All tickets are discounted every Tuesday for Cinemark Rewards Club members.
$4 Holiday Classics: On December 2 – 18, 2023, see classic Holiday films for $4. Three films are showing: Arthur Christmas, Polar Express, and The Grinch.
Senior Discount: Seniors (62 and over) can save up to 30% all day every day at select Cinemark theatres plus another 10% off on Senior Day (usually Mondays).  If you order your tickets online you should see the special price for senior tickets. Prices will vary by location but a typical senior price is $6.50; typical full price is around $10.
Early Bird Discount: Every Day before 1pm (6 pm at some locations) enjoy discounts of up to 30% at select Cinemark Theatres.
Student Discount: Select theatres offer student pricing. Student ID must be presented at time of ticket purchase.
Military Discount:  Select theatres offer special ticket pricing to veterans and active military. Military pricing is offered at the box office. ID must be presented at time of ticket purchase.
Child Discount: Most Cinemark Theatres offer discounted tickets for children.  If you order your tickets online you should see the special price for child tickets.
Kids Summer Movie Clubhouse: Every Wednesday from June 19 through August 10 see favorite kids films for $1.50, plus get $1 off many concessions.  Films start at 9:30 am.
View all the Cinemark discounts and promotions at:
You'll need to be a Cinemark Rewards member to get most of the deals above; you can get a free membership at:
For deals at other theatres, visit:  Movie Ticket Prices and Promos
Cinemark Movie Club Subscription
If you're a frequent movie-goer you might be interested in the Cinemark Movie Club.  For $9.99 a month you'll get 1 free movie ticket, 20% off concessions, waived online fees and more specials.
For more details visit:  Cinemark Movie Club
Cinemark Theatre Locations
Cinemark is the third largest movie exhibitor in the world (behind AMC and Regal) and has about 520 locations, each with about 10 screens. To find one near you, visit: Find Cinemark Theatres Near Me
Masks Not Required
Cinemark said masks are not longer required in their theatres, unless mandated by state or local governments.
For details on Regal sanitation and safety policies visit: Cinemark Safety Measures
More from Cinemark
About Cinemark (from company website)
Headquartered in Plano, TX, Cinemark Holdings, Inc. is a leader in the motion picture exhibition industry with 520 theatres and 5,849 screens in the U.S. and Latin America as of March 31, 2022.
Our circuit is the third largest in the U.S. with 320 theatres and 4,396 screens in 42 states.
We ranked either #1 or #2 by box office revenues in 20 of our top 25 U.S. markets as of March 31, 2022.
We are one of the most geographically diverse circuits in Latin America with 200 theatres and 1,453 screens in 15 countries as of December 31, 2021.
We had a presence in 15 of the top 20 metropolitan areas in South America as of 12/31/2021.