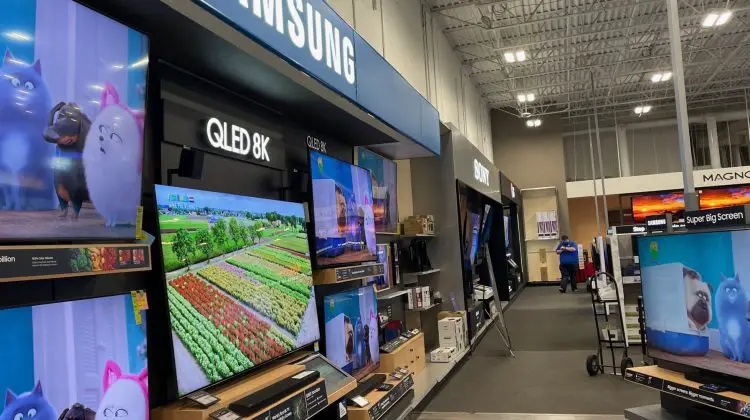 Best Buy has a 24-inch HDTV for $70 and more TV deals like 75-inch 4K TVs for about $600.
Below are the top TV deals we've found at Best Buy, ordered by size. All are available online; some are available in stores.
If you want to see a TV in-store, click on the TV you are interested in below, then click on "Get it today nearby – See all pickup locations."  TVs marked as "Unavailable nearby" are available online only.
Sony – 100″ Class BRAVIA XR X92 LED 4K UHD Full Array Smart Google TV $15,000. This is the biggest LED TV you can find at Best Buy.
Hisense – L9G Laser TV Triple-Laser Ultra Short Throw Projector with 100″ ALR Screen, 4K UHD, 3000 Lumens, HDR, Android TV $4,000 save $1,500
Hisense – 120″ L9 Series TriChroma Laser Projection TV with ALR Screen $4,500 save $1,500. This is a rear projection TV and is the biggest overall TV you can find at Best Buy.
How To Find More TV Deals
If you're shopping for a new TV, then Best Buy should be your first stop as they have the best selection that you can see in the store firsthand.  Even if you decide to buy elsewhere, Best Buy is the best place to select your next TV.  Here's how to find more TV deals at Best Buy:
Go to the Best Buy TV Deals page at:  Best Buy TV Deals
Scroll down to "Discount" on the left.
Click on "30% Off Or More" to see just the TVs that are discounted by 30% or higher.  You can usually find more than 20 TVs that are discounted that much.
If you're looking for a specific feature, like OLED, you can select that in the filters list on the left of the Best Buy website.
Another good technique is to frequently visit the Daily Deals at Best Buy.  More info is below.  Best Buy often has very good one-day deals on TVs.
Daily Deals at Best Buy
Best Buy has deals of the day on small appliances and electronics every day.  To see today's deals visit:
Best Buy has these other deals sites:
Shipping at Best Buy
Most TVs sold by Best Buy has free shipping on most TVs.  You can ship to your home, or ship to a Best Buy store for pickup.  For details see:  Best Buy Shipping
Best Buy Price Guarantee
Best Buy says they will match the price of TVs and other products offered by competitors.
"We match local retail competitors (including their online prices) and these qualifying online retailers: Amazon.com, Crutchfield.com, Dell.com, HP.com and TigerDirect.com," Best Buy says.
The product must be a matching brand, model number and color to qualify. The product must also be a new product.  For details see:  Best Buy Price Match Guarantee
More Sales at Best Buy
These are more deals currently at Best Buy: