SiriusXM says it will broadcast every game of the 2023 NCAA men's basketball tournament, plus many womens games.
For NCAA broadcast schedules and more details, visit:
Basketball and Beyond Show
Hall of Fame basketball coach Mike Krzyzewski's show, Basketball and Beyond, is back for its 17th season on your SiriusXM car radio or online.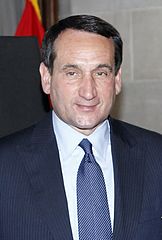 Each Thursday at 6 pm ET, the show plays on ESPNU Radio (Ch. 84) and SiriusXM ACC Radio (Ch. 371).  You can hear past episodes of Krzyzewski's show anytime by streaming online or on the SXM App at:
Listen to Mike Krzyzewski's Basketball and Beyond
Krzyzewski and co-host Dave Sims discuss current events in basketball as well as the headline stories from the larger sports world, and Krzyzewski leads one-on-one interviews with coaches, players and others.  Krzyzewski (aka Coach K) retired last season as head basketball coach at Duke.
"This will be the first fall in nearly 50 years that I'm not on the sidelines, and I'm so pleased to extend my long relationship with SiriusXM and continue hosting Basketball and Beyond," said Krzyzewski. "Having the creative freedom to do a really unique show has been incredibly important and rewarding to me. I can be a part of the national conversation on basketball, while also exploring interesting topics with a variety of guests who make an impact far beyond the basketball court."
More SiriusXM Channels
You can find links to schedules for more channels on the the SiriusXM Channel Lineup at:
If you don't see your channel, click on All to view all channels. For details on a channel that interests you, scroll down to the channel and click on Shows & Schedules.  For example, for NFL Radio, Channel 88, click on Shows & Schedules, then click on Schedules to see what's now playing and what is coming on later in the day.
SiriusXM Printed Schedule
If you want a SiriusXM channel that you can print and put in your car, visit:
Then click on "Download the Full Channel Guide"
Get SiriusXM at a Discount
For the latest on SiriusXM discounts, visit our story: SiriusXM Deal: $60 for 1 Year
How to Get SiriusXM App
If you have an active SiriusXM radio account, you have free access to the SiriusXM app.  The app lets you stream SiriusXM onto your phone or other smart device.
Here's where to get the SiriusXM app; you will need to sign in with the credentials used for your SiriusXM radio account.
SiriusXM App for Apple
SiriusXM App for Android
More about SiriusXM
SiriusXM Home Page
SiriusXM Complete Channel Lineup
SiriusXM Prices
SiriusXM What's New (Hear and Now)
SiriusXM Ways to Listen
SiriusXM App Download
SiriusXM Facebook Page
SiriusXM Additional Assistance (Listener Care)
SiriusXM for Business
SiriusXM Customer Agreement
Related Stories: