Last Updated on September 14, 2020 by Senior Daily Staff
Tom Hanks stars as a US Navy Commander in Greyhound, a World War II film available now on Apple TV+.  
Greyhound is based on the 1955 novel The Good Shepherd by C. S. Forester. Hanks himself wrote the screenplay.
The film follows US Navy Commander Ernest Krause  on his first war-time assignment in command of a multi-national escort group defending a merchant ship convoy under attack by submarines in early 1942.  The film takes place during the Battle of the Atlantic, only months after the U.S. officially entered World War II.
Below is an inside look from Tom Hanks. This was posted on the Apple TV+ Youtube channel.
Greyhound also stars Stephen Graham, Rob Morgan, and Elisabeth Shue. It was directed by Aaron Schneider.  A portion of the film was filmed aboard the USS Kidd, a World War II-era Fletcher-class destroyer museum ship in Baton Rouge, Louisiana.
Greyhound was released exclusively to Apple TV+ viewers on July 10, 2020. To view Greyhound you'll need a subscription to Apple TV+.  You can get subscribe now and get a one-week free trial at:
After your free trial you'll be charged $4.99 a month.
A preview of Greyhound is below.
More Upcoming Tom Hanks Movies
Also coming later in 2020, Hanks stars as Finch, the last surviving man on Earth, in the science fiction drama BIOS. The film is set to be released on October 2, 2020 by Universal Pictures.  Additionally in 2020, Hanks will star in News of the World, to be his second collaboration with director Paul Greengrass. The film will be released on December 25, 2020. A year later, Hanks will costar as Tom Parker, the sole manager of Elvis Presley, in a Baz Luhrmann helmed film. Shooting commenced in the beginning of 2020, in Queensland, Australia. The film will be released on October 1, 2021.
Hanks is also said to be working with HBO on a third World War II miniseries based on the book Masters of the Air by Donald L. Miller to follow Band of Brothers and The Pacific.  On October 11, 2019, it was announced that the series would keep the title from the book and that the miniseries will stream on Apple TV+ due to budget constraints at HBO. Masters of the Air is expected to cost $200 million with a duration of at least eight hours.
Tom Hanks Movies for Streaming
You can find Tom Hanks movies on cable TV and on streaming from Netflix and Amazon Prime. Here is a sample of how to stream some of Hanks' most popular movies:
Tom Hanks on Amazon Prime
Most of Tom Hanks's films are available for streaming from Amazon Prime.  Note that some are included with a Prime membership and some have a rental fee.
You can find more Tom Hanks films that you can stream from Amazon Prime at This Link.
Tom Hanks on Netflix
Philadelphia.  1993. Hanks won an Academy Award for Best Actor for starring as a gay lawyer suffering from AIDS in this drama.  CLICK HERE to see this title on Netflix.
Saving Mr. Banks 2013. Hanks portrays Walt Disney as he tries to win the rights to make a movie of Mary Poppins.   CLICK HERE to see this title on Netflix.
You can find more Tom Hanks films that are free to Netflix streaming members at This Link (Netflix signin required).
Is Tom Hanks on TV Today?
You can get a listing of all Tom Hanks upcoming appearances on network and cable TV at This TV Guide Link
Tom Hanks Looks Back
Hanks takes a look back at his personal and professional life in this interview with CBS News:
Tom Hanks Books
Tom Hanks published his first book, Uncommon Type, a collection on short stories, in 2017.  You can find the book in printed form, Kindle, or audio format at:  Tom Hanks' Uncommon Type
He talked about writing the book in this video from the Chicago Humanities Festival.  Hanks is also credited with writing the screenplay for his 2020 film, Greyhound.
Tom Hanks on SNL
Tom Hanks hosted a Saturday Night Live from home on April 11, 2020 and spoke about his experience with Coronavirus.  His monologue is below.
Tom Hanks Recovers from Coronavirus
Tom Hanks, 63,  announced on March 28 that he and his wife are back at home in the U.S. after almost 3 weeks recovering from Coronavirus in Australia.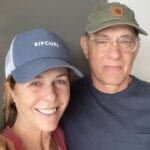 Hanks told fans on his Facebook page:
"Hey, Folks… We're home now and, like the rest of America, we carry on with sheltering in place and social distancing. Many, many thanks to everyone in Australia who looked after us. Their care and guidance made possible our return to the USA. And many thanks to all of you who reached out with well wishes. Rita Wilson and I so appreciate it. Hanx"
Hanks and his wife, Rita Wilson, were hospitalized in Queensland, Australia March 12 after testing positive for Coronavirus.  They were released after several days and were then in isolation in a rented home in Australia for about two weeks.  They returned to their home in the U.S. on Saturday, March 28, 2020.
Hanks frequently communicates with fans on his Facebook page.  Here are his latest Facebook posts:
Hanks, whose 2019 movie It's a Beautiful Neighborhood is available now for rental (details below), announced March 11 on Facebook that he and his wife were diagnosed with the coronavirus while in Australia, where he has been filming a new movie.
"Hello, folks. Rita Wilson and I are down here in Australia," he wrote on March 11. "We felt a bit tired, like we had colds, and some body aches. Rita had some chills that came and went. Slight fevers too. To play things right, as is needed in the world right now, we were tested for the Coronavirus, and were found to be positive.
"Well, now. What to do next? The Medical Officials have protocols that must be followed. We Hanks' will be tested, observed, and isolated for as long as public health and safety requires. Not much more to it than a one-day-at-a-time approach, no?   We'll keep the world posted and updated.  Take care of yourselves!   Hanx!"
Hanks had been in Australia filming a new movie in which he portrays
Tom Parker
,  manager of
Elvis Presley.
The film is scheduled for an October  2021 release but production is delayed.
More on Tom Hanks (from Wikipedia)
Thomas Jeffrey Hanks (born July 9, 1956) is an American actor and filmmaker. Known for both his comedic and dramatic roles, Hanks is one of the most popular and recognizable film stars worldwide, and is widely regarded as an American cultural icon. Hanks' films have grossed more than $9.96 billion worldwide, making him the fifth-highest-grossing actor in North America.
Tom Hanks Movies
Hanks made his breakthrough with leading roles in the comedies Splash (1984) and Big (1988). He won two consecutive Academy Awards for Best Actor for starring as a gay lawyer suffering from AIDS in Philadelphia (1993) and a young man with below-average IQ in Forrest Gump (1994).  Hanks collaborated with film director Steven Spielberg on five films: Saving Private Ryan (1998), Catch Me If You Can (2002), The Terminal (2004), Bridge of Spies (2015), and The Post (2017), as well as the 2001 miniseries Band of Brothers, which launched him as a director, producer, and screenwriter.
Hanks' other notable films include the romantic comedies Sleepless in Seattle (1993) and You've Got Mail (1998); the dramas Apollo 13 (1995), The Green Mile (1999), Cast Away (2000), Road to Perdition (2002), and Cloud Atlas (2012); and the biographical dramas Saving Mr. Banks (2013), Captain Phillips (2013), Sully (2016), and A Beautiful Day in the Neighborhood (2019). He has also starred in the Robert Langdon film series, and has voiced Sheriff Woody in the Toy Story film series.
Hanks' accolades include two Academy Awards. He received the Stanley Kubrick Britannia Award for Excellence in Film from the British Academy of Film and Television Arts in 2004. In 2014, he received a Kennedy Center Honor, and in 2016, he received a Presidential Medal of Freedom from President Barack Obama, as well as the French Legion of Honor.
HBO confirmed in January 2013 that it was developing a third World War II miniseries based on the book Masters of the Air by Donald L. Miller with Hanks and Spielberg to follow Band of Brothers and The Pacific. Few details have emerged about the project since, but NME reported in March 2017 that production was progressing under the working title The Mighty Eighth.  On October 11, 2019, it was announced that the series would keep the title from the book and that the miniseries will stream on Apple TV+ due to budget constraints at HBO. Masters of the Air is expected to cost $200 million with a duration of at least eight hours.
Is Tom Hanks Married?
Hanks was married to American actress Samantha Lewes in 1978. They had one son, actor Colin Hanks (born 1977), and one daughter, Elizabeth Hanks (born 1982). Hanks and Samantha Lewes divorced in 1987.
In 1981, Hanks met actress Rita Wilson on the set of TV comedy Bosom Buddies (1980–1982). They were reunited in 1985 on the set of Volunteers. Wilson is of Greek and Bulgarian descent, and a member of the Greek Orthodox Church. Before marrying her, Hanks converted to her faith.  Hanks and Wilson married in 1988 and have two sons. The oldest, Chester Marlon "Chet" Hanks, had a minor role as a student in Indiana Jones and the Kingdom of the Crystal Skull and released a rap song in 2011. Their youngest, Truman Theodore, was born in 1995. Hanks lives with his family in Los Angeles, California, and Ketchum, Idaho.
Hanks actively attends church. He said, "I must say that when I go to church—and I do go to church—I ponder the mystery. I meditate on the 'why?' of 'why people are as they are' and 'why bad things happen to good people,' and 'why good things happen to bad people' … The mystery is what I think is, almost, the grand unifying theory of all mankind."
Hanks practices transcendental meditation and participates in a charity dinner for veterans victims of post-traumatic stress disorder organized by the David Lynch Foundation with Mary-Louise Parker, he says: "I crumbled between 3 o'clock in the afternoon and 7. I mean I was no good for anything. I couldn't read; I couldn't talk on the phone; I couldn't do any work. It was really an unproductive four hours. And now, with meditation, it is the most productive hours of my day".
On March 12, 2020, Hanks announced that he and his wife had tested positive for COVID-19 while shooting Elvis in Queensland, Australia. They were admitted to the Gold Coast University Hospital for care. Hanks was playing the role of Colonel Tom Parker in the film directed by Baz Luhrmann. Australian health authorities stated that Hanks and Wilson, along with all of the five other coronavirus cases confirmed that day, had "contracted the illness outside Australia and traveled to Queensland with the virus".
Tom Hanks's Net Worth
Tom Hanks's net worth as of 2019 is about $400 million, according to Celebrity Net Worth.  He has been one of the highest-paid actors in Hollywood for more than 25 years.  He often collects a percentage of movie receipts in addition to a salary.  Hanks' biggest payouts include:
$70 million for Forrest Gump
$50 million for Angels and Demons
$40 million for Private Ryan
$20 million for Cast Away.
Tom Hanks Online
Tom Hanks Official Facebook Page
Rita Wilson's Official Facebook Page
How Old is Tom Hanks?
Tom Hanks is 64, having been born July 9, 1956 in Concord, California to hospital worker Janet Marylyn (née Frager, 1932–2016) and itinerant cook Amos Mefford Hanks (1924–1992). His mother was of Portuguese descent (her family's surname was originally "Fraga"), while his father had English ancestry. His parents divorced in 1960. Their three oldest children, Sandra (later Sandra Hanks Benoiton, a writer), Larry (an entomology professor at the University of Illinois at Urbana–Champaign), and Tom, went with their father, while the youngest, Jim (who also became an actor and filmmaker), remained with their mother in Red Bluff, California. In his childhood, Hanks' family moved often; by the age of 10, he had lived in 10 different houses.
While Hanks' family religious history was Catholic and Mormon, he has characterized his teenage self as being a "Bible-toting evangelical" for several years. In school, he was unpopular with students and teachers alike, later telling Rolling Stone magazine, "I was a geek, a spaz. I was horribly, painfully, terribly shy. At the same time, I was the guy who'd yell out funny captions during filmstrips. But I didn't get into trouble. I was always a real good kid and pretty responsible." In 1965, his father married Frances Wong, a San Francisco native of Chinese descent. Frances had three children, two of whom lived with Hanks during his high school years. Hanks acted in school plays, including South Pacific, while attending Skyline High School in Oakland, California.
Hanks studied theater at Chabot College in Hayward, California, and transferred to California State University, Sacramento after two years.
In 1979, Hanks moved to New York City, where he made his film debut in the low-budget slasher film He Knows You're Alone (1980) and landed a starring role in the television movie Mazes and Monsters.  The following year, Hanks landed one of the lead roles, that of character Kip Wilson, on the ABC television pilot of Bosom Buddies. He and Peter Scolari played a pair of young advertising men forced to dress as women so they could live in an inexpensive all-female hotel. Hanks had previously partnered with Scolari on the 1970s game show Make Me Laugh. After landing the role, Hanks moved to Los Angeles. Bosom Buddies ran for two seasons, and, although the ratings were never strong, television critics gave the program high marks.
Bosom Buddies and a guest appearance on a 1982 episode of Happy Days ("A Case of Revenge," in which he played a disgruntled former classmate of Fonzie) prompted director Ron Howard to contact Hanks. Howard was working on the film Splash (1984), a romantic comedy fantasy about a mermaid who falls in love with a human. At first, Howard considered Hanks for the role of the main character's wisecracking brother, a role that eventually went to John Candy. Instead, Hanks landed the lead role in Splash, which went on to become a surprise box office hit, grossing more than US $69 million. He also had a sizable hit with the sex comedy Bachelor Party, also in 1984. In 1983–84, Hanks made three guest appearances on Family Ties as Elyse Keaton's alcoholic brother, Ned Donnelly.
With Nothing in Common (1986)—a story of a young man alienated from his father (played by Jackie Gleason)—Hanks began to extend himself from comedic roles to dramatic roles. In an interview with Rolling Stone magazine, Hanks commented on his experience: "It changed my desires about working in movies. Part of it was the nature of the material, what we were trying to say. But besides that, it focused on people's relationships. The story was about a guy and his father, unlike, say, The Money Pit, where the story is really about a guy and his house."
After a few more flops and a moderate success with the comedy Dragnet, Hanks' stature in the film industry rose.
Credit: Portions of this article were derived from the Wikipedia profile of Tom Hanks.