Last Updated on March 25, 2020 by Senior Daily Staff
Actor Steve McQueen would be 90 years old today, March 24, 2020.  Here's a retrospective on his career and links to McQueen's movies available for streaming.
You can see several McQueen moves on demand at Turner Classic Movies.  If you're an Amazon Prime member, you can stream most of McQueen's top movies, including: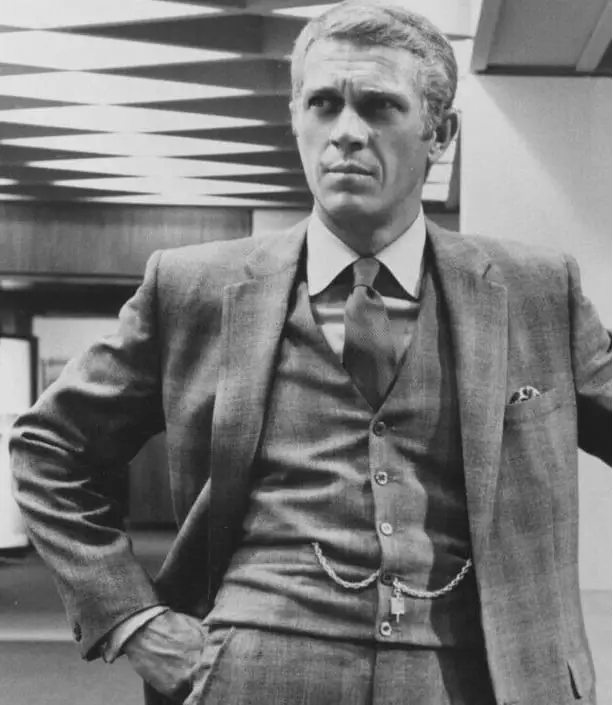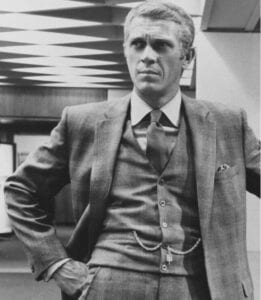 You can find more Steve McQueen films that you can stream from Amazon Prime at This Link.  Note that some are included with a Prime membership and some have a rental fee.
Steve McQueen Profile (from Wikipedia)
Stephen Terrence McQueen (March 24, 1930 – November 7, 1980) was an American actor.  McQueen was nicknamed "The King of Cool", and his antihero persona developed at the height of the counterculture of the 1960s made him a top box-office draw during the 1960s and 1970s. McQueen received an Academy Award nomination for his role in The Sand Pebbles. His other popular films include The Cincinnati Kid, Love With the Proper Stranger, The Thomas Crown Affair, Bullitt, The Getaway, and Papillon, as well as the all-star ensemble films The Magnificent Seven, The Great Escape, and The Towering Inferno.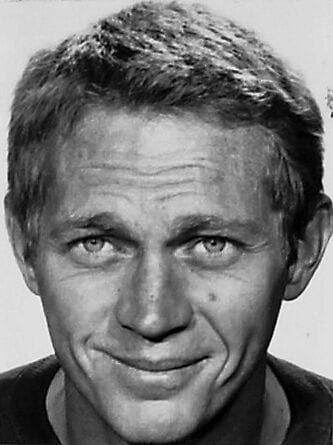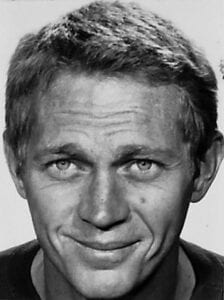 In 1974, he became the highest-paid movie star in the world, although he did not act in films again for four years. McQueen was combative with directors and producers, but his popularity placed him in high demand and enabled him to command large salaries.
In 1952, with financial assistance provided by the G.I. Bill, McQueen began studying acting in New York.  Reportedly, he delivered his first dialogue on a theatre stage in a 1952 play produced by Yiddish theatre star Molly Picon. McQueen's character spoke one brief line: "Alts iz farloyrn." ("All is lost."). He made his Broadway debut in 1955 in the play A Hatful of Rain, starring Ben Gazzara.
In late 1955, at the age of 25, McQueen left New York and headed for California, where he moved into a house on Vestal Avenue in the Echo Park area, seeking acting jobs in Hollywood. When McQueen appeared in a two-part television Westinghouse Studio One presentation entitled The Defenders, Hollywood manager Hilly Elkins (who managed McQueen's first wife, Neile) took note of him and decided that B-movies would be a good place for the young actor to make his mark. He landed his first film role in a bit part in Somebody Up There Likes Me, directed by Robert Wise and starring Paul Newman. McQueen was subsequently hired for the films Never Love a Stranger, The Blob (his first leading role) which depicts a flesh eating amoeba-like space creature, and The Great St. Louis Bank Robbery.
McQueen's first breakout role came on television. He appeared on Dale Robertson's NBC western series, Tales of Wells Fargo as Bill Longley. Elkins, then McQueen's manager, successfully lobbied Vincent M. Fennelly, producer of the western series Trackdown, to have McQueen read for the part of bounty hunter Josh Randall in a Trackdown episode. McQueen appeared as Randall in the episode, cast opposite series lead and old New York motorcycle racing buddy Robert Culp. McQueen then filmed the pilot episode, which became the series titled Wanted: Dead or Alive, which aired on CBS in September 1958.
At 29, McQueen got a significant break when Frank Sinatra removed Sammy Davis, Jr., from the film Never So Few after Davis supposedly made some mildly negative remarks about Sinatra in a radio interview, and Davis' role went to McQueen. Sinatra saw something special in McQueen and ensured that the young actor got plenty of closeups in a role that earned McQueen favorable reviews. McQueen's character, Bill Ringa, was never more comfortable than when driving at high speed —in this case in a jeep— or handling a switchblade or a tommy gun.
After Never So Few, the film's director John Sturges cast McQueen in his next movie, promising to "give him the camera." The Magnificent Seven (1960), in which he played Vin Tanner and co-starred with Yul Brynner, Eli Wallach, Robert Vaughn, Charles Bronson and James Coburn, became McQueen's first major hit and led to his withdrawal from Wanted: Dead or Alive.
McQueen's focused portrayal of the taciturn second lead catapulted his career. His added touches in many of the shots, such as shaking a shotgun round before loading it, repeatedly checking his gun while in the background of a shot, and wiping his hat rim, annoyed costar Brynner, who protested that McQueen was trying to steal scenes. (In his autobiography, Eli Wallach reports struggling to conceal his amusement while watching the filming of the funeral-procession scene where Brynner's and McQueen's characters first meet: Brynner was furious at McQueen's shotgun-round-shake, which effectively diverted the viewer's attention to McQueen.) Brynner refused to draw his gun in the same scene with McQueen, not wanting his character outdrawn.
McQueen played the top-billed lead role in the next big Sturges film, 1963's The Great Escape, Hollywood's fictional depiction of the true story of a historic mass escape from a World War II POW camp, Stalag Luft III. Insurance concerns prevented McQueen from performing the film's notable motorcycle leap, which was done by his friend and fellow cycle enthusiast Bud Ekins, who resembled McQueen from a distance. This film established McQueen's box-office clout and secured his status as a superstar.
Also in 1963, McQueen starred in Love with the Proper Stranger with Natalie Wood. He later appeared as the titular Nevada Smith, a character from Harold Robbins' novel, The Carpetbaggers, portrayed by Alan Ladd two years earlier in a movie version of that novel.  After starring in 1965's The Cincinnati Kid as a poker player, McQueen earned his only Academy Award nomination in 1966 for his role as an engine-room sailor in The Sand Pebbles, in which he stars opposite Candice Bergen and Richard Attenborough (with whom he had previously worked in The Great Escape).
He followed his Oscar nomination with 1968's Bullitt, one of his best-known films, which co-starred Jacqueline Bisset, Robert Vaughn and Don Gordon. It featured an unprecedented (and endlessly imitated) auto chase through San Francisco. Although McQueen did do the driving that appeared in closeup, this was about 10% of what is seen in the film's car chase. The rest of the driving by McQueen's character was done by stunt drivers Bud Ekins and Loren Janes.
In his next film McQueen went for a change of image, playing a debonair role as a wealthy executive in The Thomas Crown Affair with Faye Dunaway in 1968. The following year, he made the Southern period piece The Reivers.
In 1971, McQueen starred in the poorly received auto-racing drama Le Mans, followed by Junior Bonner in 1972, a story of an aging rodeo rider. He worked for director Sam Peckinpah again with the leading role in The Getaway, where he met future wife Ali MacGraw. He followed this with a physically demanding role as a Devil's Island prisoner in 1973's Papillon, featuring Dustin Hoffman as his character's tragic sidekick.
By the time of The Getaway, McQueen was the world's highest-paid actor, but after 1974's The Towering Inferno, co-starring with his long-time professional rival Paul Newman and reuniting him with Dunaway, became a tremendous box-office success, McQueen all but disappeared from the public eye, to focus on motorcycle racing and traveling around the country in a motor home and on his vintage Indian motorcycles. He did not return to acting until 1978 with An Enemy of the People, playing against type as a bearded, bespectacled 19th-century doctor in this adaptation of a Henrik Ibsen play. The film was never properly released theatrically.
His last two films were loosely based on true stories: Tom Horn, a Western adventure about a former Army scout-turned professional gunman who worked for the big cattle ranchers hunting down rustlers, and later hanged for murder in the shooting death of a sheepherder, and The Hunter, an urban action movie about a modern-day bounty hunter, both released in 1980.
McQueen was offered the lead male role in Breakfast at Tiffany's, but was unable to accept due to his Wanted: Dead or Alive contract (the role went to George Peppard). He turned down parts in Ocean's 11, Butch Cassidy and the Sundance Kid (his attorneys and agents could not agree with Paul Newman's attorneys and agents on top billing), The Driver, Apocalypse Now, California Split, Dirty Harry, A Bridge Too Far, The French Connection (he did not want to do another cop film), and Close Encounters of the Third Kind.
In the 2019 Quentin Tarantino film Once Upon a Time in Hollywood, McQueen is portrayed by Damian Lewis.
Illness and death
McQueen developed a persistent cough in 1978. He gave up cigarettes and underwent antibiotic treatments without improvement. Shortness of breath grew more pronounced, and on December 22, 1979, after filming The Hunter, a biopsy revealed pleural mesothelioma, a cancer associated with asbestos exposure for which there was no known cure.
A few months later, McQueen gave a medical interview in which he blamed his condition on asbestos exposure. McQueen believed that asbestos used in movie sound stage insulation and race-drivers' protective suits and helmets could have been involved, but he thought it more likely that his illness was a direct result of massive exposure while removing asbestos lagging (insulation) from pipes aboard a troop ship while he was in the Marines.
By February 1980, evidence of widespread metastasis was found. He tried to keep the condition a secret, but on March 11, 1980, the National Enquirer disclosed that he had "terminal cancer". In July 1980, McQueen traveled to Rosarito Beach, Mexico, for unconventional treatment after US doctors told him they could do nothing to prolong his life. Controversy arose over the trip, because McQueen sought treatment from William Donald Kelley, who was promoting a variation of the Gerson therapy that used coffee enemas, frequent washing with shampoos, daily injections of fluid containing live cells from cattle and sheep, massages, and laetrile, a reputed anti-cancer drug available in Mexico, but long known to be both toxic and ineffective at treating cancer. 
McQueen returned to the U.S. in early October. Despite metastasis of the cancer throughout McQueen's body, Kelley publicly announced that McQueen would be completely cured and return to normal life. McQueen's condition soon worsened and huge tumors developed in his abdomen.
In late October 1980, McQueen flew to Mexico, to have an abdominal tumor on his liver (weighing around five pounds) removed, despite warnings from his U.S. doctors that the tumor was inoperable and his heart could not withstand the surgery. Using the name "Samuel Sheppard," McQueen checked into a small Juárez clinic where the doctors and staff were unaware of his actual identity.
On November 7, 1980, McQueen died of heart failure at 3:45 a.m. at the Juárez clinic, 12 hours after surgery to remove or reduce numerous metastatic tumors in his neck and abdomen.  He was 50 years old. According to the El Paso Times, McQueen died in his sleep.
Leonard DeWitt of the Ventura Missionary Church presided over McQueen's memorial service. McQueen was cremated and his ashes were spread in the Pacific Ocean.
Here is a retrospective of McQueen's career from CBS news in 1980, when his death was announced.
Steve McQueen's Wives and Children
Steve McQueen was married three times and had two children.
On November 2, 1956, McQueen married actress Neile Adams, with whom he had a daughter, Terry Leslie (June 5, 1959 – March 19, 1998) and a son, Chad (born December 28, 1960). McQueen and Adams divorced in 1972. In her autobiography, My Husband, My Friend, Adams stated that she had an abortion in 1971, when their marriage was on the rocks. 
On August 31, 1973, McQueen married actress Ali MacGraw, his co-star in The Getaway, but this marriage ended in a divorce in 1978   Friends would later claim that MacGraw was the one true love of McQueen's life: "He was madly in love with her until the day he died." On January 16, 1980, less than a year before his death, McQueen married model Barbara Minty. One of McQueen's four grandchildren is actor Steven R. McQueen (who is best known for playing Jeremy Gilbert in The Vampire Diaries and Jimmy Borelli in Chicago Fire).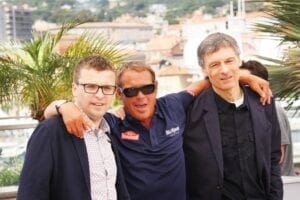 In 1971–1972, while separated from Adams and prior to meeting MacGraw, McQueen had a relationship with Junior Bonner co-star Barbara Leigh, which included her pregnancy and an abortion. Actress-model Lauren Hutton has said that she had an affair with McQueen in the early 1960s. Mamie Van Doren has also claimed to have had an affair with McQueen and tried hallucinogens with him.
After discovering a mutual interest in racing, McQueen and Great Escape co-star James Garner became good friends and lived near each other. McQueen recalled:
I could see that Jim was neat around his place. Flowers trimmed, no papers in the yard… grass always cut. So to piss him off, I'd start lobbing empty beer cans down the hill into his driveway. He'd have his drive all spic 'n' span when he left the house, then get home to find all these empty cans. Took him a long time to figure out it was me.
McQueen's third wife, Barbara Minty McQueen, in her book Steve McQueen: The Last Mile, writes of McQueen's becoming an Evangelical Christian toward the end of his life. This was due in part to the influences of his flying instructor, Sammy Mason, Mason's son Pete, and Barbara herself. McQueen attended his local church, Ventura Missionary Church, and was visited by evangelist Billy Graham shortly before his death.
Ali McGraw talks about her career and life with McQueen in this interview with Oprah Winfrey.
Lifestyle
McQueen followed a daily two-hour exercise regimen, involving weightlifting and, at one point, running 5 miles, seven days a week.  According to photographer William Claxton, McQueen smoked marijuana almost every day; biographer Marc Eliot stated that McQueen used a large amount of cocaine in the early 1970s. He was also a heavy cigarette smoker. McQueen sometimes drank to excess; he was arrested for driving while intoxicated in Anchorage, Alaska, in 1972.
Steve McQueen's Net Worth
Steve McQueen's net worth at his death was about $30 million, according to Celebrity Net Worth.  McQueen was the highest paid actor in the world for several years in the 1960s and 1970s.
More about Steve McQueen
Official Steve McQueen Website
Estate of Steve McQueen Facebook Page
Steve McQueen's birthday: March 24, 1930
Is Steve McQueen on TV Today?
You can get a listing of all Steve McQueen's upcoming appearances on network and cable TV at This TV Guide Link