Star Trek: Discovery is showing Season 1 on CBS starting today, Thursday, September 24, 2020.
"The first full season of Star Trek: Discovery makes its broadcast debut in the United States on Thursday, Sept. 24 (10:00-11:00 PM, ET/PT) as a special limited promotional run prior to its third season return on CBS All Access," CBS announced.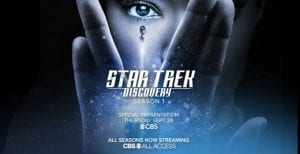 Originally created for the CBS All Access streaming service, Star Trek Discovery Season 1 will be on CBS at 10 pm Thursdays.
Meanwhile Season 2 is available only on CBS All Access, and Season 3 is scheduled to launch Thursday, Oct. 15 exclusively on CBS All Access, ViacomCBS' subscription video-on-demand and live streaming service.
For more details visit the Star Trek Page