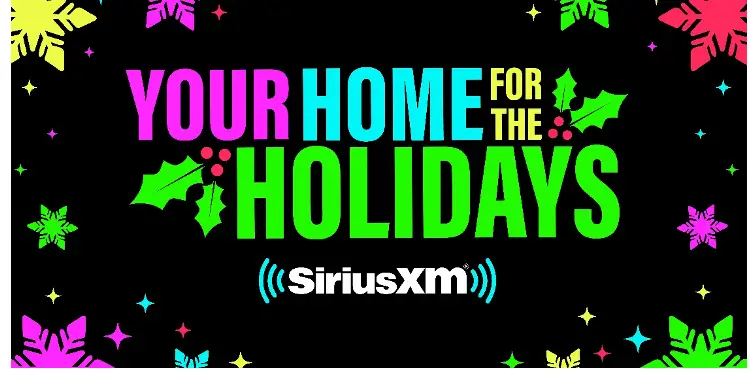 If you're in the mood for Christmas music, SiriusXM streams their main Christmas music channel all year long.
With the SiriusXM app or by going online with your computer you can listen anytime to Holiday Traditions. This is SiriusXM's main channel for Christmas music, with traditional holiday recordings from the '40s through the '60s.  Featured artists include Bing Crosby, Andy Williams, Ray Conniff, and Nat King Cole. This is available on the SXM App or online year-round.  During the Holidays you can find it on your car radio.
You can listen now at: Listen Now to Holiday Traditions
SiriusXM Christmas Music Offerings
The SiriusXM Christmas music marathon typically begins on November 1 and ends on December 27.  There are about 20 Sirius Christmas stations, many available on your satellite car radio and some available for streaming only.  Here was the lineup in 2022.  You can expect these to return on November 1, 2023.
SiriusXM Satellite Radio Channels
These SiriusXM Christmas channels were available on satellite car radios and in the SiriusXM app until December 27.
SiriusXM Streaming Only Channels
These additional channels are online only, available November 1 through December 27 for streaming on your computer or with the SiriusXM App.
'70s/'80s Holidays: The biggest and most familiar Christmas and holiday songs from the 1970s and '80s. Listen to '70s/'80s Holidays
Cool Jazz Christmas: A jazzy holiday soundtrack that is everything you need for a cool yule! Pour the eggnog and let the festivities begin with Christmas classics from some of the greatest contemporary jazz instrumentalists including Dave Koz, David Benoit, Jonathan Butler and Kenny G, plus a sprinkling of some of the smoothest vocals of the season from the likes of Anita Baker, Diana Krall, Take 6, and Natalie Cole.  Listen to Cool Jazz Christmas
Holiday Chill-Out:  Downtempo holiday music from artists like Kaskade, Lost Frequencies, DJ Style, and more. Listen to Holiday Chill-Out
Holiday Instrumentals: String, piano, and orchestra versions and more of your favorite holiday hits, instrumental style.  Listen to Holiday Instrumentals
Jingle Jamz: A mix of R&B and hip-hop artists from 1990 to now, singing and rapping about the holidays. There will be artist takeovers and specials. You'll hear Alicia Keys, Boyz II Men, Mary J. Blige, TLC, Brian McKnight, Mariah Carey, Ashanti, Babyface, Ludacris, El DeBarge, Run-D.M.C., Musiq Soulchild, Jodeci, Gucci Mane, John Legend, Jennifer Hudson, DMX and Kurtis Blow.  Listen to Jingle Jamz
Kids Christmas: The soundtrack for the most magical time of year! Welcome the holiday season with songs the whole family will love. From holiday classics to today's most jingle-jangling tunes: It's all here on Kid's Christmas! Rudolph, Santa Claus, and Frosty the Snowman take over the airwaves to delight both kids and kids-at-heart all season long. Listen to Kids Christmas
Mannheim Steamroller Channel:  Mannheim Steamroller featuring their signature blend of symphonic, new age and rock inspired Christmas music. Listen to Mannheim Steamroller Channel
Noël Incontournable: Holiday music channel featuring Francophone Christmas classics and contemporary holiday hits from the '60s to today with music from Ginette Reno, Bruno Pelletier and Laurence Nerbonne. Available year-round on the SXM App. Listen to Noel Incontourable
Radio Hanukkah: Extensive collection of Hanukkah-themed music, including contemporary, traditional and children's selections as well as daily reflections and prayers related to the holiday. Available on the SXM App beginning December 16 through December 27.
Real Jazz Holiday: Bop and swing under the mistletoe with some of the most memorable Christmas classics that make for a "real" jazz holiday!  Hear jazz masters like Ella Fitzgerald, Nat King Cole and the Count Basie Orchestra to today's stars like Wynton Marsalis, Dianne Reeves, Norah Jones and Christian McBride. Available on the SXM App through December 27.
Rockin' Xmas: Classic Christmas songs that rock, including hits, rarities, live tracks, and humorous tunes. Listen to Rockin' Xmas
For more details visit:
More on SiriusXM Shows, Schedules
For more about what's on SiriusXM see these related articles:
More about SiriusXM
SiriusXM Home Page
SiriusXM Complete Channel Lineup
SiriusXM Prices
SiriusXM What's New (Hear and Now)
SiriusXM Ways to Listen
SiriusXM App Download
SiriusXM Facebook Page
SiriusXM Additional Assistance (Listener Care)
SiriusXM for Business
SiriusXM Customer Agreement