Michael Kirk Douglas (born September 25, 1944) is currently starring in The Kominsky Method, a comedy series on Netflix.  Here's a preview of season 2, which premiered on October 25, 2019.
More on Michael Douglas (from Wikipedia)
Actor and producer Michael Douglas has received numerous accolades, including two Academy Awards, five Golden Globe Awards, a Primetime Emmy Award, the Cecil B. DeMille Award, and the AFI Life Achievement Award.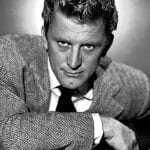 The elder son of Kirk Douglas and Diana Dill, Michael Douglas received his Bachelor of Arts in Drama from the University of California, Santa Barbara. His early acting roles included film, stage, and television productions. Douglas first achieved prominence for his performance in the ABC police procedural television series The Streets of San Francisco, for which he received three consecutive Emmy Award nominations. In 1975, Douglas produced One Flew Over the Cuckoo's Nest, having acquired the rights to the Ken Kesey novel from his father. The film received critical and popular acclaim, and won the Academy Award for Best Picture, earning Douglas his first Oscar as one of the film's producers.
After leaving The Streets of San Francisco in 1976, Douglas went on to produce films including The China Syndrome (1979) and Romancing the Stone (1984). He won the Golden Globe Award for Best Motion Picture – Musical or Comedy for Romancing the Stone, in which he also starred, thus reintroducing himself to audiences as a capable leading man.
After reprising his Romancing the Stone role as Jack Colton in the 1985 sequel The Jewel of the Nile, which he also produced, and along with appearing in the musical A Chorus Line (1985) and the psychological thriller Fatal Attraction (1987), Douglas received critical acclaim for his portrayal of Gordon Gekko in Oliver Stone's Wall Street (1987), for which he won the Academy Award for Best Actor. He reprised the role in the sequel Wall Street: Money Never Sleeps (2010). His subsequent film roles included: Black Rain (1989); The War of the Roses (1989); Basic Instinct (1992); Falling Down (1993); The American President (1995); The Game (1997); Traffic and Wonder Boys (both 2000); Solitary Man (2009); Ant-Man (2015), Ant-Man and the Wasp (2018), and Avengers: Endgame (2019). In 2013, for his portrayal of Liberace in the HBO film Behind the Candelabra, he won the Primetime Emmy Award for Outstanding Lead Actor in a Miniseries or a Movie. Douglas currently stars as an aging acting coach in Chuck Lorre's comedy series The Kominsky Method, for which he won the Golden Globe Award for Best Actor – Television Series Musical or Comedy, and in the Netflix series Green Eggs and Ham, where he voices Guy-Am-I.
Apart from his acting career, Douglas has received notice for his humanitarian and political activism, as well as media attention for his marriage to Welsh actress Catherine Zeta-Jones.
Here is a Youtube retrospective of Douglas's career:
Is Michael Douglas Married?
In March 1977, Douglas, who was 32 years old at the time, married 19-year-old Diandra Luker, the daughter of an Austrian diplomat. They had one son, Cameron, born in 1978. In 1995, Diandra filed for divorce and was awarded $45 million as part of the divorce settlement.
Dating since March 1999, Douglas married Welsh actress Catherine Zeta-Jones on November 18, 2000. They were both born on September 25, though 25 years apart. Zeta-Jones says that when they met in Deauville, France, Douglas said, "I want to father your children." They have two children, son Dylan Michael (born August 8, 2000) and daughter Carys Zeta (born April 20, 2003). I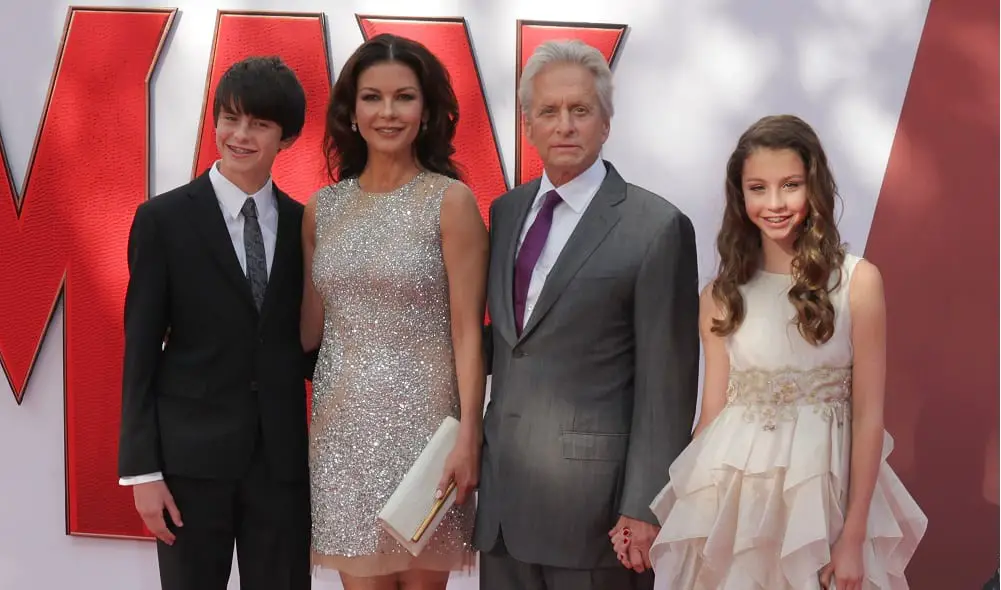 Douglas and Zeta-Jones began living separately for a short time in 2013 but reconciled and Catherine moved back into their New York apartment.
Douglas was born to a Jewish father and an Anglican (Church of England) mother. His cousin, the Right Reverend Nicholas Dill, is the Bishop of the established Anglican Church of Bermuda. Douglas was not raised with a religious affiliation, but stated in January 2015, that he now identifies as a Reform Jew.  His son, Dylan, had a Bar Mitzvah ceremony, and the Douglas family traveled to Jerusalem to mark the occasion.[59]
Douglas was selected as the recipient of the 2015 Genesis Prize, a $1 million prize, awarded by the Genesis Prize Foundation. Douglas plans to donate the prize money to activities designed to raise awareness about inclusion and diversity in Jewish life, and to finding innovative solutions to pressing global and community problems. Douglas is a U.S. citizen by birth in the United States and has British citizenship with Bermudian Status through his mother's birth in Bermuda.
Michael Douglas's Net Worth
Michael Douglas's net worth as of 2019 is about $300 million, according to Celebrity Net Worth.
In addition to his earnings from films and TV, Douglas earns millions from a valuable worldwide real estate portfolio.
Connect with Michael Douglas
Michael Douglas is very active on Facebook and you can connect with him and with his fans there.  Here is the latest on his Facebook page:
Michael Douglas on Facebook
This past weekend marked the 5th anniversary of my Mother's passing. I miss her very much ❤️ ...
Comment on Facebook This past weekend ...

Michael I am so sorry about your mother I know how it feels I've lost mine 25 years ago my condolences to you wishing her peace love and shalom shalom

Oh my dear I am so very sorry but in time it does get a little better even though you'll miss her even more look at good photos movies remember all the good things that your parents have done with you and think of good wisdom words that they would say my dear

My prayers are with you and family. My momma and Dad are with the good Lord. My mom's birthday is July 26. I miss her so much. I'm the only child, And it's so hard sometimes. I took care of her for 3 year's before she past over, to be with the Lord. My daughters leaved to far away to help me. But I made it, with Jesus help. God bless you're day. As you think about the good times.

Positive vibes sent to you mike, it's heartbreaking when we lose loved ones, it never gets easier , the pain diminishes alittle but actually never ever entirely goes away.. We just learn to except it. But it does leave the feeling of a hole in the heart .. My condolences 💐🙏May she R.I.P.

it will get better mike-my moms been gone a while now-i get by day after day thinking of her a little every day-my dad too-it may be a little thing that reminds me of them-we never forget them they mean so much -and if they could talk to us they would say remember us but get on with your life and do not be sad for we are with god and in a better place-amen god bless you all

Michael, we are never too old to miss our parents...it is a void that we try to fill with loving and funny memories...may she continue to rest in eternal peace and her memory always be a blessing to you..💜

Its so sad to lose your parents and join the orphans club at any age. I miss my mom everyday. I am sure she knows you love her .

So sorry Michael. Our parents are blessings. Some of us don't realize that until much later, after they are gone. But, I can tell with you that you appreciated and loved and reveled in your beloved parents when they were with you and alive and you will always honor them in death. You will see them again and you will embrace them again and isn't that a lovely, comforting thought.

I can relate my mom has been gone since 2009 You go on with life, but, You will always have that empty spot in your heart for your mother. It is nice to see you were able to get to her grave. I have not been able to for years. so, You are a great son and a wonderful person for sharing this. God bless.

My mother, too, is gone. There are times when I feel like she has just left and am so sad...and there are other times when it's like she is in the room with me and a mere slip of a memory is a joy! Wishing you many joyous moments with you mother.

So sad about losing your Mom. My .on passed right before Christmas last year. She was a feisty 94! I miss her every day. 😪😪😪

My mum passed away 2 years ago and I miss her everyday. A mothers love is always with her children. Losing a mother is one of the deepest sorrows a heart can know. But her goodness, her caring, and her wisdom live on-like a legacy of love that will always be with you. May that love surround you now and bring you peace.

Men always miss their Moms. Mine has been gone from this life 42 yrs. But as long you share her, she lives on. May she continue to RIP.

I'm so sorry !! Its so hard to lose parents !! I loved your dad in the movies too !! You both are the very best !! Love you ! And please stay safe to you @ your family ? Prayers going out to y today !!! Love Karen

Sorry for your loss Michael. It's very sad to feel this way when our mothers passed away and they light up our lives wherever they are. Unforgetable spirits, and loving angels .

A mother's love is infinite. She is forever your Angel.

Michael, so very sorry for the loss of your mom. I know how you feel. It is so hard growing older and not having parents. My heart goes out for you. Prayer and faith Michael keep me moving forward. Prayers for my favorite actor❤️🙏❤️🙏

I'm so sorry 💔 Michael. I miss my mother and my father. Mom passed in 2014 and father passed this April. But I am so thankful and grateful 🙏 have them as parents. I miss them and know that they together and resting in peace.

My condolences losing a mother is unbearable I also lost my mother in December 2017 and her 81st birthday is coming up July 17, 2020. 😔🙏

I have lost an incredible amount of family in less than fifteen years. One after the other. I know exactly where you are!! I don't know how I get through it. My condolences, Micheal. Loosing a mother and father comes with great sadness.

My mummy passed two years ago this week I'm very sad as well I miss her terribly xXxx

My mother passed away aged 71 9 years ago and my father almost 26 years ago at just 58. I know it's quite raw for you at the moment due to the recent death of your wonderful father. Big hugs to you and I'm sure your gorgeous children and beautiful wife will keep you comforted. Xx 😘💗

You never stop missing them, wishing they were here again in your lives...

My mom has been gone since 1994! She passed at age 70. I miss her very much. Sorry for your loss! I totally understand your feelings! God bless you!

I know the feeling, Michael. You are never the same but her spirit will always be around you. My mom has been gone 33 yrs and it still feels like yesterday. It may sound crazy to some people but I talk to her all the time. May your mother's love and spirit continue to surround you. GOD Bless.💕🙏🙏💕

Load more
More about Michael Douglas
Michael Douglas Official Facebook Page
Michael Douglas's Birthday: September 25, 1944
Komiskey Method on Facebook
Time for one more ride. The Kominsky Method has been renewed for a third and final season. ...
Comment on Facebook Time for one more ...

One of the best shows I've seen on Netflix! Love the interactions between Michael Douglas and Alan Arkin! Great dialogue and these two are so humorous. Can't wait for the new episodes!

Love this series, Michael just improves with age 😍 Just hope the episodes can be a whole 30mins this Time though please 🙏

Best show I've seen in years! I'm so glad to hear it's been renewed for another season!

My husband and I are senior citizens...we adored this series! The acting was fabulous and we enjoyed the humor that many of the issues presented. Michael Douglas is awesome!! I'm very happy to learn we will have a Season 3!! WTG!!

Great series! Michael Douglas is at his all time best!

Do we have any idea about when this will be available ? I know a lot of shows are on shutdown. Glad to get another season -- really funny show. I like Michael Douglas doing comedy and Alan Arkin is just hilarious. His timing and delivery is just some of the best I've ever seen.

Such a good show! A 3rd season is great, but why final? I would hope for more since it is so good!!!

Great news - why final season? Such a good show and great acting.

Yippie! Can't wait. I can never get enough of Alan Arkin but the entire cast is great. I really enjoyed the addition of Paul Reiser last season.

Really enjoyed this show!! Clever and very well acted!!! Love these guys!!!!

Excellent news! They gotta get some awards this time.

Excellent news. And wise decision making just one more season, better missing than regreting!

This makes me soooo happy! Love the Actors, the Characters!

I liked this, but couldn't "love" it after reading the "third and final season". :( We LOVE this show. Has given us so many laughs!

Yes!!! I'm grateful for a 3rd season but was so hoping for many more...this is the best show ever!!!

This is the best show I have seen in years! I am so happy it will return. Now if we can just get this whole pandemic thing under control ☹️ so they can start filming.

Love the show, its actors, and everything about it. The only thing is that I was hoping for more than 3 seasons. When is the Season 3 gonna be available on Netflix?

I'm so glad we are having one more season, and most of all that it is confirmed to be the last one, I hate it when tv shows get cancelled and end up with unfinished stories.

Hell yeah! So glad we get one more season. Raise that Dr Pepper and Jack y'all. 🥃

Nice to see it return. Although like many others would be good to see it continue for a few more seasons. Still looking forward to watching it when it's ready.

I'm sad to see this wonderful show come to an end, but knowing these two icons... They're going out with a BANG! We will be there, BINGING it, when it comes out.

Love this show, but so, so sorry to hear it is the final season. Please reconsider.

One of the VERY few shows I tune in for. I'm happy to hear this is back.

Absolutely despise the leftist overtone, but the show is so well written, acted and produced. Really looking forward to another season.

Yay for a third season! Booo that it's the final season. Please Keep it going.

Load more