The blockbuster movie, Elvis, opens in the U.S. today, Friday June 24.
Find tickets and more information at the official "Elvis" website at: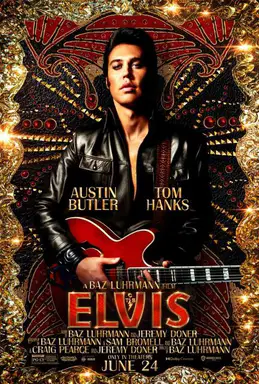 Elvis is a 2022 biographical musical drama film starring Austin Butler as singer Elvis Presley and and Tom Hanks as his manager, Colonel Tom Parker.
Elvis premiered at the Cannes Film Festival on May 25, 2022, and is scheduled for official release in the U.S. on Friday, June 24, 2022, with the early screening on Tuesday the 21st.
Elvis received a 12-minute standing ovation at Cannes and generally positive reviews from critics, with Butler's performance garnering near-universal acclaim.  Elvis has a 77% rating on Rotten Tomatoes.
Key reviewer comments include:
"A conventional, crowd-pleasing narrative of an iconic artist's rise and fall." – LA Times 
"Elvis is a fizzy, delirious, impishly energized, compulsively watchable 2-hour-and-39-minute fever dream — a spangly pinwheel of a movie that converts the Elvis saga we all carry around in our heads into a lavishly staged biopic-as-pop-opera." – Variety
"a relentless, frantically flashy montage, epic and yet negligible at the same time" – The Guardian
Elvis's widow, Priscilla Presley, had a very favorable response after seeing  a private screening of the film.
"It is a true story told brilliantly and creatively … The story, as we all know, does not have a happy ending. But I think you will understand a little bit more of Elvis' journey, penned by a director who put his heart and soul and many hours into this film," she wrote on Facebook (see post below).

Elvis Week
"Elvis Week" is an annual event at Graceland Mansion that promises to be bigger than ever this year, the 45th anniversary of Elvis's passing.  Elvis Week is August 9-17, 2022.  For a list of events, tickets and more information visit:
Elvis Radio
SiriusXM features 24/7 Elvis recordings, interviews and special events on Channel 75.  You can find the schedule at:
"Elvis" Movie Previews
Below are previews of the film from the Warner Bros. YouTube channel.