Alan Arkin,who turns 86 today, March 26, 2020, is currently co-starring in Spenser Confidential, a new action-comedy on Netflix.
In the new Netflix fim, Arkin portrays boxing Spenser's mentor and former boxing coach, Henry.  Spenser Confidential is inspired by the classic Spenser series of detective novels by Robert B. Parker and stars Mark Wahlberg as Spenser and Winston Duke as his cohort, Hawk.  You can find the movie on Netflix at Spenser Confidential. Below is a preview.
Arkin in Kominskey Method
Arkin is also currently starring in The Kominsky Method, a comedy series on Netflix.  Below he talks about the show with his co-star, Michael Douglas.  Season 2 premiered on October 25, 2019.  You can find the movie on Netflix at Kominskey Method.
Alan Arkin Profile (from Wikipedia)
Alan Wolf Arkin (born March 26, 1934) is an American actor, director and screenwriter. With a film career spanning eight decades, Arkin is known for his performances in The Russians Are Coming, the Russians Are Coming (1966), Wait Until Dark (1967), The Heart Is a Lonely Hunter (1968), Popi (1969), Catch-22 (1970), The In-Laws (1979), Edward Scissorhands (1990), The Rocketeer (1991), Glengarry Glen Ross (1992), Thirteen Conversations About One Thing (2001), Little Miss Sunshine (2006), Get Smart (2008), Sunshine Cleaning (2008) and Argo (2012).
He has been nominated for the Academy Award for Best Actor twice, for his performances in The Russians Are Coming, the Russians Are Coming and The Heart Is a Lonely Hunter. He won an Academy Award for Best Supporting Actor for his performance in Little Miss Sunshine and received a Best Supporting Actor nomination for his performance in Argo.
Arkin is one of only six actors to receive an Academy Award nomination for Best Actor for his first screen appearance (for The Russians Are Coming, the Russians Are Coming in 1966). (A clip is below.)  Two years later, he was again nominated, for The Heart Is a Lonely Hunter.
In 1968, he appeared in the title role of Inspector Clouseau after Peter Sellers dissociated himself from the role, but the film was not well received by Sellers' fans. Arkin and his second wife Barbara Dana appeared together on the 1970–1971 season of Sesame Street as a comical couple named Larry and Phyllis who resolve their conflicts when they remember how to pronounce the word "cooperate."
Arkin and Dana later appeared together again in 1987 on the ABC sitcom Harry, which was canceled after four low-rated episodes.
His best known films include Wait Until Dark as the erudite killer stalking Audrey Hepburn; The Russians Are Coming, the Russians Are Coming as the leader of the landing party from the stranded Soviet submarine, The Heart Is a Lonely Hunter, Catch-22, as Yossarian, The Seven-Per-Cent Solution, Little Murders, The In-Laws, Glengarry Glen Ross, and Little Miss Sunshine, for which he won a Best Supporting Actor Oscar; and Argo. His portrayal of Dr. Oatman, a scared and emotionally conflicted psychiatrist treating John Cusack's hit man character Martin Q. Blank in Grosse Point Blank was also well received.
In 2006–2007, Arkin was cast in supporting roles in Rendition as a U.S. senator and The Santa Clause 3: The Escape Clause as Bud Newman (Carol's Father).
On Broadway, Arkin starred in Enter Laughing (for which he won a Tony Award) and Luv. He also directed The Sunshine Boys, among others.
Arkin is currently starring with Michael Douglas in  The Kominsky Method on Netflix.
Alan Arkin's Spouses
Arkin has been married three times, with two ending in divorce. He and Jeremy Yaffe (m. 1955–1961) have two sons: Adam Arkin, born August 19, 1956, and Matthew Arkin, born March 21, 1960. He was married to actress-screenwriter Barbara Dana from 1964 to the mid-1990s: she appeared with him in segments of the TV Show Sesame Street in the 1970s. They lived in Chappaqua, New York. In 1967, they had son Anthony (Tony) Dana Arkin.
In 1996, Arkin married psychotherapist Suzanne Newlander, whose surname he adopted for his character Norman Newlander in The Kominsky Method. They live in Carlsbad, California.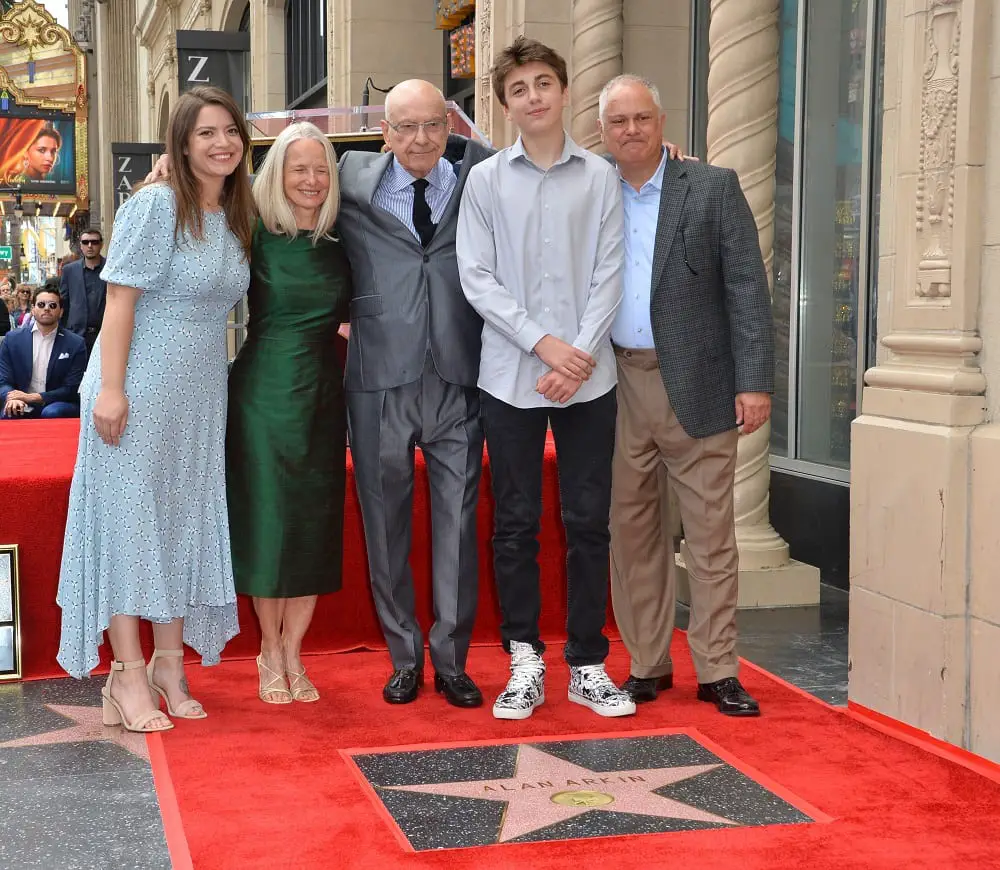 Alan Arkin's Net Worth
Alan Arkin's net worth as of 2019 is about $15 million, according to Celebrity Net Worth.  Arkin has appeared in more than 100 films and TV shows.
Here is a Youtube retrospective of Arkin's career:
More about Alan Arkin
Alan Arkin's Birthday: March 26, 1934
Komiskey Method on Facebook