Turner Classic Movies hosts a 70th anniversary showing of "The African Queen" in many theatres on Sunday and Wednesday, July 18 and 21, 2021.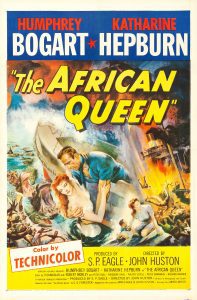 You can find tickets to the in-theatre showings at:
Academy Award winners Humphrey Bogart and Katherine Hepburn star in this classic 1951 film as two mismatched strangers joining forces in a common cause – and finding love along the way.  John Huston directs.
The film is rated 91 by Metacritic and was praised by reviewer Pauline Kael as "one of the most charming and entertaining movies ever made."
Below is a theatrical trailer from Movieclips Classic Trailers.
For a list of all the upcoming TCM theatrical showings visit:  TCM Big Screen Classics
Related story: AMC Free Popcorn Refills